Director ' S Shankar S Shankar is one among the populous directors who >> Read More... ' was, born on 17th August 1963. His name means "Bliss Giver" and his cinema proves it right. Each and every movie of directed by him is a back to back blockbuster. He is the pioneer to create awareness through cinema in kollywood.
1) Gentleman
...
This is happens to be director Shankar's debut film. Gentleman is a thriller film which was released in 1993 and became a trendsetter of that time. Arjun Sarja Arjun Sarja was born as Srinivasa Sarja. He is an >> Read More... and ' Madhoo Madhoo is indeed a cute and bubbly actress, oozing >> Read More... ' played did the lead roles. This movie's plot is as follows. Though Arjun and his friend score very good marks in the higher secondary examination, the educational minister asks bribe from them for a merit seat. As they were poor, they couldn't afford the money and get a medical seat. Later, Arjun disguises himself as a business man in the day and turns into robin hood at nights and aims to take from the rich and educate the poor through his college. The comedy track by ' Goundamani It is difficult to make one laugh and in this rega >> Read More... ' and ' Senthil Senthil is a great comedian actor who works predom >> Read More... ' duo was excellent. The "Tikkilona" comedy scene is evergreen. ' A R Rahman A.R.Rahman is a Legendary Music Composer, prominen >> Read More... ' composed songs for this film. This movie's box office collection is about 3 crores.
2) "Kadhalan"
...
It is a romantic thriller. Prabhu Deva Story soon >> Read More... and ' Nagma Nagma is an Indian actress with versatile credenti >> Read More... ' acted in the lead roles. It is noted for the Hollywood level CGI used in a song picturisation. Kadhalan won 4 national film awards and was a huge commercial hit then.
...
3) Indian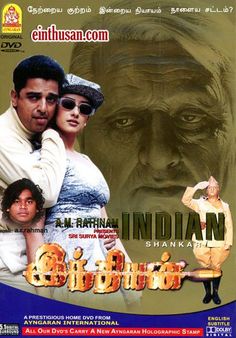 ...
Indian is a movie which focuses on an ex-freedom fighter. Though his son itself is a part of the spectrum, he wants to root out corruption at any cost. This movie won 3 national awards. It was the then highest grossing tamil film after its release.
...
4) "Jeans"
...
Jeans is a romantic comedy film in which ' Prashanth Thyagarajan Prashanth Thyagarajan is an Indian actor. He works >> Read More... ' plays dual role. A R Rahman experimented Dts effects in this movie. The seven wonders of the world are shown in "Poovukkulolinthirukum" song. Attempts of Aishwarya Rai Bachchan Aishwarya Rai Bachchan is a popular Indian actress >> Read More... to act as her twin in "Kannodu Kanbathellam" song was extraordinarily pictured with special effects. Jeans won the National film award for Best special effects. This was the most expensive film of that time.
...
5) "Mudhalvan"
Mudhalvan is a political thriller film. Pugazhendi (Arjun Sarja), a journalist interviews the Chief Minister (' Raghuvaran Raghuvaran was an Indian actor and has given two a >> Read More... ') of the state. As he asks some honest questions that makes the CM dumb to answer, the CM challenges the journalist to take his role for one day. Arjun accepts the challenge and worked with responsibility which made him to face consequences. This film won 4 State awards and 2 Filmfare awards. A R Rahman won the best music director award for this film. Mudhalvan showed us that educated people can get into politics and the change is possible.
6) Anniyan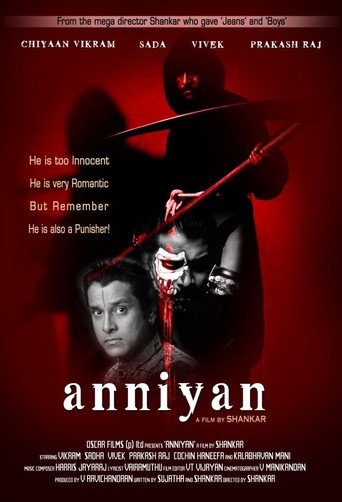 The beauty of Anniyan lives in ' Chiyaan Vikram Vikram is from the Tamil family. His father is Chr >> Read More... ' characters portrayal superbly presented by director Shankar. It is a psychological thriller. Actor Vikram was awarded a National award for this film. Anniyan had stunts that were never seen before in a Tamil movie.
7) Shivaji
' Rajinikanth 'Rajinikanth' is the name that is known in >> Read More... ', the style king and the showman of Tamil cinema Shankar combo is all enough to make Shivaji a hit. An Indian software engineer returns from US and desires to start a non -profit organisation. The difficulties and obstacles faced by the hero and how he then successfully fulfilled his dream and also reveals the black money that are hoarded forms the rest of the story.
8) " Enthiran Click to look into! >> Read More... "
Enthiran, a tamil Science fiction film directed and co-written by Shankar. The movie's plot is about the struggles of a scientist for his creation. The scientist creates a robot with emotions which backfires him as the robot falls in love with its creator's girlfriend. This movie got critics praises for Rajinikanth's performance, ' R Rathnavelu Randy Rathnavelu is a cinematographer who was born >> Read More... ' cinematography, '' art direction and visual effects by ' Srinivas Mohan Srinivas Mohan is an India based visual effect des >> Read More... '.
9) " Nanban Click to look into! >> Read More... "
Nanban movie is the first remake of Shankar of the film 3 idiots, which itself is the picturisation of the novel "Five point someone-What not to do at IIT" by Chetan Bhagat Chetan Bhagat is a renowned Indian author who was >> Read More... . Two friends set out to find their third friend who taught them how to be more than just victims of circumstances. The memories of their college life give us a cool breeze and optimistic feel towards life.
10) I
I, is the romantic thriller with Vikram in the lead role. He plays a role as a body builder who transforms into a professional successful model. Suddenly his life takes an ugly turn when he develops a hunchback due to an injection. How he takes revenge from the people who ruined his life forms the rest of the story. Vikram won the Filmfare award for Best Actor – Tamil for this film.