Tamil serials started to broadcast television series in the 1990s. The television serial industry has played a pivotal role in increasing Tamil popularity in India, Sri Lanka, Singapore, Malaysia, and the Tamil diaspora. Here is the list of the longest-running Tamil shows.
1. Kolangal
Kolangal is the longest-running soap opera that has aired on Sun TV. It aired from 24 November 2003 to 4 December 2009 for 1,533 episodes. The show is created by Devi Bala. It starred Devayani in the lead role. It was the first series in Tamil television history to cross 1,000 episodes. It was remade in Hindi as Maayke Se Bandhi Dor, which aired on Star Plus. The story mainly talks about Abi and her life, which changes due to the people around her. It shows the bravery of Abinaya.
2. Kasthuri
Kasthuri is another soap opera that aired on Sun TV. The show starred Easwari Rao Easwari Rao can easily take a credit in south Indi >> Read More... , Niya, Latha, Delhi Ganesh Delhi Ganesh is one of the veteran Tamil actors, b >> Read More... , Shyam, Neelima Rani Neelima is a decently prestigious Tamil Actress. N >> Read More... , Aparna, and Nithish, among others. It is an official remake of the blockbuster Telugu series Kalyanee, which aired on Gemini TV. This is the story of a village girl who marries a groom from the city. The entire story is about how the girl deals with problems when she is alone without Ram.
3. Deivamagal
Deivamagal translates as "Daughter of the Almighty." Unlike the majority of the serials, this one centered on the lives of working women. It took the occurrences of a few women who desired to be successful on their own rather than being labeled as someone's wife or mother. As a result, they worked hard, improved themselves in numerous areas, and achieved success in their respective careers. However, society still views them as women and expects them to do certain things. This is the first TV series shot in the Bay of Bengal. This was a super-popular series that was remade in a variety of South Indian languages.
...
Thirumathi Selvam is a Tamil television soap opera that premiered in 2007. Sanjeev and Abitha play the key parts, with Rindhya, Gautami, and Vadivukkarasi providing assistance. It aired 1360 episodes between November 5, 2007 and March 22, 2013. Selvam was crucial to the plot. It demonstrated how his good traits, hard work, love for his wife Archana, and concern for his best friend Nandhini enabled him to achieve great success. The film then depicted how money, fame, and power contributed to his collapse.
...
5. Nadhaswaram
Nadhaswaram is a Tamil soap opera that aired on Sun TV from April 19 to May 9, 2015. The show starred T. S. B. K. Mouli, Thirumurugan, Poovilangu Mohan Poovilangu Mohan is one of the veterans in Tamil t >> Read More... , and Srithika. It was directed and produced by Thirumurugan. This is the serial, which relates to a family and the various problems faced by them in the long run. It is the most successful serial in Sun Network history.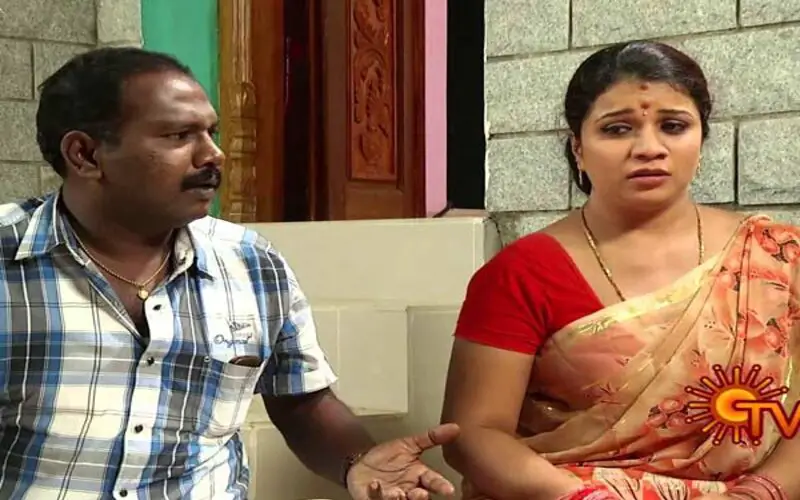 ...
6. Thendral
Thendral is a 2009 soap opera that aired on Sun TV. It was broadcast from December 7, 2009, to January 17, 2015, for 1340 episodes. The show stars Shruthi Raj Shruthi Raj is a young television serial and film >> Read More... and Deepak Dinkar Deepak Dinkar is a popular image in the Tamil Tele >> Read More... as the main characters. The story of the show revolves around a girl's struggle in a middle-class family, focusing on the importance of women's education. Thendral was among the first Tamil Serials to go viral on the internet. The show has been highly acclaimed and has won many awards.
...
7. Vamsam
Vamsam is a 2013–2017 Tamil family soap opera. The show was broadcast on Sun TV from June 10, 2013 to November 18, 2017, for 1338 episodes. It was dubbed in Telugu as Kutumbam on Gemini TV. The show has many twists and turns. It is one of the most beloved Tamil shows of all time.
...
Mundhanai Mudichu is a 2010 soap opera that aired on Sun TV. The show premiered from April 26th, 2010 to April 4th, 2015, for 1,325 episodes. The show stars Delhi Kumar Delhi Kumar is a veteran Tamil television and film >> Read More... , Shree Durga, Manoharan Krishnan, Rani, and Hemalatha. The Story is about Kandaswamy and his family. Prema wants to destroy Kandaswamy and his family because she thinks that her father was killed by Kandaswamy. So, she makes a lot of evil plans and gives trouble to Kandaswamy's family, but Kavitha, the eldest daughter-in-law of the family, stands against her and saves the family from Prema.
...
9. Anandham
Anandham was a Tamil soap opera that aired on Sun TV. It was the first Tamil TV drama to cross 1,000 episodes and concluded with 1,297 episodes. The show premiered on November 24th, 2003. The show stars Sukanya, Brinda Das Brinda Das is a Tamil Television Actress best know >> Read More... , Delhi Kumar, and Kamalesh. This show is a family drama containing the classic Tamil soap themes of business rivalry, romance, murder, and other intrigues.
10. Athipookal
Athipookal was a Tamil-language soap opera that aired during the weekdays on Sun TV from December 3, 2007 to December 14, 2012. It is one of the most well-known serials that aired in the afternoon slot. It received high praise and was a hit for the channel.