1. Chemmeen
The best tragic film ever made in Malayalam. Written by Thakazhi, this film inspired many tragic love stories yet to come. With a legendary set of casts, this film was the best heartbreaking movie you could find in Malayalam. "Chemmeen" was the winner of many awards at the National level.
2. Neelathamara
It is quite difficult to do a decent film with a relatively new cast. But director Lal Jose Best known in Malayalam cinema, Lal Jose is a film >> Read More... along with legendary screenplay writer M T Vasudevan Nair created a beautiful film with great confidence. The movie talks about a heartbroken love story said in a poetic touch. The film was a masterpiece in Malayalam.
3. Swapnakoodu
When we talk about love stories and teenagers, we get a handful of films with a feel good effect. But don't expect such a thing in this tragic love story between five teenagers. The movie was filled with then young actors and actresses like Prithviraj, Jayasuriya, Bhavana, Kunchacko Boban Kunchacko Boban is a handsome young guy who got in >> Read More... and Meera Jasmine Born on 15th February 1982, Meera Jasmine belongs >> Read More... . The film was directed by Kamal and released in 2003.
4. Ennu Ninte Moideen
Based on real events, "Ennu Ninte Moideen" is the best lost love story ever told in Malayalam. Prithviraj and Parvathy played the title roles in this epic, heartbreaking love story. Director R S Vimal took many years to create this masterpiece which was a big hit at the box office as well.
5. Chithram
"Chithram" is a classic Mohanlal film that will leave you sad and heartbroken. Director Priyadarshan along with Mohanlal created many wonderful films but also created movies that will surely leave you teary eyed. "Chithram" is one of the best examples for such a movie.
6. Vandanam
Another Priyadarshan and Mohanlal hit. The movie is just a follow up of the film "Chithram" focusing on lost love that can never be obtained ever in your life. Actress Girija Shettar conquered many fan hearts by her single performance in this film and Mohanlal showed how good he is in acting.
7. Harikrishnans
"Harikrishnans" was not a heartbreaking movie in total, but has reasons to tell otherwise as well. The film was famous because both Mohanlal and Mammootty acted together in this suspense thriller. At the final stage of the film, female lead played by Juhi Chawla Juhi Chawla is a renowned Indian actress and produ >> Read More... should choose between either of the two characters as her life partner. The movie was released with two different endings.
8. Kasthooriman
Another one of the tragic love stories which didn't get much attention at the box office. Kunchako Boban and Meera Jasmine played the title characters in this tragic love story.
9. Krishnagudiyil Oru Pranayakalathu Click to look into! >> Read More...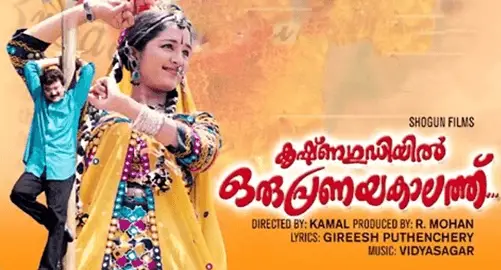 A film that talks about a love triangle. The movie was released in 1997 and was rich with a good cast including Jayaram, Manju Warrier Manju Warrier is a South-Indian film actress, born >> Read More... , and Biju Menon The tall, dark and handsome Biju Menon started his >> Read More... . The movie at one side talks about the successful love story of a pair. Meanwhile on the other side talks about a lost love, which will leave you heartbroken.
10. Thoovanathumbikal
Another one of the best movies ever created in Malayalam film history. The movie talks about a love triangle between the character played by Mohanlal and two other women. The main lead should choose between either of the two leaving the other heartbroken.