1. " Mumbai Police Click to look into! >> Read More... "
This film was one of the best suspense thrillers of the year 2013. With Prithviraj Sukumaran Prithviraj Sukumaran is one among the bubbly actor >> Read More... playing the lead role of ACP Antony Moses, it moves through the complex psychology of the characters and a breathtaking plot. Directed by Rosshan Andrrews Rosshan Andrrews is an Indian film director of Mal >> Read More... , the brilliant cinematography of
" R. Diwakaran " and the background score of Gopi Sunder added to the thrilling effect of the movie. It is a story of friendship and betrayal. The picture received positive reviews and comments and also became a commercial success.
...
2. " Memories Story coming soon.... >> Read More... "
...
It is a psychological crime thriller, with Prithviraj Sukumaran playing the lead role of a police officer, who is investigating a chain of murders. The film, directed by Jeethu Joseph Jeethu Joseph is a Malayalam film screenwriter and >> Read More... , appeared in the theaters on 9 August 2013. It got wide appreciation and made a hefty collection at the theaters. ' Vijayaraghavan Vijayaraghavan is an Indian actor from Kerala, who >> Read More... ', Miya George The young Indian model and South Indian actress Gi >> Read More... , and Meghana Raj Meghana, whose full name is Meghana Raj, is an Ind >> Read More... playedother main characters. It engages the audience throughout and maintains a thread of suspense and mystery till the end.
...
3. " Drishyam Click to look into! >> Read More... "
Yet another crime drama from the accomplished director Jeethu Joseph, this movie ranked first in the hit-chart of the year 2013. It tells the story of an ordinary farmer, Georgekutty, and his family. The brilliant plot construction and the artistic finesse of the artists helped to maintain suspense until the end. It features ' Mohanlal Mohan Lal is the Super Star of the Malayalam film >> Read More... ' and in the lead roles. It won many accolades and also made a collection of around 75 crores. It also received many positive reviews and critical appraisals. The film got remade into many other languages including Tamil, Telugu and Hindi.
...
...
4. " Puthiya Niyamam Click to look into! >> Read More... "
It is a female-oriented movie that has 'Nayantara' in the lead, playing the role of a Kathakali artist, Vasuki Iyer. Directed by 'A.K. Sajan', it has ' Mammootty Muhammed Kutty Ismail Paniparambil is the original >> Read More... ', Sheelu Abraham Sheela Abraham was born in the year 1987 in Bharan >> Read More... , and Rachana Narayanankutty Rachana Narayanankutty born on April 4, 1983 is po >> Read More... playing the other characters. It is a psychological crime thriller, dealing with the murder of three rapists. The film completed 50 days in theaters, making a fair profit.
...
...
5. "Theevram"
With Dulquer Salmaan in the lead, this movie moves through a thread of love and revenge. Directed by the debutant Roopesh Peethambaran Roopesh Peethambaran is a Malayalam film scriptwri >> Read More... , the film received mixed reviews but was agreed to be a thrilling crime story. Vishnu Raghav Vishnu G. Raghav is a Malayalam actor and director >> Read More... , Riya Saira Riya Saira is a famous actress. She is beautiful, >> Read More... , Vinay Forrt Vinay Forrt, the Malayalam actor, was born in 1983 >> Read More... , and Sreenivasan appear in other lead roles. This picture portrays the protest of a young man against the cold legal systems of the country. The cinematography of Hari Nair Hari S. Nair is an Indian cinematographer. He pred >> Read More... is also worth noting.
6. " Grandmaster Story Coming Soon >> Read More... "
With a gripping story and exciting narrative, this movie released in 2012 received an average success and positive comments. Mohanlal, ' Narain Narain is a famous South Indian Actor who hails fr >> Read More... ', Anoop Menon Anoop Menon is an Indian film actor, script writer >> Read More... , and '' played the pivotal roles. The story deals with the investigation of a sequence of mysterious murders that seem to be suicides. Mohanlal appears as Chandrasekhar IPS, who is a leading police officer. Directed by ' B Unnikrishnan B Unnikrishnan is film director and screenwriter; >> Read More... ', it became the first venture of UTV Motion Pictures in Mollywood.
7. "7th Day"
Yet another crime thriller from Prithviraj Sukumaran, this film has an unusual story that made it a success at the box-office. This flick was directed by Syamdhar, and the plot progresses in a mysterious and suspenseful manner.. Prithviraj plays the role of a goon Christopher, disguised as a police officer. Vinay Forrt, Tovino Thomas Tovino Thomas is a well-known face in the Malayala >> Read More... , Anu Mohan Anu Mohan is an Indian actor by profession who maj >> Read More... , and Janani Iyer With her beautiful eyes and charismatic onscreen p >> Read More... appear in other characters. The cinematography of Sujith Vasudev Sujith Vasudev is one of the most renowned names i >> Read More... is also appreciable in this picture.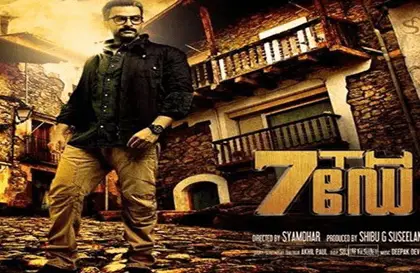 8. "Paleri Manikyam: Oru Pathirakolapathakathinte Katha"
Directed by Ranjith Balakrishnan A great Indian film director Mr.Ranjith Balakrishn >> Read More... , this film features Mammootty inas three characters. It is the story of a murder that has happened some years back. Though the movie did not make much commercial success, it won four State Awards and also many positive critical remarks. The story is that of a real murder case which took place years before. Mythili Balachandran Mythili Balachandran is a Malayalam actress. She m >> Read More... , Swetha Menon, Srinivasan, and ' Siddique Siddique, who is a Malayalam film actor, producer, >> Read More... ' played the role of other characters.
9. "Nerariyan CBI"
It is a detective film directed by K. Madhu, featuring Mammootty, 'Mukesh', and Jagathy Sreekumar Jagathy Sreekumar, a famous Indian film actor know >> Read More... in the lead roles. It deals with the mysterious murder of a girl, assumed to be killed by some supernatural power. The movie maintains a balance with mystery, suspense and reality throughout. It proved to be a box-office hit in the year 2005.
10. "Chinthamani Kolacase"
This picture is a legal thriller directed by Shaji Kailas Shaji Kailas is an Indian film director who direct >> Read More... . It has Suresh Gopi Malayali by birth, Suresh Gopinath, also known as >> Read More... in the lead, playing the character of advocate Lal Krishna Bio coming soon... >> Read More... Viradiyar. A girl named Chinthamani ( Bhavana Menon Bhavana, a Malayalam Actress, was born in Thrissur >> Read More... ) gets killed in the hostel of a medical college. Lal Krishna finds out that the accused were innocent in the case, and he sets out to find the convicts. This film ran for more than 100 days in the theaters and also made a huge commercial success. Bhavana Menon, ' Thilakan Surendranatha Thilakan, more popularly known as Th >> Read More... ', Biju Menon The tall, dark and handsome Biju Menon started his >> Read More... , and '' plays the other characters in the movie.