1. " Traffic Click to look into! >> Read More... "
This 2011 film written by 'Bobby-Sanjay' became one of the most popular socially relevant films in the history of Malayalam cinema. The picture got its story from a real incident of heart transplantation that happened in Chennai. The heart for transplantation was transported from one hospital to another, within a limited time, thus saving a life. Directed by Rajesh Pillai Rajesh Pillai is a Mollywood filmmaker who made hi >> Read More... , the movie gives a message to humanity. It gained a commercial success and also bagged many accolade and critical appreciations.
...
2. " How Old Are You Click to look into! >> Read More... ?"
It is a highly motivating film, which gives a push to women empowerment all over the country. Directed by Rosshan Andrrews Rosshan Andrrews is an Indian film director of Mal >> Read More... , it features the comeback of Manju Warrier Manju Warrier is a South-Indian film actress, born >> Read More... to Malayalam cinema. It is the story of a 36-year old woman, Nirupama Rajeev, who steps up the stones of success to attain National Recognition. It also gives a message of the importance of using pesticide-free vegetables. The movie made it to the top of the hit-list of the year 2014.
...
...
3. "Sandhesam"
The film Sandhesam, as the name suggests, is indeed a message to the political activists all over the world. Directed by Sathyan Anthikad Sathyan Anthikad is a film director who has even t >> Read More... , it features '', ' Sreenivasan Actor Sreenivasan is a Malayalam actor who had rul >> Read More... ', ' Thilakan Surendranatha Thilakan, more popularly known as Th >> Read More... ', and ' Siddique Siddique, who is a Malayalam film actor, producer, >> Read More... ' in the lead roles. It gives the message that any political activist should first take care of his family, and only then, he has the right to reform the society. The screenplay of Sreenivasan incorporates a lot of humor and satire, which in turn makes a dig at the fake politicians. For this script, Sreenivasan got a State Award in the year 1991.
...
4. " Thira Click to look into! >> Read More... "
...
This 2013 film features the comeback of Shobana Chandrakumar Pillai Shobana Chandrakumar Pillai known by the short nam >> Read More... into the Malayalam film industry after a long break. Directed by Vineeth Sreenivasan Vineeth Srinivasan is known to the music industry >> Read More... ; the story portrays the theme of illegal women trafficking. It has Shobana in the role of Dr. Rohini, who is a social worker and a women activist. It gives a strong message against the sexual abuse of girls and children. The cinematography of Jomon T. John along with the background score of Shaan Rahman Shaan Rahman is a widely recognized personality in >> Read More... has given a different mood to the movie. Dhyan Sreenivasan Dhyan Sreenivasan is the younger son of Malayalam >> Read More... , Deepak Parambol Deepak Parambol is a budding Malayalam actor, who >> Read More... , and Amritha Anil Amritha was born on 11th April 2000 in Ernakulam. >> Read More... appear as other characters.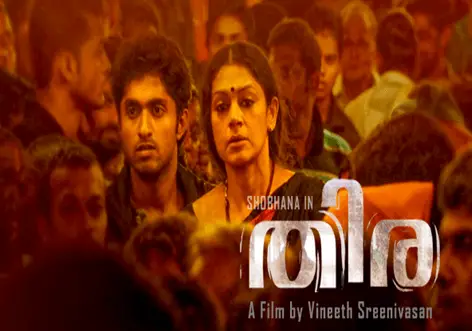 ...
5. "Bhakthajanangalude Sradhakku"
...
This film makes a dig at the fake Sanyasis, who declares themself to be the incarnations of God. Directed by Priyanandanan, it features Kavya Madhavan Kavya Madhavan is an Indian artist but shines in t >> Read More... as Sumangala, in the lead role. It also shows us how alcohol can ruin a whole family. The story got its theme from a real incident regarding a fake god-woman Divya Joshi, who finally resorted to suicide.
6. " Spirit Click to look into! >> Read More... "
This film has a great significance in the present scenario, where alcohol ruins many families. Directed by Ranjith Balakrishnan A great Indian film director Mr.Ranjith Balakrishn >> Read More... , this movie is a satire on the alcoholics of Kerala. It portrays many instances as the messages to the society against the drinking habit. It got a National Award in 2012 for the Best Film on Social Issues. Produced by Aashirvad Cinemas, it made a huge commercial profit as well as critical acclaim. It features ' Kanika Kanika also known as Kaniha is a popular south In >> Read More... ', Shankar Ramakrishnan Shankar Ramakrishnan is a Mollywood actor and dire >> Read More... , ' Lena Lena Abhilash is known for her character Jancy pla >> Read More... ', ' Kalpana Click to look into! >> Read More... ', and Nandu in other roles.
7. " Calcutta News Click to look into! >> Read More... "
This film is built on the theme of women trafficking. Directed by ' Blessy Blessy is a Malayalam film director and screenwrit >> Read More... ', it stars ' Dileep Dileep was born in Kerala as Gopalakrishnan Padman >> Read More... ', Indrajith Sukumaran Indrajith Sukumaran is a prominent film actor, who >> Read More... , and Meera Jasmine Born on 15th February 1982, Meera Jasmine belongs >> Read More... in the lead roles. The story happens in Calcutta (now Kolkata), where a girl named Krishna is trapped by her husband who tries to sell her to the sex rackets. It gives a message against these sex mafias that are active in many parts of Calcutta. Though the film did not make much profit at the box-office, it got a wide critical appreciation for its socially relevant theme.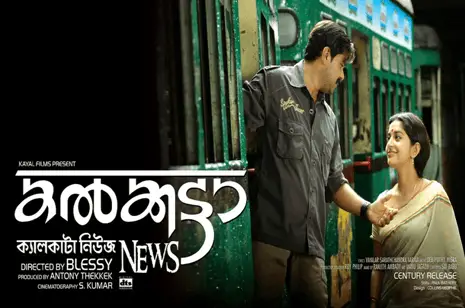 8. " Makante Achan Click to look into! >> Read More... "
This picture directed by ' V M Vinu V M Vinu is a famous director in Malayalam Film In >> Read More... ' is a message to all the parents in the world. It stars 'Sreenivasan' and 'Vineeth Sreenivasan' in the lead roles. It portrays the conflicts between the dreams of a father and the passion of a son. It gives a message that children should be left free to fulfill their dreams, rather than to make the parents proud. It was a great success at the box-office and ran for more than 150 days. Suhasini Maniratnam Suhasini Maniratnam was born on 15th August 1961 i >> Read More... , Salim Kumar Salim Kumar is a person who deserves the title of >> Read More... , and Jagathy Sreekumar Jagathy Sreekumar, a famous Indian film actor know >> Read More... play the other roles.
9. " Action Hero Biju Click to look into! >> Read More... "
This film gives us a message as to how a police officer should be. Directed by Abrid Shine Abrid Shine is a well known Indian Fashion Photogr >> Read More... , it stars Nivin Pauly Nivin Pauly is predominantly a Malayalam actor. Bo >> Read More... in the role of SI Biju Paulose. The picture has many instances carved out of real-life, which makes it more exciting and interesting. It became a top hit at the box-office, collecting about 30 crores. The last voice over is also worth noticing, as it tells about the power of an ordinary police officer.
10. " Mili Click to look into! >> Read More... "
It is a Rajesh Pillai film, released in 2015, starring Amala Paul Amala Paul is the super talented star of South Ind >> Read More... and Nivin Pauly in the lead. It motivates the younger generation to come out of their shelves and fly free. Amala Paul plays the character of Mili, who is a reserved and introvert person. Nivin Pauly appears as Naveen, a trainer of soft-skills who motivates her to climb upwards in life. It gives a positive message that our heart is the greatest power, and with it, we can attain any heights.