There has been a fight for the top spot in the Tamil Industry for the best singer. Most female singers either have a cute voice, or they can sing with melody, but only a few of them have both. Out of these few, some only show up on the big screen. Let's go through the top ten female singers in K-town.

1) ' Prashanthini Prashanthini was born on 28 September, 1983 in Tam >> Read More... '
Pairing up with Harris Jayaraj Harris Jayaraj is a veteran music composer, predom >> Read More... , she gave her debut for the movie '12B' in 2001. Born to Malaysia Vasudevan Malaysia Vasudevan is a playback singer who domina >> Read More... , this girl might have admired her father leading her to a career in singing. She later did several songs in K-town.

2) ' Saindhavi Saindhavi is the female Tamil singer who sings for >> Read More... '
Being a Carnatic singer she has excelled in classical and movie based songs. She started singing at a professional level at the age of twelve. She has worked in many songs in K-town. She later married her tenth class love, G.V. Prakash.

3) Priya Himesh Priya Himesh is a renowned female playback singer >> Read More...
She started her career in 2007, being a multilingual singer. She is working in South Indian songs currently. She also won a Filmfare award for a Telugu song.

4) ' Suchitra Suchitra is a renowned singer, who has sung popula >> Read More... '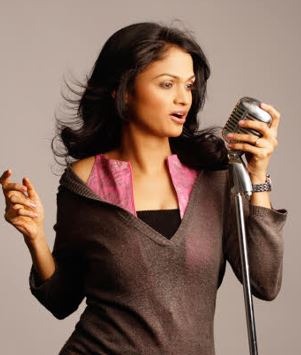 A Tamil radio jockey, who became famous for her voice, and later became a singer in South India. Till date, she has sung more than 100 songs.

5) Shweta Pandit Shweta Pandit was born and brought in Mumbai. She >> Read More...
She started working at the age of four for the movie ' Anjali Indian top model and Telugu and Tamil star Anjali >> Read More... ' with 'Illaiyaraja'. Now she is one of the well-known Bollywood singers and she is also into performing Tamil saongs.

6) Andrea Jeremiah It is sometimes fascinating to read about how film >> Read More...
Born to an Anglo-Indian family, she started her career in 2005 through a song. Later she went on to become the lead actress and has performed all over India. She worked more in Tamil movies, singing as well as acting in them.

7) ' Madhushree Madhushree was born as Sujata Bhattacharya is from >> Read More... '
Her dream was always to be a playback singer, but her dad wanted her to be a classical singer. She achieved her aim in 2001. Singing many songs, she has worked in South India as well as in Bollywood.

8) Shweta Mohan Shweta Mohan is a female playback singer in Indian >> Read More...
Born to the legendary singer in South India Sujatha Mohan, Swetha is also on her way to filling in her mom's shoe. Shwetha has won many awards and is working with many well-known music directors.

9) Chinmayi Sripada
She is the winner of 'Saptasawarangal' a singing show in Sun TV; from where she raised herself to a lead singer. She has worked with many legendary vocalists in South India. She is the only woman who has an app of her name on iOS and Android.

10) Shreya Ghoshal Shreya Ghoshal, one of the most famous singers in >> Read More...
She is the leading singer all over India who has worked in two songs in Tamil. She gave her debut in 1998, and from nowhere she is now at the top.