1. My God Click to look into! >> Read More...
M. Mohan directed the movie starring Suresh Gopi Malayali by birth, Suresh Gopinath, also known as >> Read More... , Honey Rose In her career spanning 8 years, Honey Rose is cons >> Read More... , and Adarsh in lead roles along with supporting actors, and it is a movie about the life of Sam Thottunkal who is a young school going boy. The young boy is an introvert who likes to be alone without mingling with friends, and this becomes problematic as he starts feeling lonely and his life changes as he meets Adrija who takes good care of him.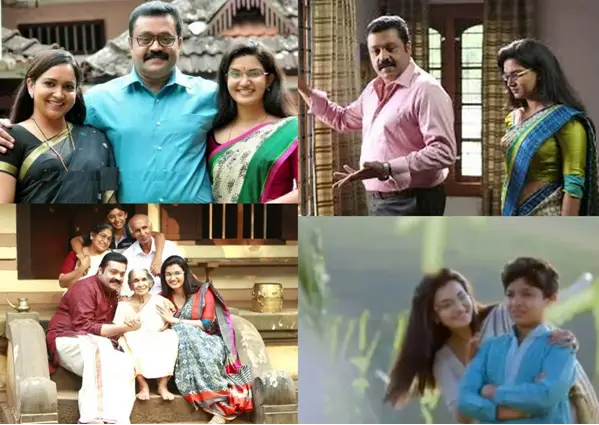 ...
2. Rudra Simhasanam
Shibu Gangadharan The Malayalam film industry has seen various talen >> Read More... is the director of this story starring Suresh Gopi (Rudhra), Nikki Galrani (Haimavathi), Kalabhavan Shajohn, Kaniha and other supporting actors like Nedumudi Venu Nedumudi Venu was born on 22nd May 1948. He is com >> Read More... , Shweta Mohan Shweta Mohan is a female playback singer in Indian >> Read More... , and Devan. It revolves around a historical past filled with dark magic in parts of the story and how it all comes together in the current world where the characters will have to dig deep into the past.
...
3. The Dolphins Click to look into! >> Read More...
A comedy drama film starring top actors like Suresh Gopi, Meghana Raj Meghana, whose full name is Meghana Raj, is an Ind >> Read More... , Anoop Menon Anoop Menon is an Indian film actor, script writer >> Read More... , Rahul Madhav Rahul Madhav is one among the actors presently hav >> Read More... , and other supporting actors like Sreenivasan, Madhu, and Nishant Sagar. Diphan is the director, and Sudeep Karat Bio coming soon... >> Read More... is the producer of the story. The story is about a man named Sura who is famous in Kerala for owning a liquor shop. He wants more fame and meets an astrologer who tells him the path to be successful, he marries a girl who the astrologer said will give him luck. A while later he starts being friendly with another woman just to figure out about his dark past.
...
4. Apothecary
Madhav Ramadasan Madhav Ramadasan was born on 22 May 1973 in Kalluv >> Read More... is the director of the movie starring Jayasurya, Suresh Gopi
...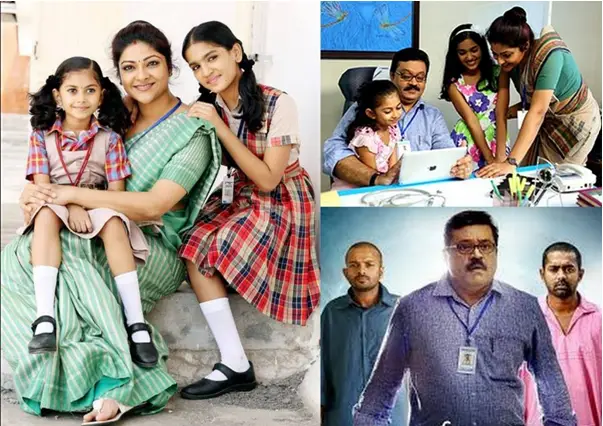 5. Salaam Kashmir
...
A beautiful story with a great storyline by Joshy and produced by Maha Subair He is an Indian producer in the film industry. Mos >> Read More... in the music of M. Jayachandran, starring top lead actors like Jayaram, Suresh Gopi, Miya, Lalu Alex Lalu Alex is a famous actor in Malayalam cinema in >> Read More... , and other senior artists in supporting roles. The plot is about a man named Sreekumar who due to a low educational background is unemployed and ends up being a home maker until he finds a secure job. Suja, his wife decides to be the breadwinner and works earnestly to provide a livelihood and thing start toppling up when a man named Tommy enters their life to cause chaos and confusion.
...
6. Geetanjali
Anjali, whose sister Geeta has conferred suicide, is spooky by her soul upon her arrival to her mom's home. At the point when analyst Dr. Sunny tries to help Anjali, he makes a stunning disclosure. Priyadharshan is the director, and it starred top actors like Mohanlal, Suresh Gopi, Keerthi Suresh, Nishan, Innocent, and other supporting actors.
...
7. The King and the Commissioner
Shaji Kailash directed the film which is a story about terrorism on the whole. A Pakistan based Major named Rana decides to attack India by making Delhi as its first attack region. The Indian Bureau of Investigation on getting to know this try stopping such a disaster from happening by executing plans and operation to keep the country safe from such threats. It stars actors like Mammootty, Sasikumar, Suresh Gopi, and other supporting role actors.
8. Ven Shankhu Pol
Ashok. R. Nath is the director of this beautiful family/drama film, starring Suresh Gopi, Meera Nandhan, Jyothirmayi, and Manoj. K. Jayan along with other supporting actors. The story is about Nandagopan who loves his family and on figuring out that he is suffering from a chronic disease decides to leave his family and go live alone, so it doesn't spread. The family when get to know about this starts worrying, and the twist to the movie comes when Nandagopan goes missing.
9. Collector
A movie filled with nationalism and directed by Anil. C. Menon is about an obedient district collector named Avinash who goes on a spree to destroy all the local gangsters and murders in the town of Kochi. The higher officials get to know that he is walking along the road that will lead him to them, and they decide to stop him by taking measure so they can continue doing their corrupt business. It stars Suresh Gopi, Baburaj, Nedumudi Venu, Mohini, and Rajeev.

10. Mellivilasom
A thriller/mystery combined movie directed by Madhav Ramadasan, starring Suresh Gopi, Parthipan, Ashokan, Thalaivasal Vijay Vijay ( Vijaykumar) got the title Thalaivasal as h >> Read More... , Nizhalgal Ravi Nizhalgal Ravi is a veteran actor in TV serials an >> Read More... , and other supporting role actors. The movie is about the investigation of the murder of a renowned officer Captain Verma. The police suspect a soldier named Ramachandra of the killing and when bought into custody he accepts it without answering to the why question. However, Captain Vikas decides to re-investigate this file and is surprised to see the other side story to it.