Comedy is very necessary for a film to be a complete entertainer. Sandalwood has been outstanding in producing successful comedians to the audience. Here is the list of top ten comedians of the Kannada Film Industry.
1. T. R. ' Narasimharaju'
Tiptur Ramaraju Narasimharaju was born on 24th July 1923. Being one of the oldest actors in the industry, his pair with Dr. Rajkumar was proved to be a sure hit. He was born on 24th July 1923 in Tiptur. He made his debut on stage when he was just four years old. Before becoming an actor, he spent most of his years in various drama companies. He made his film debut in 1954 through the film "Bedara Kannappa" and grew to be called as the "Hasya Chakravarthy." Aged fifty-five, he died on 11th July 1979.
2. 'Balakrishna'
Balakrishna was born on 2nd November 1913 in Arasikere, Hassan. There were a lot of rumors about his ability to hear; some said he had hearing problems, and some said he could not hear at all. Before joining the industry, he did odd jobs in various drama companies and made his debut through the film "Kalachakra" in which he appeared in a negative role. Aged 81, he died on 19th July 1995.
3. ' Doddanna'
Doddanna was born on 11th November 1949 in Arsikere. He was a theater artist before he entered the Film Industry. He debuted in the year 1981 and is active since then. He is proved to be a versatile actor.
4. Mukhyamantri Chandru
Chandru was born on 28th August 1953 in Karnataka. He began his career as a theater artist. He entered the Film Industry playing a negative role in " Chakravyuha" and from there he has proved to be a versatile actor and is known for his sense of humor.
5. M S Umesh
Umesh was born on 25th April 1945 in Mysore. He was a theater artist from his childhood. But there was a time when he couldn't find good roles and took up backstage jobs in drama companies. But after he made his debut he was cast for a huge number of films and became famous for his comedy.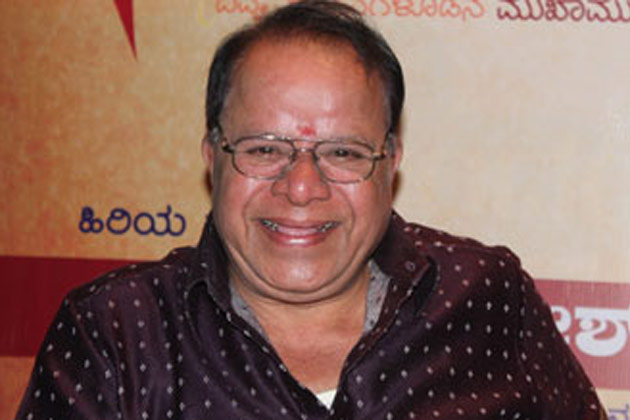 6. 'Dwarkish'
Dwarkish, born in Hunsur and brought up in Mysore, started his Film career as a producer. He gave a series of box office hits after which he went on to direct various movies and even acted in some. Further, he became famous for his comedy and still is the favorite comedian of a majority of the audience.
7. Sadhu Kokila
Sadhu Kokila was born on 24th March 1966 in Bangalore. He started his career as a music composer and won many awards. He further went on to direct a few films after which he took to acting, mostly in comic roles. He has been a talented person who has managed to be an actor, music composer, director and a producer in the industry.
Raghunath, also known as Rangayana Raghu, was born on 17th April 1965 in Tumkur. He is mostly famous for his negative and comic roles. He was a theater artist before he entered the Film Industry. He debuted in the movie "Dhumm" in the year 2002. He was won a lot of awards and is active in the industry since 1995.
Krishna, born on 15th November 1949, has a theater background. He is famous for his voice and his sense of humor. He has won many awards and has acted in a Telugu and Tulu movie.
10. 'Komal'
Komal Kumar was born on 4th July 1973 in Tumkur. His elder brother is Jaggesh, who is also known for his comic roles. Komal debuted in the year 1992 through the film "Super Nan Maga" and continues to entertain the audience with his comic roles. He is a producer too.