Every year we see a crop of new television shows which strive hard to entertain the viewers. In the year 2016, we saw several new shows coming up. Some of them ended within a few months, and some of them are going strong even now. These new shows have gained popularity in a short period. Fresh content is very important for the audience as they often get bored of the same shows running for years. Let us look at ten new TV shows of 2016.
1. Pardes Mein Hai Mera Dil
...
This show began airing on Star Plus in November 2016. The story is based on the life of two individuals, Raghav and Naina, who live outside India. Their tale of meeting each other and falling in love forms the crux of the show. The lead actors are Arjun Bijlani Arjun Bijlani is an Indian Television Actor. Arjun >> Read More... and Drashti Dhami Drashti Dhami is a Bollywood model and television >> Read More... . As they are both very popular actors on television, the show gained a large audience soon after its release. The serial is said to be inspired by the movie Pardes.
2. Kasam Tere Pyaar Ki
...
This Colors TV show is a romantic drama about two souls whose love goes beyond all boundaries and encompasses many births. It shows how love has the power to deal with all obstacles and come out victorious. It started with the lead actors Kratika Sengar Kratika Sengar or Kratika Sengar Vedant is an Ind >> Read More... and Sharad Malhotra Sharad Malhotra, who is an Indian actor, was born >> Read More... . Premiering in March 2016, the serial has become quite popular among the audience due to its theme and the performances of its lead actors.
3. Beyhadh
...
This serial began in October 2016 and is aired on Sony Entertainment Television. It is the story of a love triangle formed among two childhood friends, Saanjh and Arjun, and Arjun's boss, Maya. The lead roles are played by Aneri Vajani Aneri Vajani is a popular and talented television >> Read More... , Kushal Tandon Kushal Tandon is a famous Indian model and Hindi s >> Read More... , and Jennifer Winget Jennifer Singh Grover, a popular Indian actress an >> Read More... . The show is going strong, with the lead actors recently going abroad to shoot an important sequence.
4. Jaana Na Dil Se Door
...
This popular serial on Star Plus started in May 2016 is a passionate story of love between two individuals, Ravish and Vividha. The serial stars are Shashank Vyas Shashank Vyas is a popular Bollywood film and seri >> Read More... and Shivani Surve Shivani Surve, is a leading Marathi and Hindi Tele >> Read More... . The chemistry between the lead pair is the highlight of the show. The show has become so famous that it has been dubbed in Telugu and Malayalam.
...
5. Kuch Rang Pyar Ke Aise Bhi
...
This is a serial on Sony Entertainment Television starring Shaheer Sheikh From playing the teenage heartthrob, Veer Mehra in >> Read More... and Erica Fernandes Erica Fernandes, an Indian actress who moved from >> Read More... . The story follows the relationship between the two lead characters, Devrath and Sonakshi, and the effect it has on Devrath's mother, played by Supriya Pilgaonkar Supriya Pilgaonkar is best known as Supriya in the >> Read More... . The show has gained much love from the viewers. It is also aired in Indonesia due to the popularity of Shaheer Sheikh there.
6. Shakti - Astitva Ke Ehsaas Ki
...
This is a Colors TV serial which started in May 2016. It stars Rubina Dilaik Born and raised in Shimla, (on the 26th of August >> Read More... and Vivian Dsena Vivian Dsena is a charming, young and talented tel >> Read More... in the main roles. The serial started off as a story of two sisters but developed into a show about transgenders. This angle is controversial and has managed to hold the attention of the viewers. The lead actors are doing a great job of essaying their respective roles, and the serial is going steady regarding numbers.
7. Ishqbaaaz
Ishqbaaaz is a serial on Star Plus which started airing in June 2016. It stars Nakuul Mehta Nakuul Mehta is an Indian Model, Anchor and an Ac >> Read More... , Leenesh Mattoo Leenesh Mattoo, also known as Eddy, is an Indian t >> Read More... , and Kunal Jaisingh Kunal Jaisingh is an Indian television actor. He w >> Read More... as three brothers. The story follows the daily lives of the members of a wealthy family. Surbhi Chandna Surbhi Chandna is a model and upcoming actress who >> Read More... also plays an important role. This is currently a very popular show on Star Plus. It is doing well and gaining the audience's love and attention.
8. Chandra Nandni Chandra Nandini is a period drama serial in Hindi >> Read More...
Chandra Nandni is a historical drama series airing on Star Plus since October 2016. It is a fictionalized story of the great Indian Emperor, Chandragupta Maurya Chandragupta Maurya was co-created by Sagar Expres >> Read More... and his wife, Nandni. The characters are played by Rajat Tokas Rajat Tokas is a prominent Indian television actor >> Read More... and Shweta Basu Prasad Shweta Basu Prasad is a famous name on television, >> Read More... respectively. This is an ambitious project of Balaji Telefilms, and they are making sure that the show does not lack anything important to entice the audience.
9. Bahu Hamari Rajni Kant
This is a comedy serial airing on the channel Life OK. It started in 2016 in the month of February. The show follows the experiences of the Kant family when their son marries a humanoid robot named Rajni. The struggles of Shantanu to hide Rajni's identity and the adventures of the family members with Rajni make hilarious plot points. The show started with Ridhima Pandit Ridhima Pandit is an Indian actor, anchor, and mod >> Read More... and in the lead roles. However, Karan Grover was later replaced by Raqesh Vashisth Another hotty in the town. He is one of those acto >> Read More... .
10. Ichhapyaari Naagin Recent days. the favor for fantasy serial is quite >> Read More...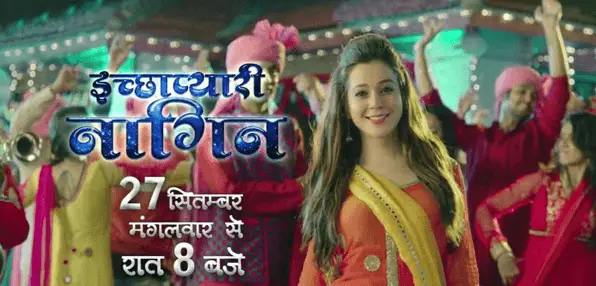 This is a fantasy show on SAB TV starring Mishkat Varma Another promising dude of Indian Television, Mishk >> Read More... and Priyal Gor Priyal Gor is a gorgeous young Indian model and ac >> Read More... . It started in September 2016 and became much-loved in a short time. The show is set in Naaagistan, a fantasy land where snakes live. These snakes have the power to turn into humans. The story starts when Ichha, a young female snake, decides to come to the earth to convince humans that snakes are friendly creatures. There she falls in love with a human, and the serial follows their story henceforth.