1.) Dharti Ka Veer Yodha

Prithviraj Chauhan It was an epic show that depicted life story of brave Indian ruler, Prithviraj Chauhan. The cast included Anas Rashid Anas Rashid is widely known for his character as S >> Read More... , Rajat Tokas Rajat Tokas is a prominent Indian television actor >> Read More... , Puja Joshi Bio coming soon... >> Read More... , Mugdha Chaphekar Mugdha Chaphekar is a television and film actress >> Read More... , , Chinki Jaiswal, Vimmy Bhatt Vimmy Bhatt is a model first and a TV actress late >> Read More... , , Sunila Karambekar, Mehul Vyas Mehul Vyas is a television actor. He has performed >> Read More... and many others. They depicted characters of Prithviraj Chauhan, Young Prithvi, Sanyogita, Young Sanyogita, Vaishali, Rajkumari Pratha, Jwala, Someshwar, Kamalavati, Sanjham etc.
...
2.) Bharat Ka Veer Putra
Maharana Pratap It was an epic show that depicted life story of brave Indian ruler and patriot Maharana Pratap. Its cast had Faisal Khan Faisal Khan was born in 1999 in Mumbai. His father >> Read More... and Sharad Malhotra Sharad Malhotra, who is an Indian actor, was born >> Read More... , Roshni Walia Roshni Walia is one of the most prominent and lead >> Read More... and Rachana Parulkar Rachana Parulkar is a renowned Indian model, dance >> Read More... , Jannat Zubair and Heena Parmar Heena Parmar is a famous Indian television actor k >> Read More... , , Ankur Nayyar Ankur Nayyar is one of the most talented actors in >> Read More... , Vindhya Tiwari Intro: Vindhya Tiwari is beautiful bubbly girl fro >> Read More... and much more. They worked on the characters of Maharana Pratap Singh, Maharani Ajabde Punwar, Rani Phool Kanwar, Amar Singh I, Acharya Raghvendra and Rani Durgavati, etc. The coordination between Maharana Pratap and Chetak was also worth admiring. The character of Rana Udai Singh II by Shakti Anand Famous for his role as Nikhil Samarth in the dram >> Read More... was also an epic one along with that of Maharani Jaiwanta Bai by Rajshree Thakur The Maharani Jaiwanta Bai is well known the face o >> Read More... .
...
3.) ""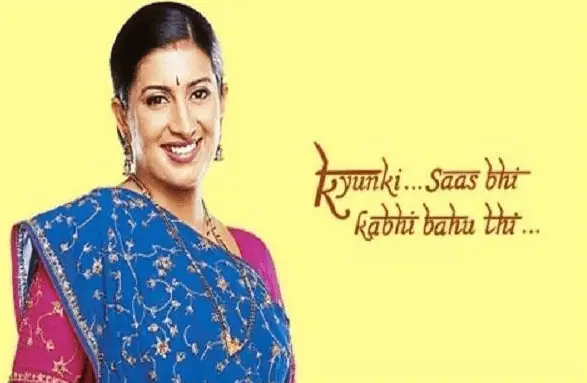 ...
It is the most loved family drama of all times. Tulsi Virani and Mihir Virani with their family portrayed a strong bond of relationships and proved that each and every type of relation has its sweetness. This show was able to depict three generations and their happy living, thereby making it by far the most successful family show.
4.) Kasautii Zindagii Kay Now this is something very BIG. Here we are talkin >> Read More...
...
It's a story of two characters Anurag and Prerna. Lovers who are united and separated at various points of life. From a series of love instances between them to the roles of Aparna and Komolika and the Patience and cooperation by Mr Bajaj all added their part well in this show.
5.) Kahiin To Hoga
...
Talking about Love story, here is the complete package. Sujal, and Kashish with lots and lots of romantic incidences to bring about love in larger than life ways. The fact that Tushar is the very Sujal, gave a new level to the serial. Also, the business of RNG Company was fun to watch.
...
6.) Shaktimaan
...
This Indian Superhero needs no introduction. Ruled the hearts for over a decade, it is fitting to say that it was then, now and forever. Gangadhar, the concept of Panch Maha Bhoot and Shakti Punj, all related to building a True Superhero Shaktimaan. The concept of Kundalini, Mahaguru and Ancient prayers to regain strength all seemed so original that every other person, of all age group, could see the reflection of reality in it and could easily relate himself/herself to it. Shaktimaan's seven ideologies still echo in the hearts of people. It was a creation that made people realise that all their ancient culture and texts are the source of intellectual powers which transforms any ordinary person to a superhuman like Shaktimaan.
7.) Kumkum
It is also one of the longest watched TV serials. Juhi and Hussain have perfectly worked to bring all success to this serial.
8.) Kahaani Ghar Ghar Ki
One of the most famous serials, the winner of several awards, had Sakshi Tanwar Sakshi Tanwar is a leading Indian television and f >> Read More... and Kiran Karmarkar Kiran Karmarkar is a theatre, television and also >> Read More... in the cast along with several others. Together they all brought success to this serial.
9.) Bhabi ji Ghar Par Hain
A tale of two houses situated right in front of each other. With their husbands fed up of their wife and are interested in each other's wife. Watching this show binds the time as a memorable one with sweet laughter.
10.) The Kapil Sharma Show
Name alone is enough to depict achievement. It is at this hour that people from all over India and Abroad get united with their families and spend some time laughing together. If in this busy life, this show puts on a family get-together and makes them laugh, and brings about a smile to the ones with diseases or sufferings, it's indeed an award in itself.