1. Kajol – Shah Rukh Khan Shah Rukh Khan or also known as SRK is a prominent >> Read More...
No Bollywood couple list can ever be completed without mentioning Kajol and Shah Rukh; the all-time favorite of every romance enthusiast. The passion with which they portray their love for each other on the screen makes even the non - believers to think twice about the power of love. Be it them embracing in the mustard fields during " Dilwale Dulhania Le Jayenge Click to look into! >> Read More... " or in the sunset on a beach in " Dilwale Click to look into! >> Read More... " each scene of theirs is a tribute to love.
...
2. Deepika Padukone Deepika Padukone is an Indian actress and model. S >> Read More... – Ranveer Singh Ranveer Singh Bhavnani is an Indian movie actor wh >> Read More...
This Bollywood couple is undoubtedly the trending topic these days, not only because of their on-screen chemistry but also because of their off-screen relationship. They both recently got married in November, 2018. Ranveer's unchallenged buoyancy is the yang to Deepika's sophisticated yin. Their unparalleled performances in " Ramleela Click to look into! >> Read More... " and " Bajirao Mastani Click to look into! >> Read More... " have set high standards for romantic movies.
...
3. Rekha –
Although it has been more than 30 years since Rekha and Amitabh have shared screen space, yet they remain to be one of the most frequently mentioned couples of all time. The coming together of an angry man and a damsel has always been Bollywood's most sought after storyline. Rekha and Amitabh played those roles well and up to the viewer's expectation, hence becoming the favorites of all.
...
4. Alia Bhatt Alia Bhatt is a trendsetting actress from Mumbai, >> Read More... – Siddharth Malhotra
Siddharth Malhotra perfectly portrays the role of a broody young man, and Alia supports him with her bubbly and cheerful vigor. There comfort level with each other and off-screen friendship helps them to make their roles lively. Their performance in "Kapoor & Sons" was widely praised by people looking for a fresh romance. Alia Bhatt's real life boyfriend is Ranbir Kapoor Ranbir Kapoor is a noted Indian film actor. He was >> Read More... .
...
5. Aishwarya Rai Bachchan Aishwarya Rai Bachchan is a popular Indian actress >> Read More... – Hrithik Roshan Hrithik Roshan with his unimaginable dance moves i >> Read More...
...
These two worked together in three movies and completely blew away the minds of the audience by how perfect they looked with each other. It's almost magical to witness how they complement each other's beauty. The movie "Jodha - Akbar" is not only known for its grandeur and historical significance but also for Hrithik and Aishwarya's exceptional acting skills, making them an iconic couple.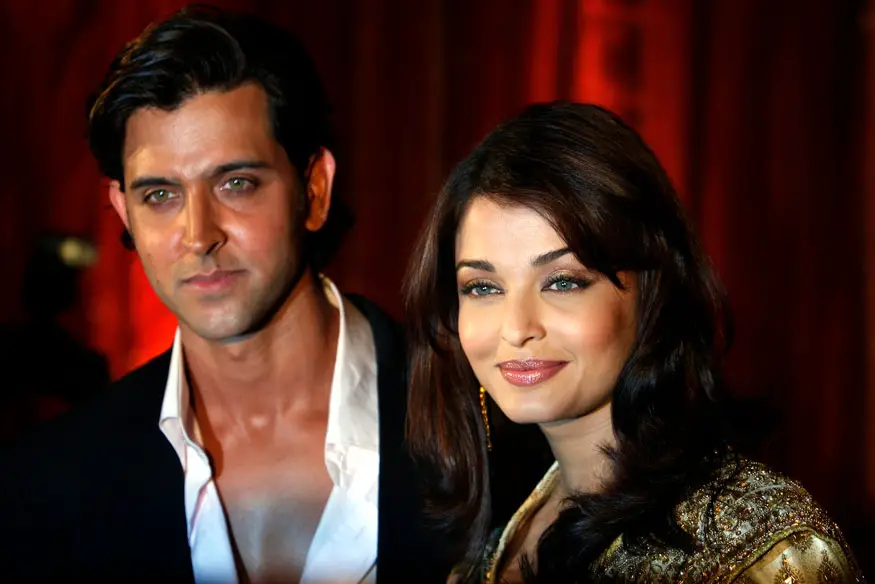 ...
6. Preity Zinta Preity, also known as Preity Zinta is a famous Act >> Read More... –
We haven't seen this couple on the screen together for years, but we can never forget how these two weaved a magically romantic world in the movie "Salaam Namaste." These two were widely acclaimed as the most happening couple for Indian Rom-Coms. Although "Kal Ho Na Ho" is mostly quoted for Shah Rukh's performance, yet the chemistry between Preity and Saif makes a strong presence.
...
7. Deepika Padukone – Ranbir Kapoor
Ranbir and Deepika's rapport on the screen was proved with the success of "Yeh Jawani Hai Deewani" and "Tamasha."His exuberance concurs with her poised performances. Even after the failure of their real-life romance, they both continue to play the flawlessly lovesick couple. They complement each other beautifully on the screen and keep the viewers hooked by their energies.
8. Karishma Kapoor – Govinda
Govinda ruled Bollywood as a comedy king for years and was beautifully complemented by Karishma Kapoor in her golden years. Be it their hilarious performance in "Haseena Maan Jayegi" or "Coolie No. 1," they both have always surpassed our expectations and did a point-on job of pleasing the audience.
9. Madhuri Dixit Madhuri Dixit is not just known as the also a smil >> Read More... – Anil Kapoor Anil Kapoor was born on 24th December 1956 in Mumb >> Read More...
Movies like "Tezaab," "Beta," and "Ram Lakhan" are examples of hit movies featuring this couple at the zenith of their career. His rugged look and her compelling beauty, paired with their flawless acting, successfully enchanted the audience. It has been several years since they have come together on the screen, but viewers still await their return.
10. –
This was one of the few unexpected couples that won the heart of the viewers. The pairing of the ultimate Desi Boy and an NRI beauty was a welcome change for the audience looking for an unpredictable romance. Be it handling drama in "Namaste London" or comedy in "Singh is King", Akshay and Katrina's performance was fueled by their sizzling chemistry.