As Bollywood fans, we like watching the romance between our favourite couples on the big screen, and it somehow raises our expectations. Bollywood love stories may teach us a lot about ideal relationships, including how to tolerate people with defects and how to date the perfect person. However, the industry also pioneered the practise of charmingly and intriguingly depicting relationships between two male characters. The uncanny chemistry advances the plot and keeps us interested enough to see their chemistry off-screen as well.
1. Sholay (, Dharmendra)
"Sholay" is a movie made up of moments and scenes rather than a straight-forward plot. The logline would be "Sanjeev Kumar hires Dharmendra and Amitabh to safeguard his village from Amjad Khan, against whom Sanjeev Kumar wants retribution, taking no chances," and that's virtually a whole plot synopsis as well. There is also the railway robbery, though. The dancing of Hema Malini literally saved Dharmendra's life.
...
The musical score of Karan Arjun makes for enjoyable listening, but it is not a movie for people seeking thought-provoking portraits in important cinema. The equivalent of today's Lagaan or Chandni Bar was not frequently offered by Bollywood in the past. They were thought to be useless wasters of time and money.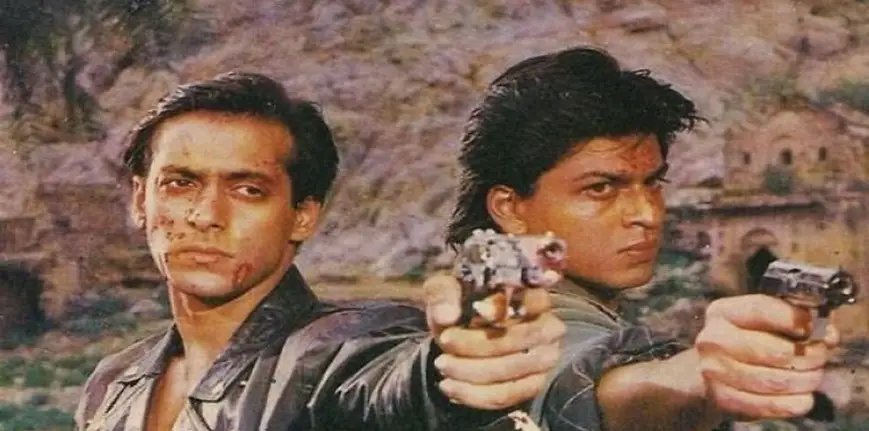 Rajkumar Santoshi Rajkumar Santoshi is an Indian filmmaker who shot >> Read More... 's 1994 comedy Andaz Apna Apna is one of his films. Aditya Sohoni and Dilip Shukla Dilip Shukla is a screenplay writer. He was born i >> Read More... are the authors. Tushar Bhatia Tushar Bhatia is an Indian music director. He work >> Read More... composed the music, Ishwar Bidri Ishwar Bidri was born in 1933 in Rabkavi Banhatti, >> Read More... shot the movie, and V.N. Mayekar edited it. Despite being the stuff of Bollywood dreams, Mehmood, Jagdeep, and Devan Varma under the hotshot direction of Rajkumar Santoshi failed to blow the box office away.
...
4. Lage Raho Munna Bhai ( Sanjay Dutt , Arsad War shi)
The sequel to the incredibly fun comedy Munnabhai MBBS is Rajkumar Hirani's Lage Raho Munnabhai. Contrary to popular belief, Lage Raho Munnabhai is not a continuation of the first movie. This story is not a continuation of that one, and it is not even necessary for you to have seen the first movie in order to understand this one. In reality, Lage Raho Munnabhai is a brand-new chapter in the lives of Munna and Circuit, the movie's leads.
...
5. Bhagam Bhag (Aksahy Kumar, Govinda)
Bhagam Bhag is a comedy, and Priyadarshan has been producing mad hatter comedies for a while. However, this time around, he has added a murder mystery to his comic caper. The customary Priyadarshan material is there in Bhagam Bhag, including numerous absurd scenarios, mayhem, and confusion, a large cast of characters, and numerous concurrent subplots. The movie does a good job of entertaining on an entertainment-only basis, but it doesn't really provide anything new.
...
The Bollywood action-adventure "War" is most likely only for fans of headline actors Hrithik Roshan and Tiger Shroff, the former of whom starred in the silly but endearing superhero series " Krrish Click to look into! >> Read More... " and the latter of whom will star in a forthcoming, officially authorised Indian Rambo version. In terms of style, "War" is Maximum Masala and may contain more tonal swings, wild story twists, and convoluted character motivations than even seasoned Indian film enthusiasts can handle.
...
7. Housefull Series (, Ritesh Deshmukh)
Sajid Khan Sajid Khan is a Bollywood director, producer and e >> Read More... makes a comeback following the success of Heyy Baby, a party full of messed-up diapers and spilled food that did manage to make you laugh. In his attempt to produce a similar riot of funny sequences for the movie Housefull, he stays mostly true to his formula and centres the story around two couples: Riteish Deshmukh Riteish Deshmukh is the son of a politician, late >> Read More... and Lara Dutta Lara Dutta is an Indian actress, model, movie prod >> Read More... and Akshay Kumar and Deepika Padukone Deepika Padukone is an Indian actress and model. S >> Read More... .
...
8. Garam Masala (Akshy Kumar, John Abrahim)
The plot of Garam Masala is rather straightforward. To put it plainly, it is essentially nonexistent. Mac [Akshay Kumar] and Sam [ John Abraham Like some of our sexy stars, John Abraham has had >> Read More... ] are photographers for the Mauritius-based magazine Garam Masala. While sharing a work apartment and bike, they both have a love-hate relationship. Despite previously being engaged to Anjali [Rimmi Sen], both of the hunks, but especially Mac, have a thing for feminine beauty. Both males also make an attempt at Maggi [ Neha Dhupia Neha Dhupia is a Bollywood actress who began her c >> Read More... ], a colleague.
...
9. Deewaar (Amitabh Bachchan, )
The movie, which was written by Salim-Javed, has a few sequences and lines that stand out. For instance, Vijay's tattooed arm (mera baap chor hai), when carefully shown, creates a strong effect. Additionally, there is that classic exchange between the brothers in which Vijay brags about his money and Ravi responds with the soothing "mere paas maa hai" to his brother's inflated ego.
Sanjay Dutt, Govinda, Karisma Kapoor Karisma Kapoor is a well known face from the famil >> Read More... , and Pooja Batra Pooja Batra is an Indian actress and model and she >> Read More... acted as the movie's main characters, and it was released in the year 1999. The overtly comic movie was a box office success and is popular with a lot of people. Currently, during a conversation with IANS, Karisma reminisced and talked about Haseena Maan Jayegi.