There have been many remakes of foreign movies by Bollywood, most of which have been critical and commercial successes. Bollywood often makes remakes of Tamil, Malayalam, and Hollywood movies. But there are a few rare movies of Bollywood, which were inspired by French movies. While in some only the idea is the same, others have the same plot as French movies.
Here are some of the well-known movies of Bollywood which were inspired by French cinema. Let's have a look:
...
1. Bheja Fry
'Bheja Fry', directed by Sagar Ballary Sagar Ballary is a Bollywood director and has dire >> Read More... and produced by Sunil Doshi Sunil Doshi is one of the famous producers of the >> Read More... is an Indian comedy film. The lead roles in the film are played by , Sarika, Vinay Pathak Vinay Pathak is a well known face in the field of >> Read More... , etc. It was adapted from the French film 'Le Diner De Cons 1998.' This film was made on a small budget but still managed to do very well at the box office. the film is the first part of the trilogy and was also remade by Hollywood in 2010.
...
Directed by David Dhavan, 'Do Knot Disturb' is a comedy film, inspired by the French film 'La Doublure.' Starring Govinda, Sushmita Sen, Larra Dutta, and Ritesh Deshmukh, The film generally received positive reviews upon release but it did not have a huge impact on the box office. The film was an insight from the 2014 Punjabi movie 'Disco Singh' which was also later remade in Bengali as 'Haripada Bandwala'.
...
'Heyy Babyy', directed by Sajid Khan Sajid Khan is a Bollywood director, producer and e >> Read More... is a drama-comedy starring , Ritesh Deshmukh, Fardeen Khan Fardeen Khan is a former film actor, known for doi >> Read More... , and Vidya Balan Vidya Balan is an award winning Bollywood actress >> Read More... and was inspired by the French movie 'Three Men and a Cradle.' The story is of three womanizer bachelors who live in Australia and are surprised to find a baby on their doorstep. They do not know who is the father of the baby and start frantically searching for the mother. This film was a hit due to its fabulous story and a delightful experience because of the cute little angle.
...
'Nautanki Saala' directed by Rohan Sippy Rohan Sippy is the son of the famous Ramesh Sippy >> Read More... , starring Ayushmann Khurana and Kunaal Roy Kapoor is an Indian romantic comedy-drama film. The story is adapted from a 2003 French comedy film 'Après Vous.' This film took over people's hearts for its amazing songs and it is worth watching at least once.
...
...
5. Yaara
'Yaara', starring Vijay Verma Vijay Verma is an Indian actor who has quickly mad >> Read More... , Vidyut Jammwal and Shruti Hassan is a crime action film by Tigmanshu Dhulia Tigmanshu Dhulia is a super talented and multi-fac >> Read More... . The film is about a former criminal gang who come together after several years to rescue their friend from the police. This film is an official remake of the French film 'The Gang Story.' This film was released on the OTT platform, ZEE5 in 2020.
...
'Shanghai', co-produced and directed by Dibakar Banerjee Dibakar Bannerjee is a director and screenwriter a >> Read More... is a political thriller film. The lead roles in the film are played by Emraan Hashmi Emraan Hashmi is one of the most successful & cont >> Read More... , Abhay Deol Abhay Deol is an actor and director of the TV indu >> Read More... , Kalki Koechlin Kalki Koechlin is a famous film actress, model and >> Read More... , etc. It is a remake of the 1969 French film 'Z' adapted from Vassilis Vassilikos's Greek Novel Z. The film's overall performance was not that great.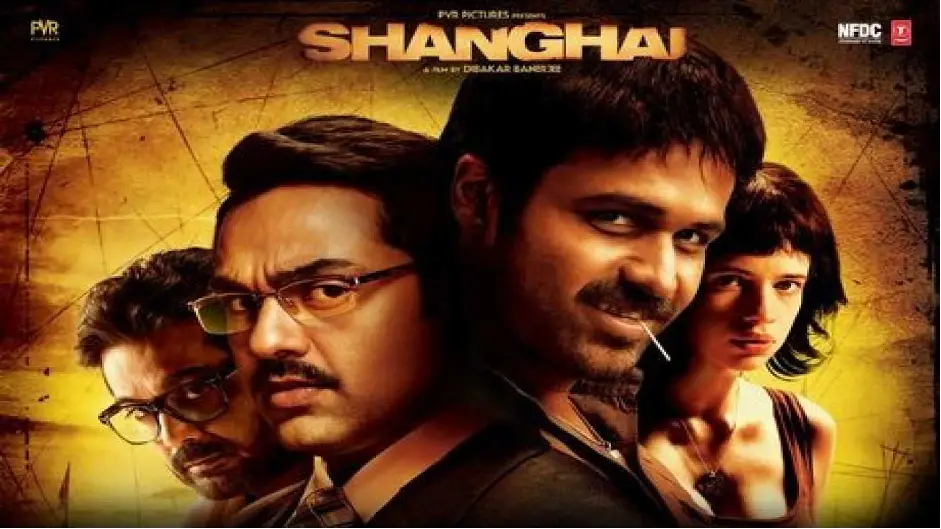 'Bumboo' is a black comedy film inspired by the French film 'L'emmerdeur.' Though the film name is a bit peculiar, it starred classic supporting actors of Bollywood as leads. This film is about an international killer who is to kill a celebrity. However, a clumsy press photographer is a constant thorn in his path.
The title of the movie 'Teraa Surroor' is one of the recognizable performances of singer Himesh Reshammiya Intro: Himesh Reshammiya got his stardom after win >> Read More... . The singer surprised the audience by indulging as a lead in the film with the same name. This Hindi thriller film directed by Shawn Arranha Shawn Arranha is an Indian Director. He has worked >> Read More... was inspired by the French movie 'Anything for her.'
9. Mumbai 125 KM
This Hindi language horror film is a must-watch for lovers of this genre. This film was adapted from the 2003 French film 'The Dead End' and was released in both 2D and 3D. The film starring Karanvir Bohra Karanvir Bohra who is a very popular Indian TV act >> Read More... and was a work by Hemant Madhukar Hemant Madhukar is an Indian Film Director and a W >> Read More... .
10. Kartoos
'Kartoos', an action thriller, was the last film of Mahesh Bhatt Filmmaker Mahesh Bhatt created a niche for himself >> Read More... as a director before Sadak 2. The film was inspired by the French film 'La Femme Nikita.' The actors in the movie were Sanjay Dutt July 29, 1959, was the day when the two legends of >> Read More... , Jackie Shroff Intro: Jackie Shroff is a well known Bollywood act >> Read More... , Manish Koirala and in lead roles. This film's story is that of a cop who trains a criminal to kill a don.