There is no dearth of romantic movies in Bollywood. Some movies followed the tried and tested format of boy-meets-girl romance, and some try out different and unconventional love stories. These stories touch the hearts of the viewers and leave a warm feeling in the heart. In recent years, many such films have been made which show beautiful love stories between unconventional couples. The films do not need to have a union as the ending. It is the beauty and feel-good factor that matters.
Let us look at 10 such unconventional romantic films of Bollywood.
1. Barfi!
Directed by Anurag Basu Anurag Basu is a jack of all trade Indian film/tel >> Read More... , Barfi! Is the heart-warming story of a deaf and mute boy named Murphy Johnson and nicknamed Barfi. The movie is set in Darjeeling and Kolkata and tells about the relationship of Barfi with two women, Shruti and Jhilmil. The character of Jhilmil is autistic, and it is the love story of Barfi and Jhilmil that forms the theme of the film. The movie stars Priyanka Chopra Born on 18 July 1982, Priyanka Chopra is an establ >> Read More... , Ranbir Kapoor Ranbir Kapoor is a noted Indian film actor. He was >> Read More... , and ' Ileana D Cruz Ileana D'Cruz made her debut in Telugu film "Devad >> Read More... ' as the central characters. The movie teaches us that love knows no boundaries and conventional definitions.
2. The Lunchbox Click to look into! >> Read More...
...
This wonderful movie has been directed by Ritesh Batra Ritesh Batra was born to a middle class family on >> Read More... and stars Irrfan Khan Irrfan Khan is a noted Bollywood actor who started >> Read More... , Nawazuddin Siddiqui Nawazuddin Siddiqui was born in Budhana in Muzaffa >> Read More... , and Nimrat Kaur Bollywood actress Nimrat Kaur was born on 13th Mar >> Read More... in important roles. The story of the movie is very simple and warm. It depicts the unique connection between a middle-aged widower, Saajan Fernandes, and a young married woman, Ila, who is ignored by her unfaithful husband. They write letters to each other back and forth after the 'dabbawala' mistakenly delivers the lunchbox meant for Ila's husband to Saajan. The two lonely people form a connection with each other and share their feelings and memories, resulting in a beautiful relationship.
...
3. ' Raanjhanaa Click to look into! >> Read More... '
Directed by '' and starring ' Dhanush This lanky superstar Dhanush is an actor from Tami >> Read More... ' and Sonam Kapoor Sonam Kapoor, Daughter of Anil Kapoor and model Su >> Read More... , Raanjhanaa is an unconventional Bollywood film about the love of a Hindu boy, Kundan, for a Muslim girl, Zoya. The story is set in Varanasi and follows a timeline from the characters' childhood to adulthood. Politics, religion, and society form important elements of the story as well. The film depicts how people's lives can be torn apart and destroyed due to love and obsession. Though the movie has a tragic ending, it has been called one of the greatest tales of love in recent years.
...
4. ' Lootera Click to look into! >> Read More... '
...
This love story was adapted from the concept of The Last Leaf, a short story written by O. Henry. It was directed by Vikramaditya Motwane Vikramaditya Motwane is a film producer, writer, a >> Read More... and starred Ranveer Singh Ranveer Singh Bhavnani is an Indian movie actor wh >> Read More... and Sonakshi Sinha Sonakshi Sinha is a well-known Indian Actress. She >> Read More... . It is a poignant love story between a sick daughter of a Bengali landlord, Pakhi, and a man who comes to her house and introduces himself as Varun, an archaeologist. Riddled with lies, false identities, and conspiracies, their love story blossomed like a lotus in a muddy pond. The film has been praised for its sensitive treatment and deep understanding of human emotions.
5. " Ek Main Aur Ekk Tu Click to look into! >> Read More... "
...
This movie is a romantic comedy which is quite different from the typical romantic comedies of Bollywood. It was directed by Shakun Batra Shakun Batra is an Indian filmmaker and he was bor >> Read More... and starred Imran Khan Imran Khan is an Indian film actor, who is famous >> Read More... along with Kareena Kapoor Khan Kareena Kapoor is a super hit actress working in I >> Read More... . The story is about two people, Rahul and Riana, who meet each other in Las Vegas Serial Story Coming Soon... >> Read More... , get drunk, and get married. This kind of movie is entirely new to Bollywood. The best part of this film was its connection with real people and real emotions. It did not show an unrealistic love story, instead choosing to focus on the growing relationship between these two strangers, be it love or friendship. The theme and treatment of the movie are very fresh and entertaining.
...
6. Hum Tum Click to look into! >> Read More...
Hum Tum is a romantic film based on the lives of the lead characters, Karan and Riya, and their love story. They meet each other many times in a span of several years, and each meeting adds another dimension to the equation between them. They know each other, become friends, support each other in times of need, and finally fall in love. This journey is portrayed beautifully by director Kunal Kohli One of the prominent faces in the industry of Boll >> Read More... . The lead roles are played by actors and Rani Mukerji Rani Mukerji is one of the most celebrated Indian >> Read More... . The film is said to be loosely adapted from the Hollywood film "When Harry Met Sally".
7. Love Aaj Kal Click to look into! >> Read More...
This romantic film starred Saif Ali Khan and Deepika Padukone Deepika Padukone is an Indian actress and model. S >> Read More... in central roles, along with Rishi Kapoor Rishi Kapoor is an actor born in the prominent Kap >> Read More... and Giselli Monteiro Giselli Monteiro is a Bollywood actress and a Bra >> Read More... . The film is a unique love story directed by Imitiaz Ali. It tells two parallel love stories set in different time periods and between different types of people. It strives to highlight that the core emotions of love do not change with time. The purity of the emotions remains constant although the approach towards one's partner changes. The movie was praised by critics and viewers.
8. ' Paheli Click to look into! >> Read More... '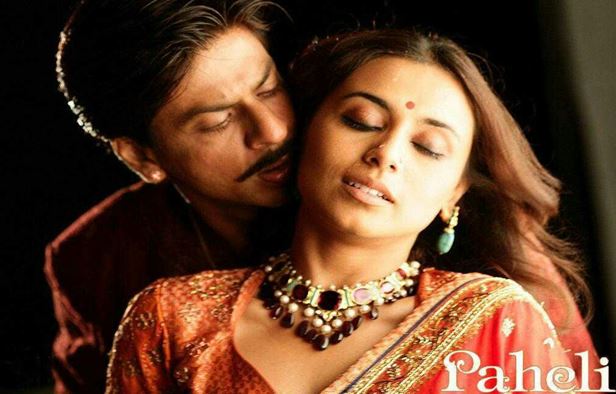 Paheli is a romantic and fantasy film directed by Amol Palekar Amol Palekar was born on 24th November, 1944 in Mu >> Read More... starring Shah Rukh Khan Shah Rukh Khan or also known as SRK is a prominent >> Read More... and Rani Mukerji in the lead roles. The story is about Lachchi, a bride in rural India, who falls in love with a ghost impersonating her husband. The film develops the beautiful relationship between these two beings as Lachchi finds a dream husband in the ghost. She is faced with a tough choice when her real husband returns, and she has to make a decision about whom she wants to live with. The movie was praised exceedingly and sent to the Oscars the year it was released.
9. Kabhi Alvida Naa Kehna
' Karan Johar Karan Johar is one among the top ten celebrities i >> Read More... 's film, Kabhi Alvida Naa Kehna, was a very unconventional story about the forbidden love between two people who are married to others. The film explored the themes of extramarital relationships with a beautiful love story at its core. The film generated different reactions in the viewers, with some people supporting it and some condemning it. The movie was quite successful critically and commercially. The lead actors of this film were , Shah Rukh Khan, Rani Mukerji, Abhishek Bachchan Abhishek Bachchan, or Abhishek Srivastava, is a ve >> Read More... , and Preity Zinta Preity, also known as Preity Zinta is a famous Act >> Read More... .
10. " Shirin Farhad Ki Toh Nikal Padi Click to look into! >> Read More... "
This movie was very different from other romantic movies made in Bollywood. Here, the love story is between two middle aged Parsi individuals who find love in each other accidentally and have to fight their families and principles to be with each other. The movie marked the debut of director and choreographer Farah Khan Farah Khan is an Indian film actress, producer, di >> Read More... as a lead actress. The other actors of the film are Boman Irani Boman Irani is a well known name today in the Bol >> Read More... , Daisy Irani Daisy Irani is a well-known actress known for her >> Read More... , Kavin Dave Kavin Dave is an Indian Television and Film actor >> Read More... , Nauheed Cyrusi The bubbly and charming girl Nauheed Cyrusi made h >> Read More... , etc.