The concept of crime thrillers has been explored well in Bollywood. Murders, kidnappings, etc, form the central theme of many good movies. Also, sometimes these motifs are used unconventionally in a few Bollywood movies to serve a greater purpose and establish some other theme.
In this list, we'll look at 10 such Bollywood movies which centered around a kidnapping. It need not be a crime film necessarily, it might even be a comedy or a romantic story. That shows the uniqueness of Bollywood.
1. ' Highway Click to look into! >> Read More... '
...
Highway is a 2014 film directed by and starring Randeep Hooda The strong macho image of Randeep Hooda graces the >> Read More... and Alia Bhatt Alia Bhatt is a trendsetting actress from Mumbai, >> Read More... in central roles. The plot of the film revolved round a rich young girl, Veera, who is kidnapped by a gang of criminals, including Mahabir. The film has been made like a coming-of-age story which also explores the theme of Stockholm syndrome. Veera, lonely and tortured by the bondages of her sheltered life, learns to find freedom on the journey with her kidnappers. That journey helps her come to terms with her life and herself. The movie was brilliant and quite successful in impressing the viewers.
2. ' Te3n Click to look into! >> Read More... '
...
Directed by Ribhu Dasgupta Ribhu Dasgupta is a renowned psychological thrille >> Read More... , Te3n is the story of an old man, John Biswas, struggling to cope up with the loss of his granddaughter Angela who had been kidnapped and murdered. His quest of finding the culprit connects him to Father Martin who was once in the police force. When another boy is kidnapped in the same way, they resume their search and come across new revelations. The cast of this movie included , Nawazuddin Siddiqui Nawazuddin Siddiqui was born in Budhana in Muzaffa >> Read More... , Vidya Balan Vidya Balan is an award winning Bollywood actress >> Read More... , and Sabyasachi Chakrabarty Sabyasachi Chakrabarty is a veteran film actor and >> Read More... .
...
3. ' Madaari Click to look into! >> Read More... '
Directed by Nishikant Kamat Nishikant Kamat is a famous director of Indian fil >> Read More... and starring Irrfan Khan Irrfan Khan is a noted Bollywood actor who started >> Read More... in the role of the protagonist, Madaari is a well-made film that incorporates the theme of kidnapping into a social and political thriller. The story depicts the kidnapping of Rohan, the son of the Home Minister Home Minister belongs to the game show genre. Zee >> Read More... , from his hostel. Surprisingly, the kidnapper does not ask for ransom. Instead, he demands to know the whereabouts of his son from the authorities, whom he had lost in an incident caused by the negligence and corruption present in the Government. The other actors in the movie include Vishesh Bansal Vishesh Bansal is an extremely talented young kid >> Read More... , Jimmy Shergill Jimmy Shergill is a renowned Indian actor and prod >> Read More... , Uday Tikekar Uday Tikekar is an Indian actor who is known for h >> Read More... , etc.
...
4. ' Jazbaa Click to look into! >> Read More... '
...
Hailed as the comeback film of beautiful actress Aishwarya Rai Bachchan Aishwarya Rai Bachchan is a popular Indian actress >> Read More... , Jazbaa was a crime thriller based on the kidnapping of the daughter of a criminal lawyer, Anuradha Verma Anuradha Verma is an Indian actress who has mostly >> Read More... , played by Rai. The demand of the kidnappers is that the lawyer defend a man accused of rape and murder and win the case to get her daughter back. A story of lies and deceit follows where the line between right and wrong is blurred. The rest of the cast includes actors like Irrfan Khan, Sara Arjun Sara Arjun is a cute child actress in India. She h >> Read More... , Shabana Azmi Shabana Azmi is a film actress of Indian origin an >> Read More... , Jackie Shroff Intro: Jackie Shroff is a well known Bollywood act >> Read More... , etc.
5. ' Ugly Click to look into! >> Read More... '
...
Ugly is a psychological thriller film directed by Anurag Kashyap Born on 10th September 1972, Anurag Kashyap has es >> Read More... and starring Rahul Bhat Actor Rahul Bhat got noticed for his talent with h >> Read More... , Ronit Roy Ronit Roy (Ronit Bose Roy) was born on 11th Octobe >> Read More... , Surveen Chawla Surveen Chawla is one of the leading actress in th >> Read More... , etc. The story centers round the kidnapping of the step-daughter of police chief, Shoumik Bose, named Kali. What follows is the struggle to find Kali's kidnapper and rescue her before it is too late to do so. Ugly is a brilliant film and has been critically appreciated. All the actors have done a great job, making the film racy, interesting, and hard-hitting.
...
6. ' Filmistaan Click to look into! >> Read More... '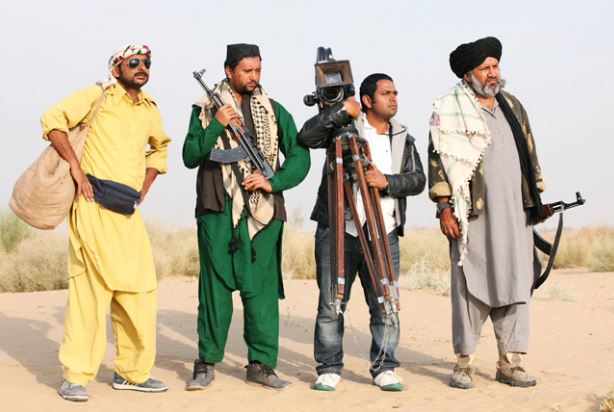 Directed by Nitin Kakkar Nitin Kakkar is a film director by profession. As >> Read More... , Filmistaan is a comedy film starring Sharib Hashmi Sharib Hashmi is a very popular Hindi film actor w >> Read More... , ' Inaamulhaq Inaamulhaq is a prominent Indian actor, director a >> Read More... ', Kumud Mishra Kumud Mishra is a well-known name in the arena of >> Read More... , etc. It tells the story of a struggling actor in India who works as an assistant director in films. He is mistakenly kidnapped and taken to Pakistan by a group of terrorists who had intended to kidnap an American and use him to further their demands. The story shows how films and entertainment can connect people across the border, making us realize that we are not so different from each other after all.
7. " Tere Naal Love Ho Gaya Click to look into! >> Read More... "
This is another romantic comedy directed by Mandeep Kumar Mandeep Kumar is a director. His work majorly belo >> Read More... and starring Riteish Deshmukh Riteish Deshmukh is the son of a politician, late >> Read More... and Genelia DSouza Genelia Dsouza is a popular Indian actress who has >> Read More... . The film tackles the issue of kidnapping lightly where the victim, Mini, gets herself kidnapped willingly to escape getting married to a stranger. She runs away with the kidnapper, Viren, to his family home. There she bonds with his family and they fall in love. The movie is equally funny and romantic. It received positive reviews from critics and viewers upon release.
8. Guddu Rangeela Click to look into! >> Read More...
This comedy film has a lot of social elements incorporated into the storyline. Two cousins, Rangeela and Guddu, look for shortcuts for earning money. They chance upon the idea of kidnapping a girl from a rich family and asking for a hefty ransom. This deed lands them in a lot of trouble, leading to funny situations and instances. The cast of this film includes Arshad Warsi Arshad Warsi is most popular for his role as Circu >> Read More... , Amit Sadh A well-known actor who appears in Indian Televisio >> Read More... , Aditi Rao Hydari As her title may be suggesting, Aditi the talente >> Read More... , Ronit Roy, etc.
9. "Sahi Dhandhe Galat Bande"
This movie tells the story of a gang of four people who indulge in an illegal job to earn money and pursue their dreams. The film has been directed by Parvin Dabas Parvin Dabas is an Indian actor. He is also named >> Read More... . They get involved in a kidnapping case which throws their life out of balance and puts them in several difficult situations. They encounter many weird people while doing this job which impacts their lives and thoughts. The actors in this film are Parvin Dabas, Ashish Nayyar Ashish Nayyar is also a very brilliant addition in >> Read More... , Sharat Saxena Sharat Saxena was born on 17th August 1950 in Satn >> Read More... , Anupam Kher Anupam Kher is a very popular actor, director, and >> Read More... , Preeti Jhangiani This actress and model hails from Mangalore, Karna >> Read More... , etc.
10. ' Shaitan Click to look into! >> Read More... '
Shaitan is dark thriller film directed by Bejoy Nambiar Bejoy Nambiar was born on April 12th, 1979 in Koch >> Read More... and featuring actors like Rajeev Khandelwal Rajeev Khandelwal is a model turned film and telev >> Read More... , Gulshan Devaiah Gulshan earlier a theatre artist, now an Indian ac >> Read More... , Kalki Koechlin Kalki Koechlin is a famous film actress, model and >> Read More... , Kirti Kulhari She is an India film star Born May 30, 1985 in Mum >> Read More... , Raj Kumar Yadav, etc. The movie was critically acclaimed and appreciated for its gripping narrative and hard-hitting theme. It depicts the experiences of a group of friends who commit a crime while indulging in one of their regular drunk escapades. They get blackmailed by a cop and decide to fake the kidnapping of one of them to raise the money for paying him off. Their life goes downhill after this and is lost amid all the deception and ruthlessness.