Biopic as a genre was not quite popular in Bollywood back then. But since a few years back, Bollywood audiences are happily  ready to accept these kinds of movies as directors in the Hindi film industry hves tried their best to portray the real life of famous personalities that we admire. Below are the top ten biopics made from Bollywood.
1. M.S.Dhoni
...
M.S Dhoni: The untold story is a movie directed by Neeraj Pandey Neeraj Pandey is an Indian movie producer, directo >> Read More... which explores the life of one among the most famous Indian cricketers, M.S. Dhoni. He is the current ODI and T20 captain of the Indian national cricket team. Sushant Singh Rajput Sushant Singh Rajput is one of the famous Indian t >> Read More... plays the role of M.S. Dhoni in this flick. Disha Patani Disha is an India based model turned actress. She >> Read More... , Anupam Kher Anupam Kher is a very popular actor, director, and >> Read More... and Kiara Advani She is an Indian film star born on 31st July, 1992 >> Read More... are also playing important roles in the movie. Released on 30th September,2016, it sketches the journey of the Mahendra Singh Dhoni Mahendra Singh Dhoni Ak MS Dhoni or Dhoni was born >> Read More... from a ticket-collector to one of the best Cricketers of today.
2. Azhar
...
Azhar is a 2016 Indian drama based on the life of a sports legend in the same name directed by Rajat Arora Rajat Arora is an Indian Writer, Lyricist, Produce >> Read More... . Mohammed Azharuddin is an Indian cricketer and former Indian national team captain. Emraan Haashmi plays the titular role and Nargis Fakhri Nargis Fakhri is an actress who pivotally works in >> Read More... , Prachi Desai A true Virgo at heart, Prachi Desai was born at Su >> Read More... and Lara Dutta Lara Dutta is an Indian actress, model, movie prod >> Read More... play the supporting roles. The film portrays each and every part of Azhar's life, from his birth in Hyderabad to his married life and to a cricketer. It was Azhar's grandfather's dream of him becoming a cricketer and this motivated him to go for the selections. His hard work paves his way, and he becomes a legendary cricketer of all times. Azhar faces many problems which are the turning point of his life. But at last he managed to come out of the false allegations charged against him, and he walks confidently after clearing his name from all the scandals. This movie was released on 13th May, 2016 and was successful worldwide.
3.Neerja
...
Neerja is a movie of a 22-year old girl who dies as a martyr after saving the lives of 359 passengers and her crew aboard. It is directed by Ram Madhvani Ram Madhvani is an Indian Director. He has worked >> Read More... . It's the story of Neerja Bhanot Neerja Bhanot was a senior flight attendant for th >> Read More... who is a flight attendant. Sonam Kapoor Sonam Kapoor, Daughter of Anil Kapoor and model Su >> Read More... is the actress who is playing the role of Neerja has done an excellent work. The film centres on the hijacking of a flight name Pan Am Flight 73 at Pakistan by some organisation and how Neerja succeeds in saving the lives of passengers and crew sacrificing her own life. She was also given a tributeat the climax. This film was released on 19th February, 2016 and had made a great impact on the viewers.
4. Mary Kom
...
Mary Kom Click to look into! >> Read More... is a 2014 movie directed by Omung Kumar Omung Kumar Bhandula, better known as Omung Kumar, >> Read More... . It is produced by Sanjay Leela Bhansali Born on 24th February 1963, Sanjay Leela Bhansali >> Read More... and evolves around the life of Mary Kom around the journey of becoming a boxer and winning the Boxing Championship in Ningbo. It is Priyanka Chopra Born on 18 July 1982, Priyanka Chopra is an establ >> Read More... who is playing the lead role. The also won awards along with a nomination for the Best Actress Award for Pee Cee. The film tells us about the life of Mary Kom and how she had come from far and became a successful boxer and how her dreams didn't to come true when she got married and had more responsibilities. But she asked her coach to train her again and then she reaches the finals of the Women's world boxing championships. Finally, she was also called with the nickname 'Magnificent Mary'. The film ends patriotically with the Indian national anthem and the waving of the Indian national flag. Released on 5th September, 2014 it was appreciated by one and all.
...
5. Sarbjit
...
Sarbjit is a 2016 movie directed by Omung Kumar. The film portrays the life of an Indian man named Sarbjit. The actor, Randeep Hooda The strong macho image of Randeep Hooda graces the >> Read More... is playing the role of Sarbjit in this flick and another important role is played by Aishwarya Rai who happens to be Sarbjit's sister, Dalbir Kaur, in the movie. Richa Chada and Darshan Kumar It is not uncommon for those whose maiden acting v >> Read More... play the supporting roles. The film tells about a man from India who was sentenced to death by the Pakistan government for the crime of alleged terrorism and spying. Sarbjit had consequently spent 22 years in jail. His sister, who believes that the accusations are false, tries her best to get him out and bring him justice but fails to do so. The film ends with a tribute to Sarbjit for being killed for false accusations. It was released on 20th May, 2016 and created a great influence among the citizens of India. The film was premiered at the Cannes Film Festival.
6. Shahid
...
Shahid is a 2013 movie directed by Hansal Mehta Hansal Mehta is an Indian writer, director, produc >> Read More... . It tell us the story of a lawyer and human activist, Shahid, who got assassinated in Mumbai. Raj Kumar Rao is playing the role of Shahid. The film portrays his journey as he becomes a lawyer and then how he proves to be an excellent one. Shahid represents the culprits of several cases. His family was threatened, and he was criticised for his job. While defending one of the cases, he gets shot and dies on the spot. Shahid is shown as a man who fought for his country and put forth the victims forward.
At the 2012 Toronto International Film Festival, the film was premiered and got released on 18th October, 2013 and received success and positive reviews.
7.Bhaag Milka Bhaag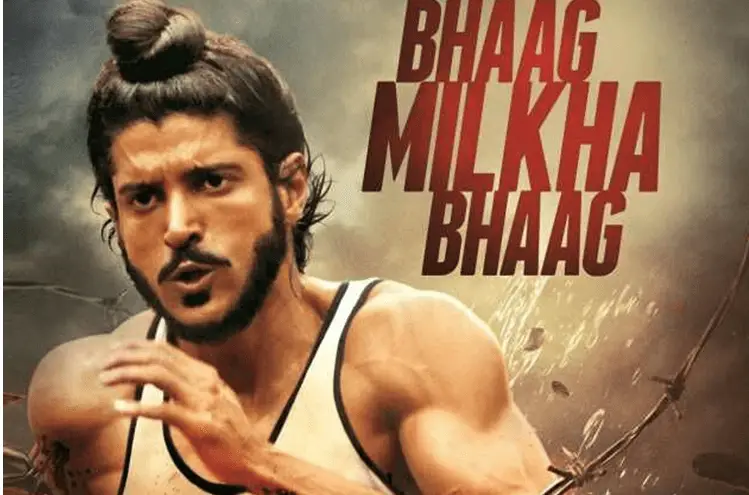 This movie is based on the life of a tremendous Indian athlete, Milka Singh. He was an outstanding national champion runner and an Olympian. Directed by Rakeysh Mehra, the film portrays the hardships faced by Milka Singh to attain the position of a national champion runner. The director found Farhan Akhtar One of the most recognized young director of India >> Read More... a perfect actor to enact the role of Milka Singh. It took him 18months of hard work to attain great success in the movie. To have an athlete type of body, he opted for an accurate and exhaustive training schedule.
8. Jodha Akbar Jodha Akbar is a very popular epic historical tele >> Read More...
Jodha Akbar is 2008 Indian historical-romantic movie directed by based on one of the famous love stories. The film focuses on the love and compassion between Jodha and Akbar. Hrithik Roshan Hrithik Roshan with his unimaginable dance moves i >> Read More... plays the role of Akbar, The Mughal emperor and Aishwarya Rai plays the role of Jodha, the Rajput princess, who then later becomes the wife of Akbar. The film tells us about the married life of Akbar and his love towards Jodha. At first, Jodha is reluctant to get married but eventually both of them falls in love. The movie consists of beautiful songs that are composed by A.R. Rahman and has also won various awards for its excellence and got released on 15th February, 2008.
9. The Dirty Picture Click to look into! >> Read More...

The Dirty Picture is another biopic movie directed by Milan Luthria Milan Luthria is a film producer and director who >> Read More... from which inspiration was drawn from the life of Silk Smitha Silk Smitha is an unforgettable personality in the >> Read More... , an South Indian actress. The story reveals on how she enters the film industry and is ready to do anything to gain fame and attention. Silk Smitha's role was a challenging one and it was played by Vidya Balan Vidya Balan is an award winning Bollywood actress >> Read More... . Naseeruddin Shah, Emraan Hashmi Emraan Hashmi is one of the most successful & cont >> Read More... and Tushar Kapoor play other important roles. Initially, she starts working with Naseeruddin Shah Naseeruddin Shah is an experimental actor and asso >> Read More... and is ready to maintain a sexual relationship with him. She is depicted as a stronger woman. But as Emraan Hashmi steps in, it changes her life. And eventually he starts falling in love with her. He brings in surprises for her. But at last, silk asks bids farewell and dies. The film tells about how powerful women are in the male dominated society. The film was released on 2nd December, 2011 and received a lot of appreciation from the viewers.
10. Bose: The Forgotten  Hero
Shyam Benegal directed this movie and it reveals about the last five years of the revolutionary leader Subash Chandra Bose, who is otherwise known as Netaji. He has fought for the independence of our country along with many others. He has wandered from country to country to gain freedom for India from British. Sachin Khedekar Actor Sachin Khedekar is very much known to Indian >> Read More... has successfully managed to play the role of Netaji. At the climax, the director has managed to dodge the mystery of his death. This is that one among the few movie that Patriots shouldn't miss to watch. The film shows how Bose has gone on a fast unto death and got under house arrest.