What ancient belief says is that all of us have at least six look-alikes all around the world, and the chance for us meeting any one of our look-alikes is only 9%. Doppelganger is a word which we usually use to define a look-alike or almost similar looking of a living person, which could resemble physically or behaviorally. It's almost difficult to find a twin of yours in this crowd, but it seems that we have found some lost siblings of our Bollywood celebrities from the 'WEST.' Here are 10 Bollywood celebrities who in some or the other way resembles their replicas from Hollywood, and can give one a feeling of déjà vu.
1. Hrithik Roshan and Bradley Cooper
Hrithik started his career with 'Kaho Na Pyaar Hai' and had never looked back since then; no one can match his success except for his looks, Bradley Charles Cooper, an American actor, and producer looks like a twin to our macho man. From their curly golden hair, chiseled body, eyes to face cut, they have a lot to resemble.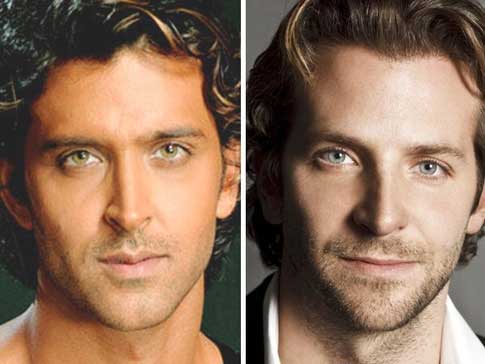 2. Esha Gupta and Angelina Jolie
Model turned actress Esha might not have shined in the Bollywood, but she surely is as stunning as her counterpart Angelina Jolie-Pitt, who is an American actress, filmmaker, and humanitarian. Their body structure, eyes, face shape and pouted lips resemble each other so much that Esha is our Desi Angelia Jolie.
3. Aamir Khan and Tom Hanks
Mr. Perfectionist of Bollywood, Aamir Khan who will be next seen in Dangal have many times experimented with his looks in many movies but in real life, the actor has someone who looks like his Doppelganger, Tom Hanks, American actor and filmmaker. Except for their perfection, their smile, eyes, expression and simplicity are enough to call them a twin.
4. Deepika Padukone and Irina Shayk​
The top actress of Bollywood, Deepika is a name in itself, no one can be like her, but our gorgeous Deepika can be easily mistaken for Irina Valeryevna Shaykhlislamova, a Russian model, and actress. They share similar hairstyle, eyes, wide smile, dimple and dusky glow. And also, they both are Capricorns and were born in the same month, where Deepika is a day older than Irina.
5. Emraan Hashmi and Colin Farrell
Our B towns one and only serial kisser, Emraan Hashmi and Irish actor, Colin James Farrell both are well known for their bad boy image. Though Emraan denies this fact that he looks like Colin both of them, have so much to share than their puppy eyes, their same French beard, same crop of hair their resemblance is remarkable. They both are known for their bold and risky roles in the movies.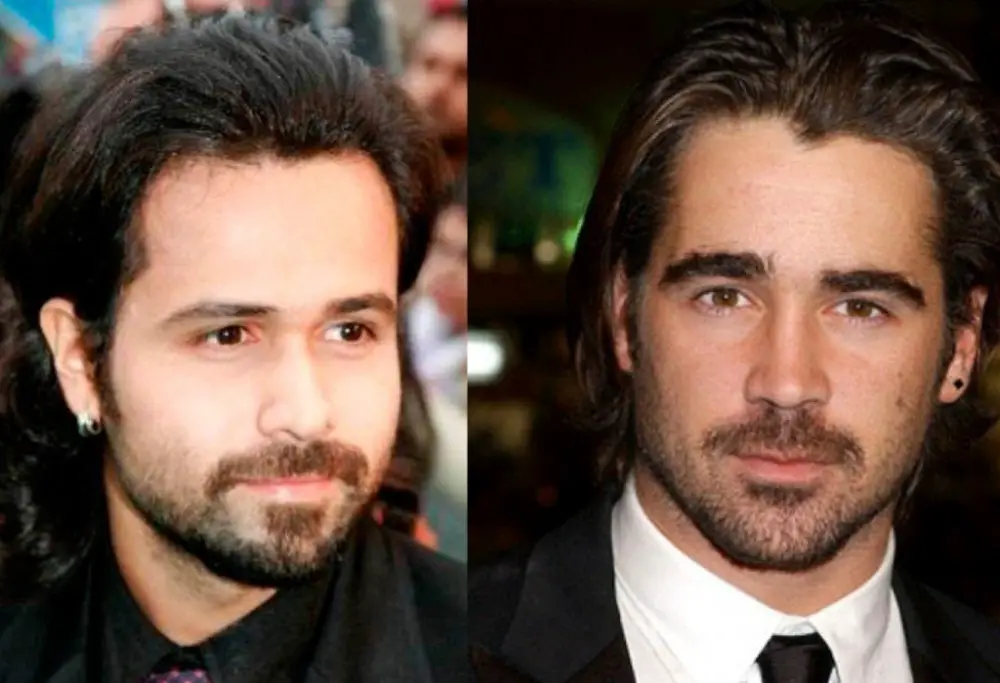 6. Dia Mirza and Anne Hathaway
Dia Mirza, Miss Asia Pacific, Indian model, actress, and producer when made her Bollywood debut, people called her off as Aishwarya Rai, but later it was discovered that she looks like a twin sister to another actress but from America, who is a singer and an actress, Anne Jacqueline Hathaway. They look so similar to their kind eyes, face cut, and obviously their cute spectacular smile.
7. Akshay Kumar and Shawn Michaels
Akshay Kumar is a name in itself in Bollywood, his acting and physique add to his charm, but if you are a fan of WWE, you might sometimes have mistaken Akshay in the ring for Michael Shawn Hicken bottom which is an American professional retired wrestler. Their naughty smile, features, color, height and every other thing is so similar that it's not wrong to call Akshay Indian Shawn Michael.
8. Asin Thottumkal and Kayla Ewell
Asin is an Indian actress who made her Bollywood debut with Ghajini opposite Aamir Khan, looks like a lost twin sister of Kayla Ewell, who is an American actress. Except for their hair color, where Asinha has black hair and Kayla Ewell is a blonde everything on their face looks replica of each other, it's impossible to recognize them when they both smile.
9. ' Jeetendra' and Charlie Sheen
Jitendra was one of the most stylish and smart stars of his time, and even at the age of 74,he continues to look sharp. Age has brought its charm on his face, and this gracefulness has made some resemblance of him to Carlos Irwin Estévez, also known as Charlie Sheen, who is an American actor. Despite their age difference, they both have great similarity with each other.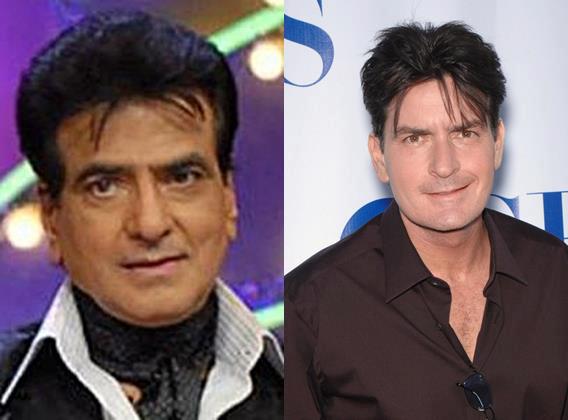 10. Arbaaz Khan and Roger Federer
Arbaaz Khan, who couldn't make his own image in Bollywood, except for being called Salman's younger brother, has a close resemblance to Swiss professional tennis player, Roger Federer. Though their success graphs have a huge difference they are physical Doppelgangers. Even Malaika once said in an interview "Everybody says he does (resemble Roger), and I think so too."