Bollywood has this trend where its people get involved with their co-partners. Every day we see a new couple, a new rumor, and a new break up. There are rarely who lasts forever. After many affairs, when the celebs want to settle, they look for stable partners, and end up giving their hands to their perfect ones. But, not all celebs end up with their other half being a celebrity. Many families tie up knots with person outside the industry, which gives rise to new news. Here are some son-in-law's Bollywood has.
This actor from golmal series got famous for his comic roles, and won many hearts. He also won Prerana's heart who is the daughter of a very famous villain of Bollywood, Prem Chopra.
2. Dhanush
The full name of Dhanush is Venkatesh Prabhu. He gained his fame from the song "Why this Kolaveri di," which earned the honor of the first India Video to cross over 100 million views. He also gave a superb performance in "Raanjhanaa." He is married to Aishwarya Rajinikanth, and became Rajinikanth's son in law.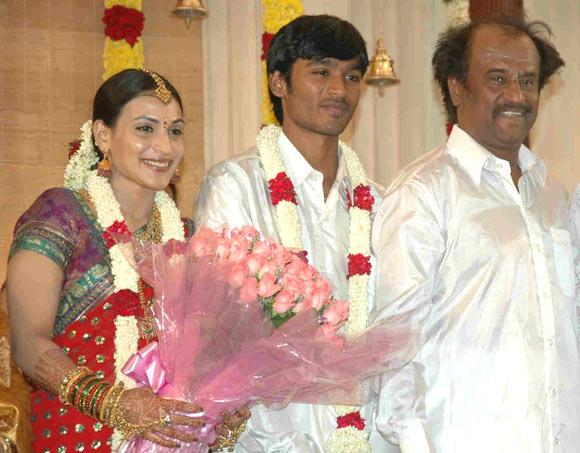 3. Nikhil Nanda
He is the grandson of the famous actor Raj Kapoor. The family together is known for Escorts Limited Empire. Shweta Bachchan lost her heart to this handsome hunk of the empire, and this made Nikhil, the elder son in law of the Bachchan's.
4. Bharat Sahni
Rishi Kapoor, and Neetu Singh found an eligible bachelor for their beloved daughter Riddhima Kapoor, and that one perfect guy was Bharat Sahni. He owns the garment export company, and they both have a lovely daughter Samara together.


5. Kunal Kapoor
This actor from Rang de Basanti, and Dear Zindagi, won the heart of Naina Bachchan. She is the daughter of Amitabh Bachchan's brother, Ajitabh Bachchan. This makes Kunal Kapoor, the younger son in law of the Bachchan family.
6. Kunal Khemu
He is the son in law of the Pataudi family. The famous child artist, Kunal, lost his heart to Soha Ali Khan, and the couple welcomed their little princess.
7. Vaibhav Vohra
This handsome is a Punjabi settled in Delhi. He is the director of his family business "Continental Carriers Pvt Ltd." The Hunk is a proud husband of Ahana Deol, and the proud son in law for Dharmendra, and Hema Malini. They both have a gorgeous baby boy, Darien Vohra.
This frequent face of Bollywood is married to Alvira Khan, elder daughter of Salim Khan. The guy, apart from being a face in Bollywood, is also a producer, and director.
Arpita Khan, the non-biological daughter of Salim Khan, found her better half in Aayush. He is proud son in law of the Khan family, and father of Ahil. Anil Sharma, a famous businessman who has his empire in Delhi, and is the father of Aayush.
10. Bharat Takhtani
Esha Deol, and Bharat were childhood lovers, and are now the most adorable couple. He is Hema Malini's son in law, and the owner of R.G Bangle Pvt. Ltd. They both are expecting their first baby soon.