Well Bollywood movies are supposed to depict real life, but also, they leave us with happy ending giving us hopes that everything will be fine. In real life, there are times when the heart breaks are so strong that they almost break a person. Giving someone your heart, expecting the same in return, but the expectations not becoming a reality hurts. The misery is what leaves a scar on our souls, and keep on reminding us how the scar got there in the first place. Some movies, have shown the real pain, and made us connect to them even more.
1. Nisha (Dil Toh Pagal Hai)
These days, guys complain about being friend zoned, but I would very much like to throw light on the character of Nisha (played by Karishma Kapoor) who is the girl, in movies, to get friend zoned. Yes, guys, you heard it right, even chicks get the pain you go through.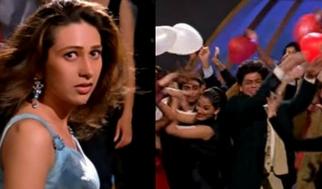 2. Aman (Kuch Kuch Hota Hai)
This movie was fantastic unless we saw it with Aman's (played by Salman Khan Salman Khan is a very famous Indian actor and a pr >> Read More... ) perspective. His character was shown as to be so selfless that he gave up his bride for her childhood love, and the bride did not even look back at him. Hello, someone is broken.
3. Jimmy Shergill Jimmy Shergill is a renowned Indian actor and prod >> Read More... (Tanu weds Manu)
I have seen this guy playing the role of sad characters for eternity. Maybe, he has adapted for the character, and mastered it. In most of his movies, either we get to see his heart shattered into pieces or being left at his wedding or anything dreadful that one could imagine Bollywood would do.
4. Akira ( Jab Tak Hai Jaan)
Here this fun character Akira, who loved discovering things, had wild fantasies, and wanted so much from life, fell for a guy with a complicated love story. And now, she had to play a good girl to reunite him, and his love. The movie shows how love finds a way for old lovers but poor Akira was left behind.
5. JJ (Rockstar)
I, at this moment, declare him the saddest character in Bollywood movies ever. He got so much pain from life, and wanted to feel more to take all the frustration out on his songs. Even after becoming a rockstar, he lost the love of his life.
6. Dev (Dhadkan)
This movie was quite melodramatic. The character had a girl who was forced to marry a rich guy. Dev then decides to become much richer, and get her back. He never thought that his girl would fall for her husband, and at last the character lost everything.
7. Kundan (Raanjhanaa)
This movie was worth every penny, and the character Kundan was so relatable. He fell in love with a Muslim girl, and he was a Brahmin himself. Even after growing up, he wanted just the girl's happiness, and nothing else. He lost his love, and lost his life.
8. Veronica (Cocktail)
The character is that of rich, spoilt brat who does party, and has no feelings. Suddenly, she gets a new life after the entry of two friends. She falls for one of her friends who were in love with the other friend. The math always said that a trio always meant trouble. She ended up losing her friends, and her love.
9. Aman (Kal Ho Na Ho)
The character played by SRK was a very heart breaking. The character was shown to be a jolly one, and the one who spread happiness. He falls for the girl he can't have, and that's the saddest part. Since, he could not have her, he played the role of a matchmaker, and found a great guy for his girl. The end was, even more, heart-wrenching, Aman dies because of a hole in his heart.
10. Kashibai ( Bajirao Mastani Click to look into! >> Read More... )
This character was that of a loving wife who lost her husband to another woman. She wanted the happiness of her husband, and nothing more. Although, she ended up losing him.