1. Aishwarya Rai Bachchan and Abhishek Bachchan
Aishwarya Rai Bachchan, an Indian actress, and the title holder of the Miss World pageant of 1994. She was born on November 1, 1973. Abhishek Bachchan, son of Amitabh Bachchan and Jaya Bachchan is an Indian actor born on February 5, 1976. Aishwarya is two years older than Abhishek. The couple got married on April 20, 2007, and have a 8 year old daughter, Aaradhya Bachchan.
2. Nargis Dutt and Sunil Dutt
Nargis Dutt was a famous Indian actress born on June 1, 1929. She was awarded the Filmfare Best Actress Award for Mother India. However, after her marriage to Mother India co-star, actor Sunil Dutt she almost quit acting. Sunil Dutt was born on June 6, 1929. Their relationship began from the sets of Mother India, and Nargis was older to Sunil Dutt. They both had three kids together, Sanjay Dutt, Priya and Namrata.
3. Adhuna Akhtar and Farhan Akhtar
Adhuna Akhtar is a hair stylist and the co-owner of BBLUNT, which airs on TLC and was born on March 30, 1967. Farhan Akhtar, an Indian multi-talented actor who is also a film director, screenwriter, producer, playback singer, lyricist, and television host has proved his talent many times. He was born to Javed Akhtar and Honey Irani on January 9, 1974. Adhuna met Farhan when he was writing the script for Dil Chahta Hai. Adhuna Akhtar is seven years older than Farhan Akhtar. They got married in 2000, and have two daughters named Shakya and Akira. The couple got separated in the year 2016.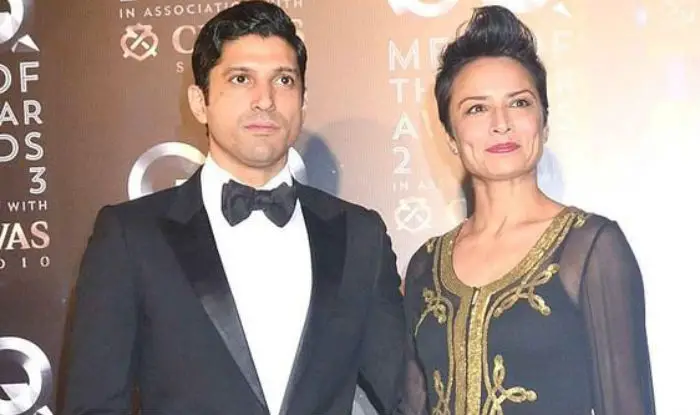 4. Shilpa Shetty and Raj Kundra
Shilpa Shetty, born on June 8, 1975, is an Indian film actress, producer, and a former model. Raj Kundra is a British businessman. He has interests in both cricket and mixed martial arts. He was born on September 9, 1975. They met during the launch preparations of Shilpa's perfume line, and fell in love and tied the knot on November 22, 2009. She is three months older than Raj. They both have a son named Viaan Raj Kundra.
5. Mehr Jesia and Arjun Rampal
Mehr Jesia is a former Miss India and an Indian supermodel who was born on November 30, 1970. Arjun Rampal is not only a Indian film actor but a producer, model and a television host also. He was born on November 26, 1972. The supermodels turned lovers and tied the knot in 1998. Arjun is two years younger than Mehr. The couple is adorable and have with two daughters; Mahikaa and Myra. The couple got divorced in the year 2018.
6. Farah Khan and Shirish Kunder
Farah Khan, an Indian film director, film producer, and choreographer, was born on January 9, 1965. She is an excellent choreographer. Shirish Kunder is an Indian filmmaker, screenwriter, and director born on May 24, 1973. He acted as the editor of Main Hoon Na and their friendship from its set turned into love. Farah is 8 years older than him. They duo tied the know in 2004, and are blessed with triplets named Czar, Anya and Diva .
7. Zarina Wahab and Aditya Pancholi
Zarina Wahab was born on the 17th of July, 1959 in Visakhapatnam, Andhra Pradesh. She is an Indian actress. She tied the knot with Aditya Pancholi in 1986. Aditya Pancholi was born on January 4, 1965. He is an Indian film actor and producer. Zarina is six years older to him, and they have been together for three decades now. Their love kept their relationship strong. They both are blessed with two children; Sooraj Pancholi and Sana Pancholi.
8. Archana Puran Singh and Parmeet Sethi
Archana Puran Singh is an Indian television comedy show judge, and movie actress. She is best known for her fun roles in Bollywood movies and as a judge on comedy shows, like Comedy Circus at Sony TV India. She was born on September 26, 1954. Parmeet Sethi is an Indian TV actor who was born on October 14, 1961. Parmeet, who is seven years younger than Archana was overwhelmed by her beauty and grace, and they were in a live-in relationship for four years. Parmeet's parents were against their marriage, but they couldn't stop them and the two got married in 1992. Happily married since more than 20 years now, they are still having a teenage aura of romance. They both have two sons; Aaryamann and Ayushmann.
9. Amrita Singh and Saif Ali Khan
Saif Ali Khan is an Indian actor who was born on August 16, 1970 while Amrita Singh is a TV as well as film actor and was born on February 9, 1958. Saif was 12 years younger to Amrita when the two tied the knot in October 1991and have two children ; Sara Ali Khan and Ibrahim Ali Khan. The two separated in 2004 after 13 years of marriage.
10. Soha Ali Khan and Kunal Khemu
Daughter of Sharmila Tagore, Soha Ali Khan is an Indian actress born on October 4, 1978. Kunal Khemu made his debut as a child artist was born on May 25, 1983. Soha is 5 years older than Kunal. Still, a spark of love evolved between the two in 2009 while working for the movie, Dhoondte Reh Jaaoge. They were in a live-in relationship for two years before Kunal proposed to Soha in Paris, in 2014. The two love birds got married on January 25, 2015. The age difference didn't matter the two. They both were blessed with a daughter whom they named Inaaya Naumi Khemu in 2017.
All these couples prove how much love can bring you together even if ages may not permit.