Indians love their television. Indian audience is perhaps the most dedicated, and persistent audience of all time. If we love a show, we will love it with all our hearts; we will love the characters, we will love the actors who play those characters, and we will plan our entire day around the airing time of the shows we love most. If we miss an episode, we will make sure to watch its repeat telecast, or perhaps catch it on YouTube or Hotstar. Sometimes, we watch the show again even if we have seen the show once already, just to see the way a character delivered a dialogue, or some similar reasons. This madness doubles up when the shows in question are comedy shows. They have always been popular among audience and continue to enjoy prominence as long as they deliver good content.
The following are the 20 of Indian Television's best comedy shows so far:
1. " Comedy Nights With Kapil Comedy Nights with Kapil or CNWK for short, is a c >> Read More... "
...
The show was a revolution when it started. Indian television had forgotten what it felt like to sit with family and watch a comedy show. All the previous ones were more adult shows which were just cheap and hardly funny. But all things changed with this show. It was sad to see that the show had to end because of the personal differences between the channel and the show.
2. " The Kapil Sharma Show The Kapil Sharma Show is one of the popular Indian >> Read More... "
...
In today's time, no show on Indian television is capable of competing with this show. Kapil Sharma Kapil Sharma was born in a small town of Amritsa >> Read More... has been handling the script and concept so well, and especially since it is a comeback from what happened to his previous show. Not only is his graph interesting, but his interactions with his audiences have also improved, and so have his jokes.
...
3. "", " Hum Paanch Season 2 Balaji Telefilms private limited, and Zee Telefilm >> Read More... "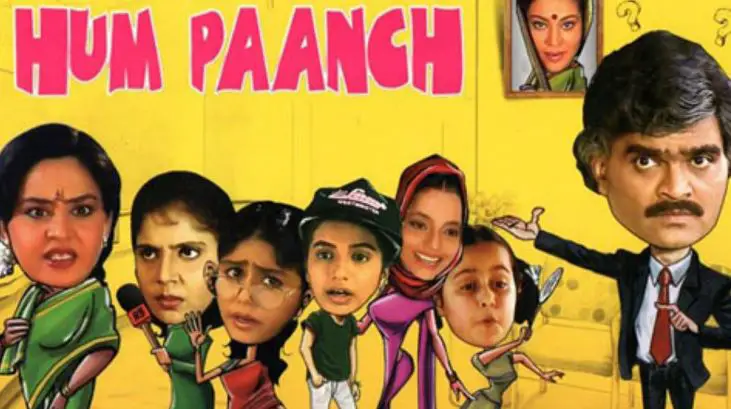 The series ran from 1995 to 1999, and then a second time in 2006. It made the stars of the show instant superstars, and their dialogues and habits engraved themselves in common culture. This is one of the shows on which ' Ekta Kapoor Ekta Kapoor; a legendry producer in Indian TV and >> Read More... 's fame rest, as this show lacked unnecessary drama, despite Anand Mathur having two wives in the same space.
...
4. " Tu Tu Main Main Tu Tu Main Main, a comedy serial on Indian televis >> Read More... "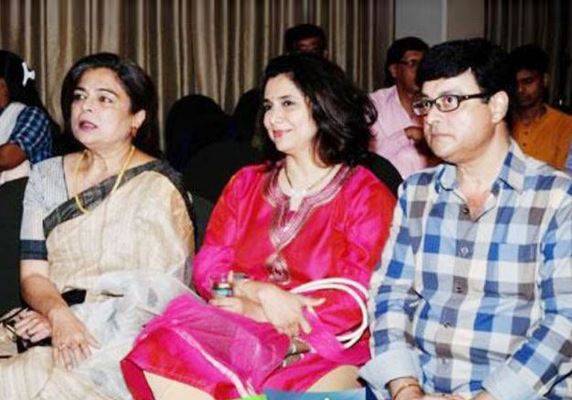 ...
The show was first aired on Doordarshan for a while until 1996, after which Star Plus took it up, and it ran successfully thereafter. The comic twist to daughter-in-law mother-in-law fights brought in viewers and appraisal, along with the strong star cast who are remembered even today for their roles. The show was picked up again by the name of Kadvee Khatti Meethi, for another successful run.
5. " Office Office Office- Office is a Hindi-language sitcom written >> Read More... "
...
The series had a very serious issue at its core; that of an old man called Mussadi Lal being mistreated by corrupt government officials. But the script added innumerable instances of humor and ' Pankaj Kapur Pankaj Kapur is a prominent Indian actor and direc >> Read More... 's expertise as an actor was brought forward yet again.
...
6. MTV Bakra
Cyrus Broacha Cyrus Broacha is an Indian actor, anchor, comedian >> Read More... brought to Indian television a show that was a completely new experience for Indians, as pranking videos that had been captured on hidden cameras was not so common in those days. It was like a breath of fresh air, with its novice concept and Cyrus's unfailing wit.
7. ""
The show effectively portrayed the clash between the upper class and middle class, but it was much more than just that. The bond between Rosesh Sarabhai and his mother, Maya Sarabhai, who has a habit of adding her own twist to everything she encounters. Although it was broadcasted in 2005, the show still enjoys a cult following that constantly demands a second season, which the producers have been denying.
8. ' Khichdi Instant Khichdi is a SitCom based on the lives of >> Read More... '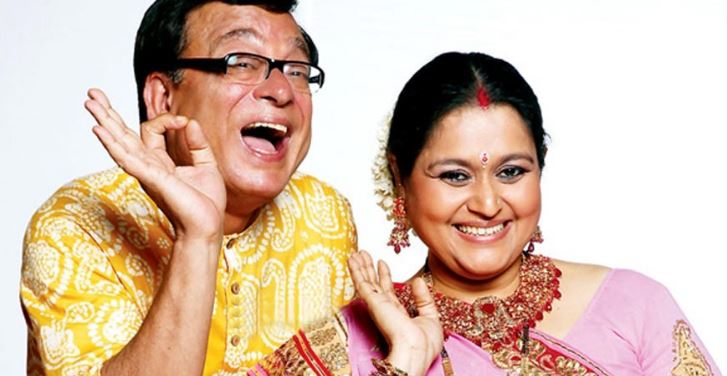 The show first went on AIir in 2002 but has been re-telecasted several times on the Star channels. Indian television, obsessed with dramas, embraced the show with open arms even though the show did not use a laugh track, but rather relied on witty lines and deadpan humor to attract an audience, which it manages to do even today, years after its broadcast stopped.
9. Dekh Bhai Dekh One of the most popular and hilarious Indian TV sh >> Read More...
Another one of Doordarshan's gift to the Indian audience, the show dealt with the problems of family, business, marriage and in-laws in the suburbs of Mumbai. First aired in 1993 on DD2, the show had a commendable cast, with Shekhar Suman Born on 14th June, 1960, Shekhar Suman is a well k >> Read More... , Farida Jalal Farida Jalal is a veteran film and television actr >> Read More... among other big shot names of the television industry and was produced by Saraswati Audio Visuals Pvt. Ltd, by Jaya Bachchan Born on 9th April 1948 Jaya Bachchan is an Indian >> Read More... .
10. " Yeh Jo Hai Zindagi Yeh Jo Hai Zindagi is a popular sitcom, which was >> Read More... "
This show runs way back. It was aired in 1984, when a lot of us were not even born. It aired on Doordarshan, and was a big hit, perhaps the biggest hit of its time. The show was so popular that its airing would frequently affect the box office response of films, and even in London, the video stores would eagerly wait for its tapes! It only had 61 episodes and its theme was sung by none other than Kishore Kumar Kishore Kumar is an Indian playback singer, who ha >> Read More... .
11. ' Nukkad Nukkad is a prominent Hindi serial, broadcasted on >> Read More... '
The show had a lot of lead characters, but each episode revolved around the life of two characters, portraying the people from lower class and their everyday issues. Although the show was not always comic, as its episodes sometimes ended with realistic, sad endings, but it had quite a lot of laugh generating moments.
12.
This show has a powerful legacy, despite having only ten episodes. It was aired on Doordarshan in 1991 and was written and directed by satirist Jaspal Bhatti Jaspal Singh Bhatti was an Indian television actor >> Read More... , who also portrayed himself in the show. The show went on to garner great praise, as it depicted the problems of common man in a relatable and funny manner. It was produced by Savita Bhatti Savita Bhatti, wife of the late social satirist, J >> Read More... , Jaspal Bhatti's wife, who also acted as his wife on the show.
13. " Shrimaan Shrimati Shrimaan Shrimati was a famous TV serial broadcast >> Read More... "
The 1994 show that aired in Doordarshan had a lot of notable names as a part of its cast, like Archana Puran Singh Archana Puran Singh is an Indian TV artist and pre >> Read More... , Reema Lagoo Reema Lagoo is an Indian television and film actre >> Read More... , Rakesh Bedi Rakesh Bedi along with Staish Shah can be termed a >> Read More... , and Jatin Karnika. The main selling point of the show was the impeccable comic timing of the actors. The show is the inspiration of Bhabi Ji Ghar Par Hai, which follows a similar vein.
14. Zabaan Sambhalke Zabaan Sambhalke is a Hindi daily sitcom. It is di >> Read More...
Mind Your Language in a popular British sitcom, which became the basis for this show. It has popular names attached to it, like Pankaj Kapur, Shubha Khote Shubha Khote is an Indian entertainment world pers >> Read More... , Viju Khote Viju Khote is an Indian actor, and he has worked i >> Read More... , and Tom Alter Tom Alter is a multifaceted acting personality who >> Read More... . Many situations presented in the show were a cultural shock to the Indian audience, but the show was still widely accepted by its fans.
15. Bhabi Ji Ghar Par Hai
This is a very recent show and is being followed religiously by its fans, even though it is not as commendable as the rest of the shows on this list. Indian audience perhaps related well to the show, and the characters are definitely well etched, as they have now become household names.
16. " Jassi Jaissi Koi Nahin This show aired in India on 1 September 2003 bring >> Read More... "
The show remains a memorable one today, although it ran from 2003 to 2007. The show has remained a cult favorite, as it brought to India the concept of make overs, and was an Indian version of the Hollywood show Ugly Betty Ugly Betty was an English comedy-drama series, tha >> Read More... . Mona Singh Mona Singh is a popular Indian model-turned-televi >> Read More... hid her true self from media and fans for a long time until the show finally went through her makeover.
17. " Mungerilal Ke Haseen Sapne Mungerilal Ke Haseen Sapne was one of the most pop >> Read More... "
' Raghubir Yadav Raghubir Yadav is an Indian movie, television and >> Read More... 's Mungerilal Ke Haseen Sapne was slightly inspired by a Hollywood show called "The Secret Life of Walter Mitty", where Mungerilal, a clerk, is dominated by his bosses at office and his wife at home. He copes with his miseries through dreaming and is woken up by his wife.
18. Ulta Pulta Ulta Pulta is a famous satirical comedy show which >> Read More...
Another one of Padma Bhushan Jaspal Bhatti's satirical mini-series. It took forward the legacy he created with Ulta Pulta where he threw light on the everyday problems faced by the middle class population in a way that made the world laugh.
19. " Yes Boss Click to look into! >> Read More... "
The show ended in 2009, after concluding ten successful years on television. A SAB TV classic, the show was also aired on TV Asia in the USA, Sony TV. Starring ' Kavita Kapoor Kavita Kapoor is a very famous Indian Television a >> Read More... ', Rakesh Bedi, Delnaaz Irani Delnaaz Irani is a well known actress in Hindi TV >> Read More... , and Aashif Sheikh, the show had more than its fair share of comic talented actors with perfect comic timing and a topic that the Indian audience loves to laugh on, i.e. marriage, failed attempts at infidelity and confusion regarding it. Mohan Shrivastav must save his wife Meera from the advances of their boss, Vinod Verma, who does not know they are married to each other. He himself is married to Kavita, who also constantly tries to keep her husband in check, failing all the time. Rakesh Bedi does great justice to his role as both, Mohan Shrivastav and Bunty. All generations of families sat together to watch this show that continued to woo hearts for over ten years, and released a lot more than 600 episodes, even though it aired only once a week.
20. F.I.R
The show deteriorated because it was stretched too much, like most shows on Indian television, but for the first few months the show enjoyed a cult fan following, as a female police inspector ( Kavita Kaushik Kavita Kaushik is an Indian Television popular act >> Read More... ) does all that the male inspectors are known to do, with a touch of her Haryanvi humor.