1. Hidden Figures Click to look into! >> Read More...
This movie revolves around three African American women, Katherine G. Johnson, Dorothy Vaughan and Mary Jackson who worked with NASA and were behind one of the greatest space operations in history. It's a biographical drama which won acclaim even in the Golden Globes. The three brilliant women worked in NASA as human computers at a time were both African Americans and women were discriminated against. This movie follows their inspiring story.
...
2. The Death in the Gunj
Directed and written by Konkona Sen Sharma Konkona Sen Sharma is a Bollywood actress hailing >> Read More... this thriller and drama film is set up in the winters of 1979. In the 2016 Toronto International Film Festival, the film presented its world premiere. It showcases a cast of Kalki Koechlin Kalki Koechlin is a famous film actress, model and >> Read More... , Tillotama Shome Tillotama Shome is an Indian actress who is known >> Read More... , Vikrant Massey Vikrant Massey, who is a TV actor, was born in Nag >> Read More... , Om Puri Om Rajesh Puri is one of the widely noted senior a >> Read More... , Gulshan Devaiah Gulshan earlier a theatre artist, now an Indian ac >> Read More... , Ranvir Shorey And Jim Sarbh Jim Sarbh is an India Theater actor, and also a di >> Read More... . Konkona Sensharma has been critically acclaimed for this directorial debut where a family holiday witnesses an unexpected turn of events when the family members start playing with spirits. The film has seen top of the notch reviews from worldwide newspapers and critics.
...
3. Split
...
Split releases 20th January and stars James McAvoy James Mcavoy was born on 21 April 1979, in Glasgow >> Read More... , who plays Kevin, a patient with dissociative identity disorder. His 23 different personalities are treated by his psychiatrist, Dr Fletcher, while one remains anonymous and sets to dominate the others. The film also includes some supernatural elements. James McAvoy has to battle himself in this latest thriller.
4. Haraamkhor
...
As the month is dominated by big banners and big stars, a small but fantastic film starring Nawazuddin Siddiqui Nawazuddin Siddiqui was born in Budhana in Muzaffa >> Read More... and Shweta Tripathi Shweta Tripathi was born on the 6th of July in the >> Read More... showcases a relationship between a female student and her married teacher. With the background of rural Gujrat, we are treated to the powerful acting by both the leads. Facing many problems with the censor board, this film is finally set to release this January.
5. Raees
...
Raees starring Shahrukh Khan has been heavily anticipated by fans all over, especially after his comparatively dry last few releases. A film set in early 1980's-1990's, Gujrat the movie follows the story of a fictitious man named Raees. The undefeatable and charismatic Raaes who defeats every foe meets his match in a determined and dedicated police officer Majumdar. The film trailer promises a whole lot of action and a whole lot of Shahrukh Khan which is sufficient to pique the interest of the Bollywood audience. Loosely based on the life of Abdul Latif Abdul Latif was a Bangladeshi singer born in 1927 >> Read More... , this movie also stars Pakistani actress Mahira Khan Mahira Khan or Mahira Hafeez Khan is a Pakistani a >> Read More... .
...
6. Allied
...
Audiences are treated to the gorgeous Marion Cotillard Marion Cotillard is a French singer, actor, song c >> Read More... and the Greek-god like in this fast-paced drama-thriller. Set in 1942 at the background of WW2, this movie offers romanticism, suspense and brilliant cinematography. This new film by Oscar Winning Director Robert Zemeckis is a spy thriller that will not let you miss a second of the movie, lest you miss something important.
7. Kaabil
Kaabil, directed by Sanjay Gupta Sanjay Gupta is an Indian filmmaker who has even p >> Read More... and produced by Rakesh Roshan Rakesh Roshan Lal Nagrath is the original name of >> Read More... outlines a love story that takes a dark and twisted turn. The leads Hrithik Roshan Hrithik Roshan with his unimaginable dance moves i >> Read More... and Yami Gupta play two blind people who fall for each other mind, body and soul. The movie is seen to have drawn parallels to the Netflix show daredevil as the plot of the movie essentially follows Hrithik as a blind man seeking revenge for a tragedy. The movie released on 25th January. While Hrithik's acting has been given a thumb up by viewers, the anticipation of an overused plot makes audiences skeptical.
8. XXX - The Return of Xander Cage.
XXX - The Return of Xander Cage, a starter has caught the attention of Indian audiences especially since it is the Hollywood debut of Bollywood favourite Deepika Padukone Deepika Padukone is an Indian actress and model. S >> Read More... . Deepika Padukone, like the other actors in the movie, does not disappoint the audience as we get exactly what the trailer promised, catchy dialogues and a buttload of action. The movie follows the chase for a deadly weapon called Pandora's Box. Fights, action sequences, shoot-outs and many more find place in this plot which follows the tone of every action movie. Vin Diesel says it himself at the end of the trailer. You know exactly what to expect.
9. Passengers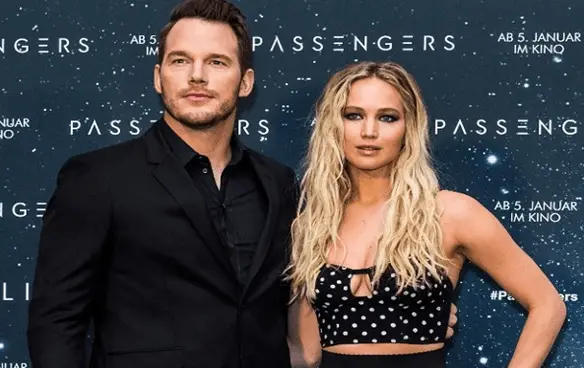 This is a science fiction/fantasy film starring and Chris Pratt Chris Pratt is a renowned American actor, who beca >> Read More... . A ship malfunction leads to two passengers on the route a new home through space waking up ninety years too early. The two awakened passengers, enjoying the luxury of the spacecraft end up falling in love and are faced with the incredible challenge of saving everyone. This movie follows their story.
10. OK Jaanu Click to look into! >> Read More...
OK Jaanu is a romantic drama film starring Shraddha Kapoor Shraddha Kapoor, born on March 3rd, 1989, is a you >> Read More... and Aditya Roy Chopra It is an official remake of a Tamil film O Kadhal Kanmani by Mani Ratnam Mani Ratnam is an Indian filmmaker deeply rooted t >> Read More... . It's a slow, light movie, which picks up the tempo in the second half. We are rewarded with a beautiful performance by Naseeruddin Shah Naseeruddin Shah is an experimental actor and asso >> Read More... , who along with Leela Samson Leela Samson is an Indian classical dancer, author >> Read More... plays a supporting role in the film. The story narrates the relationship between the lead actors and the challenges they face as they choose between love and their careers. Portraying a dilemma many 20-year-olds face in the modern times, it's a film set up in urban Mumbai which many late teens will find relatable. This movie released on 13th January