The gold glittered at the Globes as La La Land created history by with the protagonists of the film winning in their individual categories. It seemed nothing short of poetic justice when Hurwitz, Pasek and, Paul accepted the Globe for the best Original Song, 'City of Stars' declaring that the win was "for musical theatre nerds everywhere." Here you have the top ten moments of the 74th Golden Globe Awards
1. Meryl Streep's powerful message
Meryl Streep, an absolute goddess, on accepting the Cecil B.DeMile Award for Lifetime Achievement expounded on a performance that surprised her most which were Donald Trump impersonating a disabled reporter. She said it broke her heart because of that created acceptance for mockery and disrespect. Her speech went viral, and there was an immediate backlash from Trump supporters and Trump himself who called her over-rated and a 'Hillary flunky who lost big.' Streep ended with a tearful quote from Carrie "As my friend, the dear departed Princess Leia, said to me once: Take your broken heart, make it into art."
2. Carell and Wiig Steal the Show
Kristen Wiig and Steve Carell gave us tickles in the funny bone as they presented the award for Best Animated Motion Picture. Wigg began with a joke stating they got their hair cut together. They shared with the audience stories of the first animated movie, they each saw. Carell recounted how when he went to watch Fantasia, his father was told by his mother that she wanted a divorce. Kristen gave us an equally depressing story while informing us that she went to see Bambi on the day her dogs had to be put down. She also mentioned that that day was the last time she saw her grandfather. This awkward rendition and changing of gears proved to be fruitful in providing a much-needed change to the 'trying hard to be funny' tone of the show.
3. Ryan Gosling's Humbling Acceptance Speech
Ryan Gosling won the award for Best Actor in a Motion Picture. Ryan Gosling won our hearts once more by dedicating his award to his late brother and showering praise on his wife Eva Mendes for looking after their kid while being pregnant and simultaneously helping her brother battle cancer.
4.Tracee Ellis Ross's Ode to the People of Colour in the Industry
This Black-ish star is the first black woman since 1983 to win Best Actress in a Comedy. And as if to reiterate that very fact, Tracee Ellis Ross dedicated her award to those who face indifference in the industry. She reached out to the people of colour in the community and assured them their voices would be heard. Black-ish is known to touch spots most shows find too sensitive to present. Tracee too vowed to 'to show the magic and the beauty and sameness of the stories that are outside of where the industry usually looks.'
5.Jimmy Fallon's Opening and the Trump joke Dump
Host Jimmy Fallon disappointed a lot of fans when he didn't live up to his usual witty self. He was nervous, clumsy and his Chris Rock impression gave a huge wtf moment in the show. The teleprompter broke down, and his somewhat misguided jokes about Eddie Redmayne and Jessica Chastain failed to entertain. The trump jokes were well received as he compared Trump to King Joffrey and joked about the popular vote. The opening, however, was a brilliant mirroring the cinematography of La La Land. It was the perfect opening track resonating the success of the film along with the resurrection of Jon Snow, also featuring the kids of Stranger Things with Millie Bobby Brown showing the world her rapping abilities. Jimmy Fallon's BFF Justin Timberlake scored laughs as they danced and sang to the tune of songs in La La Land.
6.The Unexpected Kiss
As Ryan Gosling joked about being mistaken for Ryan Reynolds, who was also nominated for the award; Ryan Reynolds had moved on much faster than anticipated as he shared a sweet smooch with Andrew Garfield. The cheeky duo was close to stealing Gosling's thunder as he stepped up to accept the award.
7. Dev Patel Giving Us the Aawww Moment of the Day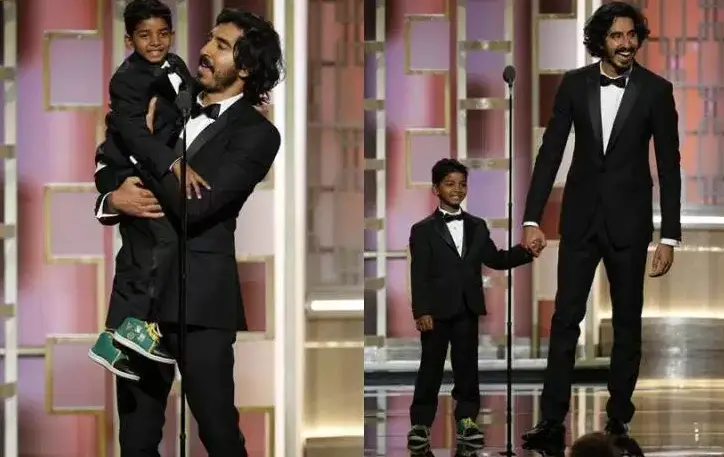 Dev Patel on introducing his film Lion introduced the star-studded crowd to Sunny Panwar, the little hero in the movie. The audience fell instantly in love with the little guy in a tux who adorably hi-fived Dev Patel. The audience was clearly enamoured by this pair in matching tuxes.
8. Evan Rachel Wood Wearing a Tux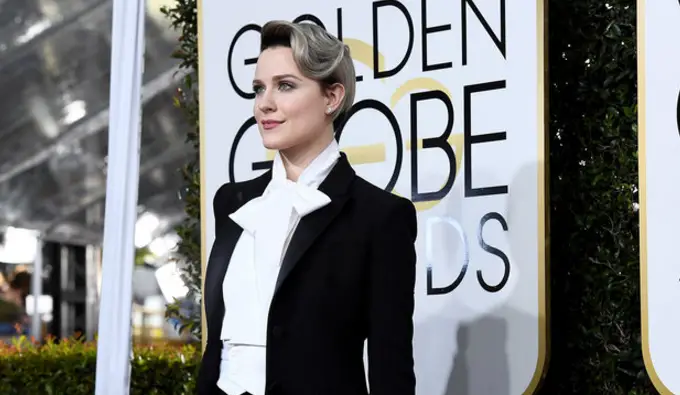 The Westworld star wore the tuxedo as an homage to Marlene Dietrich and David Bowie who's 70th birthdays would have been on that day She stood her ground stating that she had nothing against dresses, but she wanted young girls and women to know that dresses weren't always a requirement. She said that 'being yourself' is much more important.
9. The Moving Carrie Fisher and Debbie Reynolds Tribute
The mother-daughter duo who recently passed away were honoured at the Globes, with a small memorial video featuring candid moments and clips from their best-known works. This touching video also featured the two singing "You Made Me Love You" from a 2011 appearance on The Oprah Winfrey Show.
10. Brad Pitt's Surprise Appearance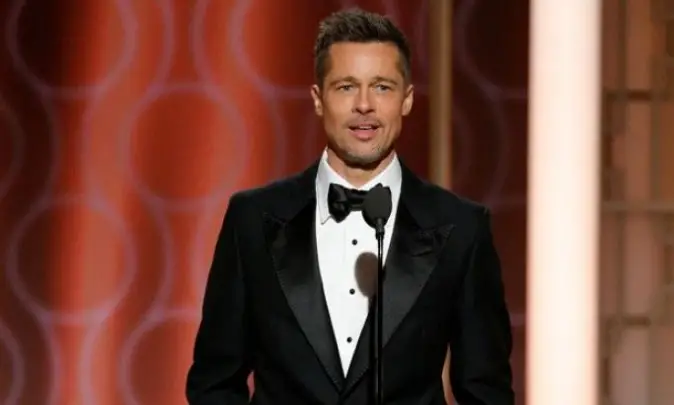 The audience, both at home and at the Globes stifled a gasp as the Greek God-like a figure of Brad Pitt entered the stage. It was his first major appearance after the very public divorce between him and Angelina Jolie. Handsome as always, his appearance was an omg moment for everyone watching