1. Whiplash Click to look into! >> Read More...
First Year Jazz player Andrew Neiman ( Miles Teller Miles Teller is an American performing artist and >> Read More... ) playing drums from a very young age and works in a Jazz band "Whiplash" preparing for Jazz Festival under man Terence Fletcher who turns out to be a psychopath. He abuses Andrew due to which the band gets dismantle. Later the band reforms again and plays onstage, Andrew Neiman plays his drum solo when Terence Fletcher abused him on stage after which Terence tip off the band to end the finale.
...
2. 8 Mile
It is a biopic of a young white boy who struggled for his career in rapping named Jimmy Smith Jr. (Eminem). Though the movie is released in 2002, but the setup was in Detroit 1995 when this young struggling boy travel's daily for like 8 mile on a highway in Detroit, this 8-mile highway use to divide the two racial distinct cultures. Whereas at the end Eminem's struggle gets over when he wins the last rapping battle against his opponent.
...
3. August Rush
...
A young boy is in an orphanage whose parents are unaware that they had a child. As they are the musicians, this child inherits the ability to hear music from his natural surroundings. He thinks that music will help him find his parents back.
4. A Hard Day's Night
...
A 1964, black and white, short musical comedy film based on a very famous band The Beatles. The characters played in the movie are the actual band members of The Beatles. The movie is awarded as the most inspiring film of all time. The story of the film is about the difficulties that a celebrity faces in day to day life.
5. The Blues Brothers
...
A story about two brothers Jake Blues and Elwood Blues who wants to re-form a band named The Blues Brothers Band( which is a real R&B American band ), dismantled because Jake was in prison for three years. After serving for robbery, Jake finally reforms the band and starts auditioning for other members to play with them. They work to earn money to pay the tax for an orphan where they were raised as a kid. And gets paid for the big show, in the end, being chased by the police for breaking traffic rules, gets caught by the police after paying the tax.
...
6. Almost Famous
...
This four-time Oscar nominated, Grammy Awarded film for Best Compilation by Cameron Crowe Cameron Crowe is an American author, actor, direct >> Read More... is a story of a young boy William Miller who gets an opportunity to write for Rolling Stones and gets the first job to review Stillwater and was told to go with the band on every concert until he finishes his review. Then the story revolves around the band members and their personal life which William takes the note off. After finishing his article, he submits it to the Rolling Stones, which the band opposes and requests to reconfirm the fact by telling them this is a false report, thinking that the article will spoil the image of the band. This breaks William's confidence. At last realizing that they did wrong to William they apologize and confirm his article to Rolling Stones.
7. The Sound Of The Music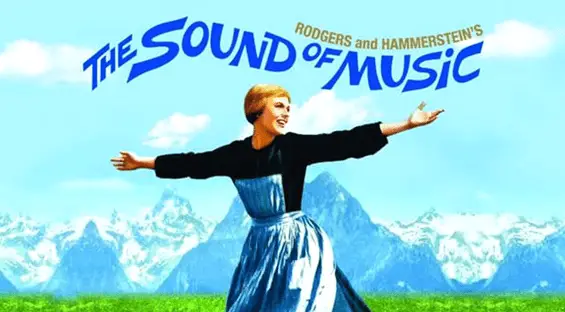 Young women Autrian Maria who is dreaming of becoming a nun lives with a retired naval officer with seven children whom she teaches music. Officer notes that she got too close to his children which made him consider marrying her. Eventually, they get married and on their honeymoon, they find that the war has been declared and he gets a telegram which says they have to leave Austria immediately and by a great struggle due to war. They finally escape at the end to freedom.
8. School Of Rocks
An American Musical Comedy movie with starring Jack Black Jack Black whose full name is Thomas Jacob Black w >> Read More... as Dewey Finn, who is a vocalist and rhythm guitarist in a band, been kicked out of the band he struggles to get a job and finally get a disguise to work in substitution of Mr. Schneebly in a prep school. After realizing a great musical talent in students, he gets an idea to form a band to compete in upcoming Battle of the Bands. Children's parents oppose this idea when they notice what their children are learning at school. At the end, the effort pays off when they all performs at Battle of the Band holding second place but called back on stage by the listening crowd for the closing performance of the eve.
9. Pink Floyd- The Wall Click to look into! >> Read More...
The movie is based on Pink Floyd (Band) named after, 1979 Pink Floyd's album The Wall. The film revolves around a man Pink who is depressed because of the death of his father who was a British Soldier killed in and for many more reasons, creating a metaphorical wall of isolation from social life and emotions which at last he breaks off out of the distress and sets himself free.
10. Pitch Perfect Click to look into! >> Read More...
A girl Beca Mitchell ( Anna Kendrick Bio coming soon... >> Read More... ) who wants to be a music composer and mixes music, forced to go to the college, where she joins a music group called The Bellas. She suggests performing her new and original compositions which get rejected by a group member Aubrey. After a huge struggle and happening they reach the final for the second time of Cappella national competition there, they perform Beca's mixes to give a tough competition to the opponent and wins.