Regarding Satyajit Ray Biographies reveal bare details about the maverick >> Read More... , there is nothing more to say that hasn't already been stated. He was a graphic designer, composer, writer, calligrapher, and filmmaker. In his avant-garde film "Aranyer Din Ratri," he was one of the first auteurs to embrace the carnivalesque literary style (Days and Nights in the Forest, 1970). He was a unique reel genius who made numerous and likely incalculable contributions to cinema. At the beginning of his career, Satyajit Ray often shot on location and used unproven actors, which was influenced by the Italian Neo-realism school of filmmaking. The highest civilian honor bestowed on a citizen of India, the Bharat Ratna, was given to him in 1992. Over the course of a 37-year career, he produced 36 films. According to some, Ray believed he had no alternative but to continue directing films to ensure his crew never faced unemployment and their families were taken care of. He is the only Indian director to have received the Lifetime Achievement Award from the Academy. In 1987, he received the Legion of Honor from the French government. He was a unique reel genius whose contributions to film are numerous and most likely impossible to list in full. For a long time, he effectively served as India's premier filmmaker. His films frequently rank among the best in the history of cinema. It is impossible to choose one movie above another because each one stands out in its own unique way. Some of these top Satyajit Ray films are available to stream on Netflix, Hulu, or Amazon Prime. Here is our pick of the top 10 Satyajit Ray films that everyone should see at least once.
1. The Apu Trilogy (1955, 1956 & 1959)
There is a reason we are discussing the complete trilogy rather than just "Pather Panchali" by itself. Even though "Pather Panchali" or "Song of the Little Road" (1955) is the trilogy's most well-known movie, it should be remembered that watching the entire collection is required to completely understand Ray's vision. Simply put, the trilogy is poetry on screen. Ray became the most influential figure in Indian film thanks to the universally acclaimed "The Apu Trilogy." It is undoubtedly recognized as an important piece of cinema and a masterpiece that forever altered the Indian film industry. What's the main theme of the trilogy? In essence, it is about the petty things that happen in everyday life. The dynamics and repetitions of everyday life have never previously been explored so thoroughly and in such a deeply sympathetic way by an auteur. In contrast to how "Pather Panchali" builds the plot and shows Apu's youth, "Aparajito/The Unvanquished (1956)" continues Apu's story after "Pather Panchali" concludes by focusing on his adolescence. "Apur Sansar/The World of Apu" portrays Apu's passage into adulthood and his enmeshing in family life (1959). One of the most acclaimed Bengali authors, Bibhutibhushan Bandopadhyay, is the inspiration for a number of the volumes that make up the trilogy. The movie "Pather Panchali" has been consistently listed in best movie lists and is currently regarded as one of the greatest films ever made. Furthermore, it was rightfully given the Best Human Document prize at the 1956 Cannes Film Festival.
...
2. Agantuk Or The Stranger (1991)
The movie "Agantuk" challenges the basic notion of what is civilized and what is not. The Doyen's most recent picture is as much a riot on the conventional ideals of right and wrong as it is a clear challenge to our preconceived notions and notions. It awakens us from our socially acceptable slumber and forces us to think differently without showing any sign of regret. The film "Agantuk," which is based on a short story by Ray, depicts the tale of an intellectually gifted wanderer who, in an effort to experience family life, spends a few days with his niece's family in Kolkata.
3. Charulata Or Lonely Wife (1964)
Every director has a film that serves as their signature work. "Charulata" is most likely the cinema of India's most outrageous statement. The film, better known internationally as "The Lonely Wife," effectively captures Bengal as it moves toward the late nineteenth century. Charulata tells the tale of Charu, the wife of newspaper publisher Bhupati (Shailen Mukherjee), played by Madhabi Mukherjee Madhabi is a National Award-winning Indian Actress >> Read More... . Bhupati is so preoccupied with his work that he has no time to talk to Charu about it. Despite the fact that it has typically been characterized by the prevailing critical discourse as a romantic fable featuring a married woman and her brother-in-law, this is true. The movie, which is based on a semi-autobiographical 1901 novella by the great writer Rabindranath Tagore, may very well have been considered a feminist statement at the time because it was so uncommon in India. Numerous motifs and allusions throughout the film have the potential to make everyone sit up and take notice. The movie was not only a clear aberration in Indian cinema, but it also used a language that was unmistakably global.
...
4. Jalsaghar Or The Music Room (1958)
This is the tale of an eminent arts patron and former great zamindar who believed that a brilliant thumri or ghazal performance was worth any amount of money, even if it meant spending his meagre resources. After the groundbreaking success of "Pather Panchali" (Song of the Little Road) (1955), Ray's international reputation was solidified with the film "Jalsaghar," which is the pinnacle of cinema. It illustrates Bengal's feudal system's slow demise in a superb way. Despite the numerous negative reviews and critics, this movie received the Presidential Award. It is an audio-visual treat because the soundtrack for the movie was composed by Ustad Vilayat Khan Among the Great Kalakars of India, Ustad Vilayat K >> Read More... , a Sitar master who is regarded as one of the most recognizable figures in Indian classical music. The film, which is inspired by the same-named short story by eminent Bengali author Tara Shankar Bandopadhyay, tackles difficult topics including pride, the past, status, contentment, and propensity.
...
5. Nayak Or The Hero (1966)
As an actor entangled in a complex web of angst, angst, and more angst, Uttam Kumar Uttam Kumar was matinee idol of Bengali cinema. He >> Read More... excels. He portrays a stage performer who rises to fame in movies. This movie marked the first time Ray and Uttam Kumar worked together. By the time the movie was released in 1966, Kumar had already cemented his status as a significant Bengali film figure, while Ray stood for the new Indian cinema. The excellent character study "Nayak" skillfully combines traditional and unconventional narratives. Following the success of "Charulata," Ray also made a first-time attempt at a male character study.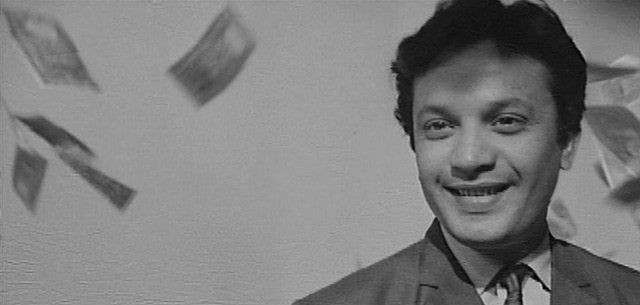 ...
6. Ashani Sanket Or Distant Thunder (1973)
Many movies only present a story without any overarching purpose, while others aim to inspire, bring laughter, or both. However, you can't help but pay attention when you hear "Ashani Sanket." You tremble with fright at it. It is a film that explores the most basic aspects of life and blatantly conveys the extreme desperation that hunger may bring about. The 1943 Bengal Famine is the backdrop for the Bibhutibhushan Bandopadhyay novel adaptation "Ashani Sanket," which could be characterized as a film documenting the slow but steady deterioration of calm village life and its attendant humanity. At the Berlin International Film Festival, it won the Golden Bear for Best Film.
...
7. Shatranj Ke Khilari Or The Chess Players (1977)
A masterful portrayal of the lazy and fundamentally meaningless ways of life enjoyed by the affluent noblemen in Lucknow prior to the Sepoy Mutiny in 1857 can be seen in Ray's lone Hindi feature film, "Shatranj Ke Khilari," which is based on a novel of the same name by renowned Hindi-Urdu author Munshi Premchand. Shatranj Ke Khilari also gives us a historical description of the amalgamation of the Indian state of Awadh with British India while maintaining a strong sarcastic undertone and an amusing running narration by Amitabh Bachchan. The master filmmaker's "Shatranj Ke Khilari" is a visually magnificent and conceptually dense masterpiece that is consistently overlooked.
...
8. Mahanagar Or The Big City (1963)
Ray's Mahanagar, which was highly praised by art historians like Roger Ebert, signaled Ray's liberation as a realist. With Kolkata (formerly Calcutta) serving as the film's archetypal backdrop, "Mahanagar" invigoratingly explores the ostensibly straightforward but emotionally nuanced nature of the Indian middle class. Here, it's important to keep in mind that when the movie was made, the nation was going through a significant modernist shift. Through a distinctly feminist eye and with remarkable grace, Ray captures this transformation. In addition to navigating the muddy waters of patriarchy, traditionalism, feminism, and the ability to adapt to a changing environment, the movie also shows a conflict between generations. Narendranath Mitra Bio coming soon... >> Read More... , a well-known Bengali author and poet, is the author of the short story "Abataranika," upon which it was based.
...
9. Devi Or The Goddess (1960)
The Devi, a complex work that investigates the dominance of superstition in 19th-century Bengal via a magnifying lens, was adapted from a short story by renowned Bengali novelist Provatkumar Mukhopadhyay. The film was praised all over the world for being deeply humanistic and stylish. The movie tells the tale of a newlywed woman and her alleged transformation into the human manifestation of Goddess Kali as a result of her fervently spiritual father-in-law. The movie "Devi" also addresses ideas like rigid dogmas, love, sorrow, and loss.
10. Aranyer Din Ratri Or Days & Nights In The Forest (1970)
"Aranyer Din Ratri," a highly experimental film by Ray, was one of the first in India to be entirely set in a forest. Aranyer Din Ratri, a movie that examines fidelity, narcissism, love, and loss via what appears to be a misty perspective, is equally unsettling and poignant. The movie "Aranyer Din Ratri," which is based on Sunil Gangopadhyay's novel of the same name, actually builds tension by subtly using humor. It chronicles the activities of four friends who travel together for fun to the forests of Palamau, present-day Jharkhand (then in Bihar). Many other filmmakers were influenced by it, and one of the more well-known modern Bengali film stars, Goutam Ghose Gautam Ghose is a special man. He has won numerous >> Read More... , produced the sequel "Abar Aranye" in 2003.