Nusrat Jahan Nusrat Jahan is a famous Indian model and an India >> Read More... is an actress born on 8 January 1990 in Calcutta, West Bengal. She was the winner of Fair One Miss Kolkata in 2010. After that, she started her acting career. She won The Youth Icon Award in 2021 at the 16th Tumi Ananya Story soon >> Read More... and Mahanayika Award in 2022 by the West Bengal Chief Minister. Here is the list of Bengali films in which she acted.
1. Har Har Byomkesh
The film Har Har Byomkesh is about solving a murder mystery in Benaras. Inspector Ratikant Choudhury invites Byomkesh, Ajit, and Satyabati to Benaras. They are asked to visit a party. This party is organized by Deepnarayan Singh. He is a zamindar. The reason for the party is his recovery from a disease. But the next day, Deepnarayan dies. Now Byomkesh shall investigate the murder case. He thinks the reasons are money or illicit relationships. He suspects many people related to him, such as Shakuntala. She is Deepnarayan's wife. Byomkesh, his wife, Ajit, and the police solve the case together.
2. Zulfiqar
In the film Zulfiqar, Nusrat Jahan played the role of Cleopatra. This film is based on William Shakespeare's play Julius Caesar and Antony and Cleopatra. Zulfiqar Ahmed is a member of the Syndicate. Basheer Khan is also a member. He is a nationalist and gangster. Both are best friends. Kashinath Kundu is a man of the opposite team. They fight for brotherhood, friendship, love, hatred, betrayal, and rise.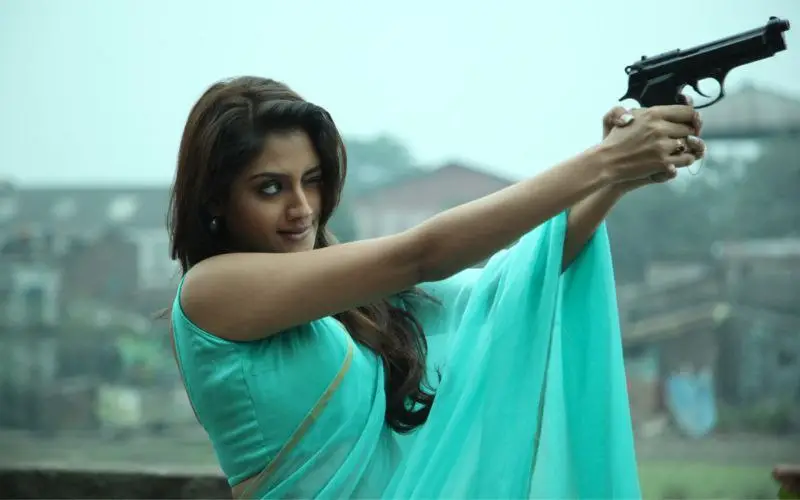 The film Bolo Dugga Maiki is partially based on Oru Vadakkan Selfie Click to look into! >> Read More... , a Malayalam film. Shyamo lives with his friends, Bangal and Totlu. He had to leave his house because of his mischievous activities. He took a selfie with a stranger girl, Uma. He sent it to his friends. They posted it on social media. Uma's family member, when she saw it, thought it was the man with whom she ran away. Gabor Pal is her father. He threatened to return his daughter to him. Niloy is the actual man with whom she eloped. Shyamo pretended to be Niloy and went with her to her house. Now, the film takes an unexpected turn.
...
4. Naqaab
In the film Naqaab, Nusrat Jahan played the role of Disha. Masss is a thief. He meets with a car accident. This happened when he was trying to escape from a crime scene. After that, he tells people that he can see ghosts. In this way, he starts tricking people. This film is the remake of a Tamil film, Massu Engira Masilamani Click to look into! >> Read More... . The actors were Shakib Khan Bio coming soon... >> Read More... as Masss, Nusrat Jahan as Disha, Sayantika Banerjee Sayantika Banerjee was conceived in 1986 on 12th A >> Read More... as Anuradha, Rudranil Ghosh Rudranil Ghosh was born on 6th January in the year >> Read More... as Rahim, and others. It was released in 2018. Rajiv Kumar Biswas Bio coming soon... >> Read More... directed the film. SVF Entertainment did the production.
...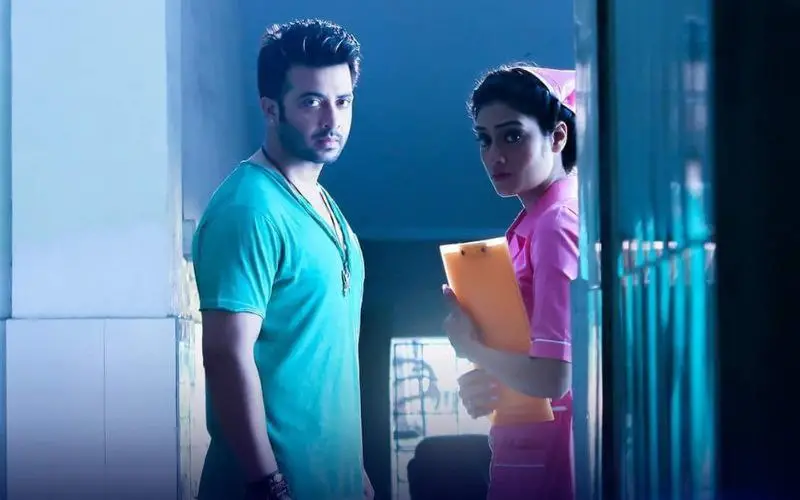 5. Kelor Kirti
In the film Kelor Kirti, Nusrat Jahan played the role of Urvashi. When a beautiful woman comes between the lives of a happy couple, a confusion is created. Everybody misunderstands themselves. This leads to a comical situation. This film was released in 2016. Raja Chanda Raja is an Indian Film Director who is majorly foc >> Read More... directed the film. The production was done by SVF Entertainment. The actors were Dev as Guru, Jisshu Sengupta Jisshu Sengupta is an artist who is known for his >> Read More... as Joy, Ankush Hazra Ankush Hazra was born on 14 of February 1989. His >> Read More... as Apurba, Mimi Chakraborty Mimi Chakraborty, born in 1989 is a Bengali film a >> Read More... as Rima, Koushani Muerjee as Anushka, Nusrat jahan as Urvashi, Sayantika Banerjee as Priya, Kharaj Mukherjee Kharaj Mukherjee also known as Kharaj Mukhopadhyay >> Read More... as Gadadhar, and others.
...
6. Jamai 420
The film Jamai 420 is mostly shot in Bangkok. Soham Chakraborty Soham Chakraborty is a very well-known personality >> Read More... , Ankush Hazra, and Hiran Chatterjee Hiranmoy Chatterjee is a multitalented artiste, fr >> Read More... are the three men, and Mimi Chakraborty, Nusrat Jahan, and Payel Sarkar Payel Sarkar is an Indian Bengali actress who has >> Read More... are the three men. They end up in Bangkok together. They have errors in their marriages in India. Their parents have different plans from theirs. Thus, this film is a comedy of errors. Many comical incidents follow.
...
7. Khoka 420
In the film Khoka 420, Nusrat Jahan played the role of Megha. Krish or Krishna belongs to a wealthy family. Megha is his girlfriend. Bhoomi is her best friend. Bhoomi tells Megha that her marriage is fixed to a person whom she does not want to marry. She tells this to her boyfriend. She plans to help her by making her boyfriend pretend to be her friend's boyfriend. This will help stop her marriage. She falls in love with him while acting. He comes to know that both the women's fathers are step-brothers. They are rivals. Now, things get complicated.
...
8. Asur
The film Asur is about the artist Kigan. He is an art professor. He is suspended from the college. He was found drinking alcohol. He repeats this every time. He is now fired from his job. He is happy. He is currently an independent artist. He imagines Devi Durga as a little girl who goes with him everywhere he goes. He wants to make the world's giant Durga idol for the puja. The puja committee agrees to work with hi9m. They advertise this. Bodhi is his friend. He is jealous of him. Adity is also his friend. She is in love with him, but he is not. During puja, there is a huge crown in Kigan's pandal.
...
9. Uma
The film Uma is about a little girl Uma. She lives in Zurich, Switzerland. She is suffering from a chronic disease. She has only two months to live. She wants to see Durga Puja in Kolkata. It is her last wish. Himadri is her father. He plans to take her to Kolkata. But it was not the time of Durga Puja. But she has few days to live. So, he devises a fake Durga puja with film director Brahmananda Chakraborty. He agrees. They face many problems while doing this. But they succeed. This film is based on an actual incident in the life of Evan Leverage of St. George, Ontario, Canada.
10. One
In the film, One Nusrat Jahan played the role of Megha. Ronojoy and his friends are trainee policemen. Aditya Sen is a cunning scientist. He has his pharma company. A contract killer works under him. Ronojoy is suspicious of him. Now he goes for an unofficial investigation. Now Aditya comes to know about this. He murders Ronojoy's friend. Later this leads to an open fight. Aditya dies from a gunshot.