Welcome to the world of unique movies! These films push the boundaries of what we expect from a cinema, challenging our assumptions and taking us on unforgettable journeys. Whether through innovative and unique storytelling, bold visuals, engaging screenplay, or Thought-provoking themes, these films bring a fresh perspective to the viewers. These movies will take you on a rollercoaster of emotions and leave you breathless with their sheer originality. So, fasten your seat belts and embark on a journey that will expand your horizons and leave you with a renewed appreciation for the art of cinema. These movies are not to be missed, as they represent some of the most daring and innovative works of South Indian cinema in recent years. So, sit back, relax, and let the magic unfold before your eyes!
"Vikram Vedha" is a 2017 Tamil-language neo-noir crime thriller that has become one of the most popular and critically acclaimed films in South Indian cinema; directed by Pushkar-Gayathri, the film stars R. Madhavan and Vijay Sethupathi Vijaya Gurunatha Sethupathi was not born with silv >> Read More... in the lead roles. "Vikram Vedha" is known for its innovative narrative structure, inspired by the Indian folktale of Vikram and Betal. The film presents different versions of events through the perspectives of Vikram and Vedha, forcing the audience to question what they know and what they believe constantly.
...
2. Super Deluxe
Another unique film from Kollywood, "Super Deluxe," is a 2019 film known for its innovative storytelling and powerful performances. Directed by Thiagarajan Kumararaja Thiagarajan Kumararaja is an Indian film and ad di >> Read More... , the film features an ensemble cast including Vijay Sethupathi, Samantha Akkineni, Fahadh Faasil Born in 1983, Fahadh Faasil is known for his works >> Read More... , Ramya Krishnan Ramya Krishnan is a South Indian movie and TV actr >> Read More... , and Mysskin. The film tells four interconnected stories that revolve around themes of sexuality, gender identity, and social norms. Each story is narrated in a distinct style, ranging from neo-noir to comedy, and explores the complexities of human relationships.
A masterpiece from Sandalwood, "Lucia" is a 2013 Kannada film that has gained a cult following for its unique storytelling and innovative approach to filmmaking. The film tells the story of Nikki, a struggling insomniac who begins taking a new drug called Lucia to cure his sleeplessness. However, the drug has unexpected side effects. Nikki loses his grip on reality as he becomes embroiled in a dark conspiracy. "Lucia," with its unconventional narrative structure, blurs the line between reality and imagination. The film employs a non-linear storytelling style, with multiple timelines and perspectives that keep the audience engaged and guessing until the end.
...
4. Awe
Welcome to the world of "Awe," a 2018 Telugu film that broke conventions and pushed the boundaries of Indian cinema. Directed by Prasanth Varma Prasanth Varma is an Indian director who has worke >> Read More... and produced by Nani, "Awe" features an ensemble cast of talented actors. The film weaves together several unique storylines, each with its distinct genre. Its underlying theme of mental health made this film one of the most ground-breaking films to come out of Indian cinema in recent years.
...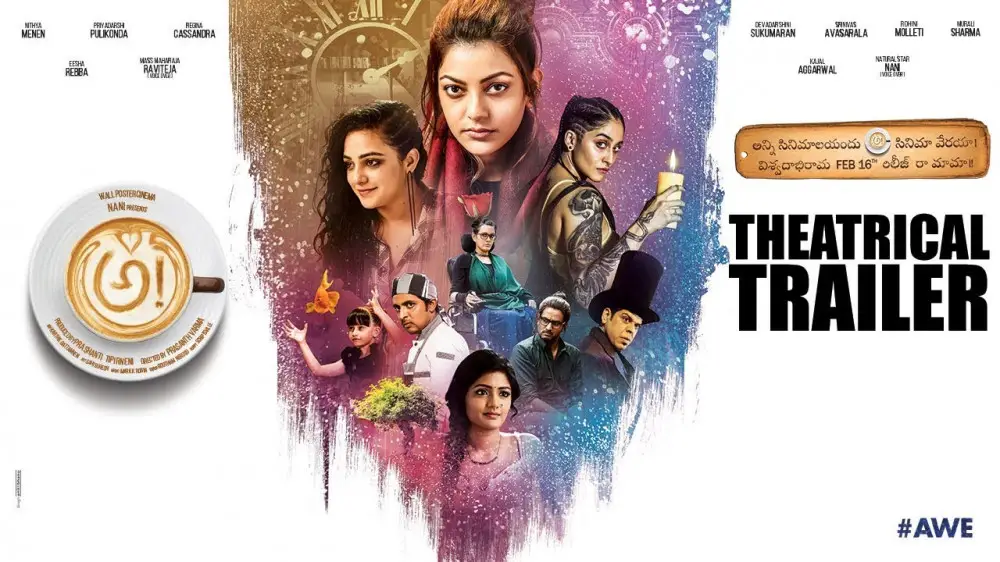 5. Kumbalangi Nights
Kumbalangi Nights is a unique film that captures the essence of life in a small village and the struggles of its people. The 2019 Malayalam film is a poignant family drama that explores the complex relationships between four brothers living on a remote island in Kerala. It deals with issues like toxic masculinity, gender roles, and societal expectations subtly and nuancedly.
...
6. C/o Kancharpalem
National Award-winning film, C/o Kancharapalem, explores the lives of everyday people and their dreams, aspirations, and struggles. The film follows four love stories, each with its own set of challenges and obstacles to overcome. The film's ability to transport the audience into the world of its characters made it a cinematic experience that will stay with you long after the credits roll. It is a film that proves that sometimes the most ordinary lives can lead to the most extraordinary stories.
...
Remembering the days of Bangalore Days, a movie that captured the essence of youth, friendship, and love. The 2014 Malayalam film takes us on a journey with three cousins, Arjun, Kuttan, and Divya, who move to Bangalore to pursue their dreams and start a new life. If you're looking for a coming-of-age tale, a feel-good story about friendship and love, or a celebration of the joys of life, Then Bangalore Days is a must-watch.
...
Pariyerum Perumal is a thought-provoking film that explores the complexities of caste, discrimination, and social justice. The Tamil 2018 drama has an 8.7 IMDb rating. The film revolves around a young Dalit man who aspires to become a lawyer and challenge the systemic oppression he and his community face daily. The powerful storytelling and stunning cinematography helped the film to capture the beauty and complexity of rural Tamil Nadu.
...
9. KGF
The Blockbuster Kannada Movie, which took Indian cinema to the next level, KGF is a 2018 periodic movie set in Kolar Gold fields. It follows the story of Rocky, a slum dweller who aspires to become the king of the Kolar Gold Fields. The movie received high critical acclaim, with everyone around the world appreciating the movie. The movie was also a massive commercial success becoming the highest grosser in the Kannada film industry and one of the highest in Indian Cinema.
10. Eega
SS Rajamouli directed the 2012 Telugu fantasy drama. The film's uniqueness lies in its plot line and concept of the reincarnation of a man into a housefly. The cinematography VFX used in the movie takes you into another world, a world of Housefly. The film got praised for its brilliant concept, and it was also a massive box office success becoming one of the best movies of Rajamouli.