Cinephiles always have different tastes and points of view, as well as various perceptions. Some people may love romantic genre films, and others may love crime thriller movies; likewise, lots of people may love psychological thriller movies that feature a hero or antagonist who is mentally uncontrolled. These genre films are always stunning. Here I have given top 10 psychological thriller movies below as follows:
1. Manmadhan (2004)
A.J. Murugan is the director of the Tamil romance-thriller film Manmadhan, which stars Silambarasan TR, Jyothika, Sindhu Tolani Born in Mumbai, Sindhu Tolani was a Fair & Lovely >> Read More... , and Atul Kulkarni Atul Kulkarni was born in the year 1965 in Karnata >> Read More... as the main characters. Goundamani and Santhanam were two additional well-known performers who were involved in Manmadhan. Following specific trimmings and durational cuts, the Censorship Board certified this movie for theatrical release. Madhan Kumar (Salimbarasan) is a professional auditor and falls in love with Mythili (Jyothika). He has an arrogant and psychotic personality and kills morally corrupt girls by seducing them and burning their corpses. ACP (Deva) starts finding the killer. Mythili informs Deva about Madhan Kumar's whereabouts, which leads to his arrest. Madhna Kumar and his twin, Madhan Raj Bio coming soon... >> Read More... , were attached to each other and lived with their maternal uncle. Madhan Raj falls in love with his classmate Vaishnavi and gets angry seeing her having sex with her relative Seenu. He changes his personality and starts killing girls who cheat in the name of love. He even warns his brother not to tell anyone otherwise; he too will be killed. After a while, the police catch Madhan Raj with solid proof and release Madhan Kumar. Mythili apologises to Madhan Kumar and proposes to him, which he rejects. Madhan Kumar was revealed to be the real Manmadhan, who killed Seenu and Vaishnavi to avenge his brother's death. He hides his brother's death and uses his identity to escape if caught. He loves Mythili, but he cannot express her feelings. At the end he declares that avenging his brother's death is more important, than other thing in his life.
...
2. Kaadhal Kondein (2003)
Kaadhal Kondein is a Tamil-language romantic cerebral suspense film. The film is written and directed by Selvaraghavan, casting by his family, Dhanush, and beginners Sonia Agarwal Sonia Agarwal is and actress and model in Indian c >> Read More... and Sudeep Sarangi Sudeep Sarangi, who is a young actor, is always en >> Read More... , and supporting roles played by Nagesh and Daniel Balaji Daniel Balaji is a prominent figure in Tamil Cinem >> Read More... . It's the story of a youth who is shown to have been psychologically and physically abused as a child. Vinod (Dhanush) has been looked up by the father. He has always lost the people he loved the most. Throughout his childhood, the absence of his mama had troubled him so much. As he grows up, he's encouraged to attend college for further studies. But the terrain was entirely alien and uncomfortable to him. He gets a friend, namely Divya (Sonia), although the rest of the class would exclude him. Vinood falls in love with Diviya too fast, and soon he understands that Divya doesn't consider him any more than just a friend. He also learns that Divya is in love with Aadhi (Sudip). No other actor could succeed in such a dark and prickly part in his alternate film. After making his entrance in 'Thulluvadho Ilamai,' Dhanush teamed up with the family Selvaraghavan for the romantic suspense 'Kadhal Kondein.' Upon release, the film started getting good reviews at the box office. Dhanush received an excellent response from his depiction of Vinod, who is later revealed to be a victim of physical abuse. The climax sequence was one of the highlights of the film.
The epic Tamil film Vaali is helmed by S.J. Suryah. Ajith, Simran, Vivek, and Balaji all appear in the movie. Vaalee's script was written by Suryah within 60 days, and the duo approached S. S. Chakravarthy to produce the movie. The legend of Vali from the Ramayana is modernised in the film. In the picture, Deva and Shiva are twin brothers who have shown themselves to fall in love with Priya and chance upon her differently. When Shiva weds Priya, things take a sharp turn, and Deva begins to lust after his sister-in-law. Simran's performance in "Vaali" was one of her most engaging and brought her a lot of praise. The movie had great success at the box office. Following the victory, Ajith Kumar Ajith Kumar is a prominent Tamil film actor, model >> Read More... went on to star opposite Simran in films like 'Aval Varuvala' and 'Unnai Kodu Ennai Tharuven'.
...
4. Alavandhan (2001)
The Tamil psychological action thriller Aalavandhan is a Suresh Krissna Suresh Krissna is a South Indian movie director; h >> Read More... and S. Thanu production. An anti-terrorist squad is led by Vijay ( Kamal Haasan Kamal Haasan is the most versatile actor that Indi >> Read More... ). He marries Tejaswini ( Raveena Tandon Raveena Tandon is an Indian film actress who is kn >> Read More... ), the mother of their unborn child. The story and screenplay by Kamal Hasan are excellent. Haasan also plays Vijay's brother, Nandu, who is a schizophrenic patient at a mental hospital. Nandu starts seeing his fiancée (Tejaswini) as his cruel stepmother due to his fantasies. Nandu, who murdered his stepmother when he was twelve, decides to murder Tejaswini to save Vijay. Nandu makes his way out of the asylum and starts searching for Tejaswini. He starts using drugs and killing people by drug's influence. The rest of the movie is all about the contact between Nandu and Vijay, who will do whatever he can to protect his fiancée, even if he has to kill his brother.
...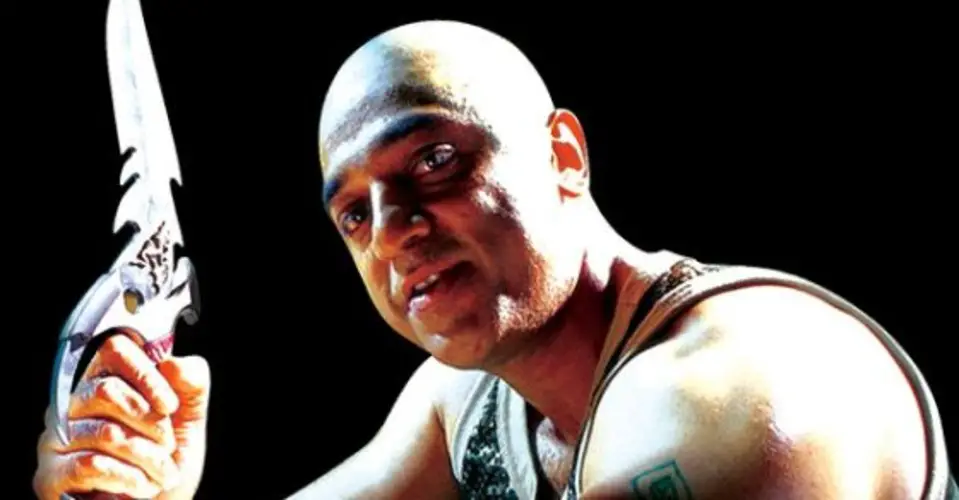 5. Anniyan (2005)
The 2005 psychological action thriller movie Anniyan, also known as " Stranger Stranger is a South Korean TV series that aired on >> Read More... ," was written and directed by Shankar and produced by V. Ravichandran of Aascar Films. The story revolves around a disillusioned ordinary guy whose dual personality strives to change the system out of frustration at what he perceives as growing social apathy and general negligence. As Ambi, played by Vikram, a law-abiding, idealistic attorney who suffers from dissociative identity disorder (also known as multiple personality disorder), Ambi takes on the personas of a deadly vigilante named Anniyan and a sophisticated fashion model named Remo. Sadha portrays the main female character. In the movie, actors Vivek, Nedumudi Venu Nedumudi Venu was born on 22nd May 1948. He is com >> Read More... , Nassar, and Prakash Raj Prakash Raj, born on 26th of March, 1965, as Praka >> Read More... also appeared. Ramanujam is motivated by the Garuda Puranam in different guises and makes every murder a highly gory and creative one. His idea is that a murder will reverberate with shock and awe in society. This movie was more than my expectations ever.
...
6. Ratsasan
A crime and psychological thriller movie released in 2018 in Tamil language directed by Ram Kumar Bio coming soon... >> Read More... , and the leading role is played by the film stars , Amala Paul Amala Paul is the super talented star of South Ind >> Read More... , Saravanan, etc. It has been remade in Telugu as Rakshasudu and in Hindi as Cuttputlli. The movie starts with showing the police's room filled with a person who becomes a sub-inspector after his father's death and sets out to find the mysterious psycho killer or serial killer who targets teen girl students from their school by placing a doll with many cuts on its head and body and killing them brutally, then throwing them in public places to raise fear in the public. While the police tried to deal with this case casually, the inspector took this seriously, and no one would believe him for his idea to get the killer.
...
7. Vikram vedha
An action thriller Tamil movie released in 2017 directed by Pushkar-Gayatri, the husband-wife duo directors of Neo-Noir films like this one, is uncommon in Tamil. The leading characters are Madhavan, Vijay Sethupati, Kathir, and Vara Laxmi. The plot is straightforward and consists of a police and mobster hide-and-seek game. Characterizations are nicely etched in the screenplay, which has a wow effect. The audience was captivated and kept guessing until the very end, mainly due to the excellent pacing. The dialogue in the film is as intelligent as a knife and as intense as the gunshots. The show had a more authentic sense thanks to the BGM, which was flawless. When it comes to the acting, Madhavan gives a commanding portrayal as the lead police officer, Vikram, who often feels like he has been used. At last, it could be said that the director has well arranged the cinematography, and its story and the angles used to focus on the characters and the theme are really fantastic and marvelous.
...
The movie Enakkul Oruvan, directed by Prasath Ramar Prasad Ramar is a director and scriptwriter in the >> Read More... , was released in 2015 in Tamil, casting Siddharth, Ajay Ratnam, , John Vijay John Vijay was born in 1976. John is a Tamil film >> Read More... , Naren, etc. A remake of the Kannada masterpiece Lucia by Panwar Kumar. The lead role is Vicky (Siddharth), an ordinary person who looks like a child by his behaviour and even has a disease that makes him unable to sleep at night, and then he meets a man who brings him to his boss, who has a drug that can make him live life in his dream as he wants. He starts taking the drug, and the whole movie is based on what happens after taking the drug. He starts dreaming that he is a film star and even gets into Vignesh's world as a pizza server, whom he loves. The director has shown the two parallel worlds by showing Vicky's life in colour and Vignesh's life in black and white (as a dream). There is a twist in the movie that, even at the end, forces us to think about which scene is real and which isn't.
...
9. Puriyatha Puthir
The Tamil movie Puriyatha Puthir, directed by Ranjit Jeyakodi Ranjit Jeyakodi is an upcoming South Indian movie >> Read More... , was released in 2017. Cast by Vijay Sethupathi Vijaya Gurunatha Sethupathi was not born with silv >> Read More... , Ramesh Thilak Ramesh Thilak is a radio jockey and actor; he work >> Read More... , Arjunan, etc. A psychological thriller and romantic story between Kathir (Vijay Sethupathi) and Meera (Gayathrie). However, the big reveal comes too soon, and the character played by Ramesh Thilak doesn't fit into the proceedings. The music and background score by CS Sam impress, making the movie watchable. Puriyaadha Pudhir is the debut venture of writer-director Ranjit Jeyakodi, featuring a romantic story between Kathir (Vijay Sethupathi) and Meera (Gayathrie). The film has an engaging storyline and impressive performances by the lead actors. The film's antagonist role, played by Ramesh Thilak, is also noteworthy, adding to the suspense of the story. There are some scenes that have been dragged out in the film that could have been trimmed.
10. Psycho
The movie Psycho was released in 2020 and was directed by Mysskin. It's all about the story of a psychopath (Raj) who goes on a killing spree. Dahini ( Aditi Rao Hydari As her title may be suggesting, Aditi the talente >> Read More... ) challenges him and issues a challenge to Gautham ( Udhayanidhi Stalin Udhayanidhi Stalin is considered to be a mammoth f >> Read More... ). Gautham is a stalker who follows Dahini everywhere, but the heroine falls for him, and Gautham sacrifices his life to save Dahini. It is a violent film with disturbing visuals and Mysskin's stamp. Udhayanidhi Stalin's character is underwritten; Aditi expresses her vulnerability and persistence; Nithya Menen Born on April 8, 1988 Nithya Menen is indeed a sta >> Read More... is tough; and the villain has brutally killed 15 people. Cinematographer Tanveer Mir uses light perfectly to show the film's mood in every scene, and Ilaiyaraaja's music and silence are an asset. Director Ram and actresses Renuka and Singampuli deliver nuanced performances.