For some, music is just a treat for the ears, for the rest music is the expression for what they don't speak out. Kollywood has seen the most talented artists in the field of acting, choreography, directing, and cinematography, needless to say, music. Kollywood has produced the legends of all times, the legends that are well- known, not just in kollywood, but are famous all over India. Be it the music maestro Ilaiyaraaja, or the Oscar winning Rahman, music is indeed what makes a story click in Kollywood. Being a state that is traditionalist by nature, there have been musical influences through way of art forms such as Carnatic and folk music making it the integrating reason behind the existence of songs for movies. Kollywood has seen several masterpieces; here are a few tracks that stole our hearts each time we listened to it.
1. Song:  Yezhu Swarangalukku
Film: Apoorva Raagangal
Composer: M.S. Vishwanathan
The song being a musical masterpiece by itself, explains about the magic that the Saptha Swaras create when they come together. The first line 'Yezhu swarangalukku eththanai paadal' means, 'how many songs are there with just seven notes!'
This is considered as one of M.S.V's great hits.
2. Song: Naalai Intha  
Film: Uyarndha Manithan
Composer: M.S. Vishwanathan
M.S.V. has composed the best melodies by far, and one among the best would be Naalai intha velai paarthu from Uyarndha manithan. Having been given the title 'melody king', M.SV. has not even once failed to impress us with his brilliant music. This song has been beautifully crafted to bring out the magic in P. Susheela's voice, thereby creating a pleasant experience for all the listeners.
3. Song: Sundari Kannaal
Film: Thalapathi
Composer: Ilaiyaraaja
Ilaiyaraaja has produced a series of hits in the Tamil industry, and it is a hard task to sieve from them and pick the best. Thalapathi as such is a brilliant album with melodies like Amma endrazhaikaadha and peppy beats like kaatu kuyilu and raakkama kaiyathattu. Sung by S. Janaki and S.P.B, this song features Rajinikanth and Shobana.
4. Song: Pottu Vaitha Kathal Thitam
Film: Singaravelan
Composer: Ilaiyaraaja 
Singaravelan defines retro music, as the quirky beats are still in vogue. The song is sung by the actor of the movie himself, Ulaganayan Kamal Hassan, adding the extra rustic, yet original touch to it. The Kamal-Ilaiyaraaja combo is indefinitely a deadly one as together, they have produced some of the greatest hits that the Tamil industry ever heard. From punnagai mannan to sathya, this indeed is one of the best combinations that Kollywood could ever come up with.
5. Song: Pudhu Vellai Mazhai
Film: Roja
Composer: A.R. Rahman
This romantic thriller stole our hearts, with not just the acting and storyline, but mostly with its music. Being A.R. Rahman's debut album, this is by far one of his best works, as the entry of this versatile music director changed the entire scenario of the music industry. Sung by
Unni Menon
and
Sujatha Mohan
, this song defines the term 'inexplicable beauty'.
6. Song: Mental Manadhil
Film: O Kadhal Kanmani
Composer: A.R. Rahman
This is a signature song by Rahman, as it is new, refreshing and it had a lovely impact on the youth all around the country. This youthful peppy number made us all dance to Rahman's tunes once again and hynotised us. Rahman sung the male version of the song, and made sure he captured the fluttering hearts of the current youth that related pretty well with the song. The movie as such had a brilliant plot to it, and it was a bold approach in a traditionalist system, such as ours.
7. Song: Vaseegara
Film: Minnale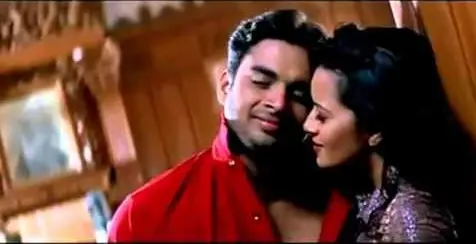 Harris Jayaraj indeed debuted with a bang. Minnale is one of the best albums of his, and all the songs were huge hits. From the theme song to Venmathi, all songs are memorable ones. However, it would be a shame not to mention Vaseegara as this song made the album complete, with people of all ages loving it equally, thanks to Bombay Jayashree's mesmerizing voice.
8. Song: Lesa Lesa
Film: Lesa Lesa
Composer: Harris Jayaraj
This song may be the title song of the movie, but the first thing that comes to our minds when we listen to it is Anuradha Sriram's ringing voice that made this song a raving success. This is one of the most unforgettable movies, considering it was Trisha's debut as the lead role in a movie.
9. Song: Pookal Pookum Tharunam
Film: Madrasapattinam
Composer: G.V. Prakash Kumar
The expectations were pretty high for his debut album considering the family he hailed from. However, he chose to keep up the standards set by his uncle, the Mozart of Madras, A.R. Rahman. Having composed some of the fresh beats in the Tamil music industry, one of his best albums is Madrasapattinam, owing to the medieval theme the movie had. Sung by
Roop Kumar Rathod
and Harini, this song had a hint of classiness and sophistication that was attached to that time period.
10.  Song: Sara Sara Saara kathu
 Composer: Ghibran
It indeed is very surprising to notice how most of the music directors in Tamil have made their mark since their debut movie. This song is an award winning song, sung by Chinmayi. Known for its intricacies and high difficulty level to sing, this is a catchy number that beautifully blends in with the theme of the movie.