Kanna Naa Oru Dhadava Sonna, Nooru Dhadava Sonna Madhiri
Tamil cinema is known for its excellence in dialogue delivery. Now what makes it so appealing that people quote it all the time? The very existence of punch dialogues comes from the inevitably awesome Thalaiva Rajinikanth. He has floored the audience several times with his dialogues, some even propagating impossible ideas.
On the contrary,
Kamal Haasan
, the Ulaganayagan has quoted rather classy dialogues, some that have the ability to create uproar.
Below are some of the most famous dialogues from Kollywood. Read further for reminiscing the best repartees Tamil cinema has ever seen.
1.Film: 'Baasha'
Hold your horses, as I know that the first thing that came to your mind as you read the name of the movie was the Baasha theme, the well-crafted catchy theme song. 
Dialogue: Naan oru thadava sonna, nooru thadava sonna maadiri (If I say something even once, it's as though I've said it a hundred times)
This dialogue has had men throw up their hands in surprise and women swoon in his charm; this indeed is a dialogue that is unforgettable.
2. Film: 'Panchathanthiram'
Don't start thinking already about which is the best dialogue from the movie, this is hard for me too, to pick the best out of everything that seems like the best.
Dialogue: Munnadi, pinnadi, enna irundhudhu? (Before, what was there behind)
Even though this wasn't a dialogue delivered by the Ulaganayagan itself, it definitely has seen a huge load of people repeating it at all possible times. Oh, and no one can ever forget that amazing sequence.
3. Film: Thillu mullu (the old version)
This classic may have been remade, but nothing replaces the original. 
Dialogue: Idhula enna perumai, get out! (What's there to gloat about in this, get out!)
Did you read that in Thenga Srinivasan's voice? I couldn't help but imitate him, while typing it down myself. The scene where Thenga Srinivasan recruits employees is probably the best scene of the movie.
4. Film: Naduvila Konjam Pakkatha Kaanum
I have a feeling you already know where this is going, without me even having to type it down.
Dialogue: Enna aachu? Cricket valadnom? Nee thane ball potte? Slip aaitena? Keezha vizhundhutena? Okay okay… (What happened? We played cricket? You threw the ball? Did I slip and fall? Okay okay..)
One of the movies that marked the versatility of Tamil movies and took it to a completely different level was this one.
5. Film:' Dhool'
This light-hearted comedy blew the audience away with Vivek's stellar performance. 
Dialogue: Enna da idhu? Tirupathi lendhu laddu ku badhila jilebi ya kondu vandhirka? (What is this? You've brought jalebi instead of laddu from Tirupathi)
This comedy sequence stole the hearts of the audience as it marked the sudden plot twist in Vivek's one-sided love story.
6. Film: Konjum Salangai
No matter how old this movie is, every Tamil movie rasigan knows the song, 'Singara velane'. 
Dialogue: Shantha? Ukkar. Yean paatai niruthi vittai? Un isai endra inba vellathile neendhu midhikka odiodi vandha ennai emaathadhe Shantha. (Shantha? Sit down. Why did you stop singing? Don't fool the man who has come running to dive into the pool of your music.)
The set of dialogues that feature during the song have been remarkably repeated in several movies including Ulaganayagan's Sathi Leelavathi.
7. Film: 'Winner'
This movie has definitely been talked about only because of Vadivelu's brilliant performance that kept the audience gripped.
Dialogue: Vena… Venaa… Valikidhu… Azhudhuduven, azhudhuduven (please don't... don't… its paining… I will cry, I will cry.)
We have all repeated this dialogue at least once in our lives in a very comical situation. The way he delivers it, is what makes the dialogue a super hit among people.
8. Film: 'Nayagan'
This tearjerker always gives us a lump in our throat; every single time we watch the movie. Do I even need to mention what the dialogue is?
Dialogue: Neenga nallavara kettavara? (Are you a good guy or a bad guy?)
Being one of the last scenes of the movie, this sure is the scene that made everyone in the audience cry. Nayagan has indeed been one of Kamal's best movies.
9. Film: 'Dasavatharam'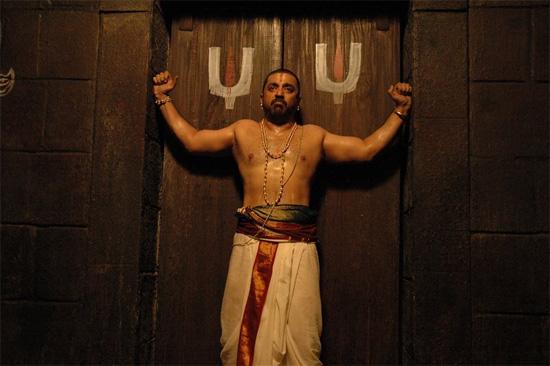 This movie saw Kamal in ten different roles, all of which were brilliantly portrayed by the brilliant actor.
Dialogue: Kadavul ille nu sollaliye, irundha nalla irukkum nu dhaane solren (I didn't say that there wasn't any God, I said it would be nice if he was there though.)
This dialogue had multiple reactions from people, as in a country such as ours; voicing out agnostic beliefs was seen as a huge bummer. However, it has been quoted by all of us at least once in order to remember the controversial period of Tamil cinema.
This commercial comeback of Rajini saw huge success, as the Shankar-Rajini duo can never go wrong. With a lot of amazing dialogues from the movie that is quote worthy, this has been the most repeated by us all!
Dialogue: Kanna, Panninga dhaan koottama varum, singam single ah thaan varum. (Dear, pigs always walk in groups, but lion walks alone)
Repeated by children and adults, this dialogue reminds us of the brilliant movie that had an amazing cast and crew, not to forget the brilliant music composed by the Mozart of Madras, A.R. Rahman himself.