In India, devotion goes to another level when it comes to fans of stars. They worship their favorite stars by building temples. Here are some famous personalities those who have temples made by their fans in their names.
1. :
He is one of the most iconic and beloved personality in Bollywood. There's nothing to wonder that this mega-star have a temple build in his name. His fans had built a temple in Kolkata with a 25kg statute dedicated to the star.
...
2. Rajinikanth:
If we are talking about temples, it is not possible to not have a temple in the name of the god of South-India. Rajinikanth is one of the most celebrated celebrities. Surprisingly, the temple is not in Tamil Nadu but in Kolar, Karnataka.
...
3. Karunanidhi:
...
A popular actor turned politician, Karunanidhi has a temple made by his fans in his honor. The name of temple is Kaliagnar in Vellore, Tamil Nadu. There is a granite statue of the former chief minister, and the walls are carved with the faces of Karunanidhi's son, Stalin.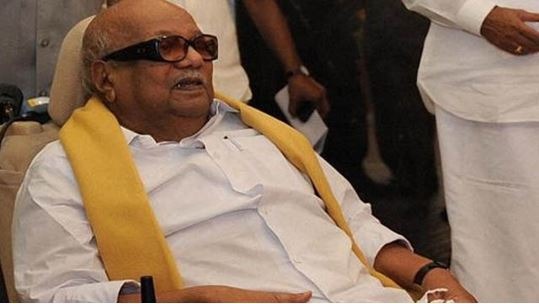 4. Khushboo Sundar:
...
During the 90s, when she was at peak of her career, her fans made a temple in Tiruchirapalli, Tamil Nadu. But, due to her controversial remarks on AIDS and pre-marital sex, her fans were left enraged. The fans expressed their anger by demolishing the temple.
...
5. M.G Ramachandran:
A superstar turned politician, he became Chief Minister of Tamil Nadu because of his immense popularity. His fans made a temple for him in Nathmedu, Tamil Nadu.The inauguration of the temple was done by his wife as he had passed away due to illness.
...
6. Nandamuri Taraka Ramarao:
...
NTR is a legendary actor; his immense popularity made him the Chief Minister of Andhra Pradesh. In his memory, one of his fans made a temple dedicated to him in Chittoor, Andhra Pradesh.
7. Pawan Kalyan Pawan needs no introduction to South Indian people >> Read More... :
He is the younger brother of Tollywood mega star turned politician, Chiranjeevi. Except for NTR, Pawan Kalyan is the only Telugu actor to have a temple to his name. One of his die-hard fans, Shakalaka Shankar Shakalaka Shankar is an actor in Telugu Television >> Read More... made a temple and school which was named after Pawan.
8. Nagma:
She stole the hearts of many, and thanks to her exceptional success in the industry, her fans made a temple in her honor. But, gradually, as with her popularity, the popularity of the temple also faded away. It is situated in Tamil Nadu.
9. Pooja Umashankar Pooja Umashankar is also popularly known as Pooja >> Read More... :
This star has fans not only in India but in Sri Lanka too. This Indo-Lankan actress has a temple build by her fans in her honor in Sri Lanka. She is the only Indian actress to have a temple built in her name in a foreign location.
10. Hansika Motwani Hansika Motwani is a young and beautiful actress, >> Read More... :
She is one of the top actresses. She stared working at a very young age. Failing to gain popularity in Bollywood, Hansika gained immense fame in Kollywood and Tollywood. Her fans built a temple in Tamil Nadu, she would be probably the youngest star to have temple build in her name.