There have been several old actors in Tollywood, who after achieving stardom, have been known to be cast as young characters in many blockbusters. Some have been able to pull of the role with ease, while the others have fallen short. Here's our list of ten old south Indian actors to portray young characters on screen.
1. Rajnikanth, 'Endhiran'
...
Rajnikanth is no stranger to challenging roles. In a career where he has acted for more than thirty years in over hundred movies, there have been many occasions where the actor has acted years younger than his actual age. One of those flicks is 'Endhiran'. With its whopping success & a sequel '2.0' lined on its way, the movie showcased the star in a different light, with his legions of fans totally loving him in his new avatar.
2. Kamal Haasan Kamal Haasan is the most versatile actor that Indi >> Read More... , ' Vishwaroopam Click to look into! >> Read More... '
...
With one of his latest directorial ventures causing quite a stir among various audiences, primarily because of its explicit content, 'Vishwaroopam' still was a hit. Riding on this pure genius's shoulders, the film offered a fresh-faced villain in the form of Rahul Seth Rahul Seth was born in 29 October, 1977 at Lucknow >> Read More... . Otherwise, it was only Haasan, portraying a double role- one of a classical dance teacher who loves to cook, & the other an undercover RAW agent whose job is to ward off threats faced due to terrorists. 2.
3. Mohanlal, ' Grandmaster Story Coming Soon >> Read More... '
...
This epic saga is written & directed by B Unnikrishnan which features Mohanlal in his sixth outing as a police officer. The role gives him a chance to appear mellow & subdued, a character he wasn't able to pull off in his earlier films. Featuring a middle-aged cop, wallowing in self-pity after his separation from the woman he loves, a defense attorney, due to petty ego clashes, Mohanlal is shown in a form never seen before- a young & vulnerable avatar. With a sequel lined up its way, the film went on to win him a number of accolades.
4. Mammootty, ' Ore Kadal Click to look into! >> Read More... '
...
A cinematic gem that brought together a powerhouse of talents such as Mammootty, Jasmine & Shyamprasad, this Onam release was well-received by his fans. In love with the role of the young man he was playing, mainly because of the swagger that oozed out each time he was on screen. Cast alongside Jasmine as her lover, the two displayed a likeable chemistry, & Mammootty went on to win even more fans while acting as Dr. Nathan.
...
5. Joseph Vijay, ' Thuppakki Click to look into! >> Read More... '
...
This action flick helmed by A R Murugadoss was very well-received by audiences all over. Featuring Vijay & Kajal Aggarwal Kajal Aggarwal is a modern Indian model and film a >> Read More... in lead roles &Vidyut Jammwal as the villain, the reason why people liked the movie so much was Vijay's stellar performance. Acting as a soldier much younger than his age, he was able to satisfy the crowd with his patriotic performance.
6. Ajith Kumar Ajith Kumar is a prominent Tamil film actor, model >> Read More... , ' Mankatha Click to look into! >> Read More... '
...
Black comedy action-heist film Mankatha marked Kumar's 50th movie in the industry, featuring an ensemble cast including Sara, Krishnan & other Tollywood A-listers. With the story set in Mumbai, revolving around a racket involving four gangsters betting money, their tussle with the police & the aftermath of their actions. Again, as usual, Kumar gave a standout performance.
7. Mahesh Babu Born on 9 August 1975 in Chennai, Mahesh Ghattaman >> Read More... , 'Nenokkadine'
Mahesh Babu has been in the acting profession for quite some time now. Most of his career has involved death-defying stunts & roles of characters younger than him. In 'Nenokkadine', the climax revolves around a boy who believes his parents were murdered in cold-blood. With only Babu there to spearhead the script, the movie managed to be a mega-hit, mainly due to his magnetic persona.
8. Prabhas, 'Baahubali'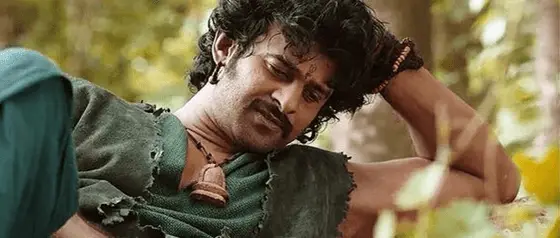 The Baahubali franchise has surpassed all records earlier set in the history of the Indian movie universe. One of the primary reasons for their success was Prabhas's portrayal of the dual role of father & son. Devoting five years of his career for this venture, Prabhas acted as a king who was much younger than his actual age.
9. Suriya Sivakumar Suriya Sivakumar is undoubtedly the biggest star i >> Read More... , '24'
Tollywood's angry-young-man was given the chance to give rise multiple roles on screen. This time travel drama featured a young as well as aged Suriya, a feat which only a veteran such as him can pull off.
10. Pawan Kalyan Pawan needs no introduction to South Indian people >> Read More... , 'Atharintiki Daaredi'
This comedy-drama focuses on Gautham Nanda Click to look into! >> Read More... , a business tycoon who putting on the façade of a driver in his aunt's house to mend the strained relationship she has with his grandfather, who forbade her to marry the man she loved. Pawan Kalyan starred as a protagonist, conjuring an affable Nanda.