1. Kanchana from Thalayanamanthram
No Malayali can get over Kanchana, played by the astounding actress Urvashi. Kanchana is a character amongst all of us; we encounter her in our daily life. Manipulative yet naïve inside, with the massive culmination of the satirical character filled with insecurities and idiotism, such is Kanchana who captured our attention with the very realistic acting performed by Urvashi. No arguments on Urvashi winning the State Award for this role as she totally nailed it. The movie was a take on the feminine wiles and ravenousness of middle - class wife who puts her husband in trouble.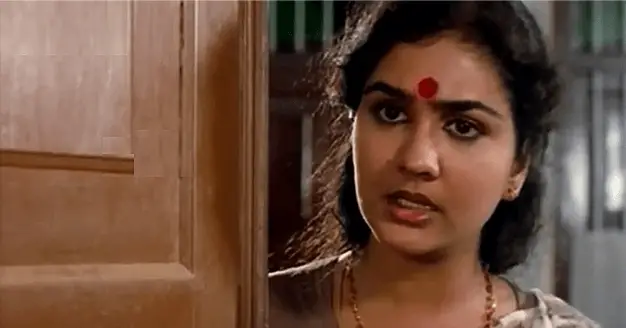 ...
2. Ganga Click to look into! >> Read More... from Manichitrathazhu
Those raging bloodshot eyes never fail to give us goose bumps no matter how many times we watch it. Manichitrathazhu remains to be an evergreen classic even after passing one score years from its release. A psycho thriller woven by superstitions and tale of legends, the movie was complete by the versatile acting showcased by Shobana Chandrakumar Pillai Shobana Chandrakumar Pillai known by the short nam >> Read More... making her an all time favorite actress. She was awarded the National Award for best actress for her portrayal of 'Ganga' and her alter ego ' Nagavalli Click to look into! >> Read More... '. Shobana was able to imprint her enigma in our hearts by acting out strikingly contrasting characters and balancing it in an apt manner.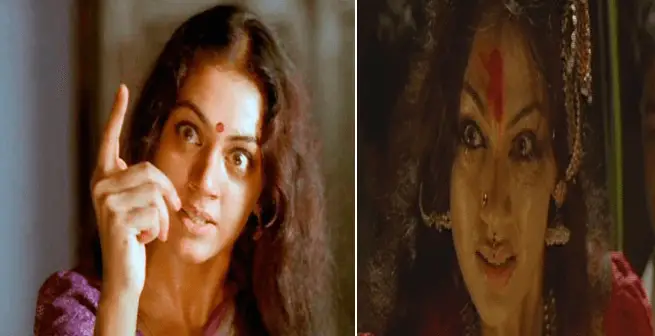 ...
3. Tessa from 22 Female Kottayam
Perfected by Rima Kaliingal, Tessa shook the hearts of viewers by portraying a bold new female character depicting a different story line in its true essence. The character Tessa is an ode to womanhood who undergoes different emotions like innocence, love, suffering, betrayal and revenge. The character opened up a whole new perspective presenting a strong woman who doesn't collapse to the impediments and predicaments in her life. The movie is crafted to showcase the life of a rape victim who fights back for justice on her own. For her scintillating performance as Tessa, Rima won Kerala State Film Award for the Best Actress.
...
4. Nirupama Rajeev from How Old Are You?
Marking her grand comeback, Manju Warrier Manju Warrier is a South-Indian film actress, born >> Read More... lived the role of Nirupama Rajeev in How Old Are You? Presenting Malayalam industry it's long lost favorite actress. She perfected the role by presenting Nirupama filled with irresistible charm, incredible elegance, and invincible will power. The character catered to all those simple middle class house makers and was indeed an inspiration to the woman community. Breaking stereotypes, Manju was able to represent a woman of different hues and responsibilities.
...
5. Gayathri from Artist
...
Picturing the story of two independent artists living together, Ann Augustine Carrying the acting tradition in the family is not >> Read More... played the role of Gayathri in this movie, who aspires to fulfill her dreams. She depicted the different strokes of life painting it befittingly with her acting skills. The film showcased the ups and downs in a relationship, and Gayathri's fervor and passion towards dreams and breaking the conservative thoughts and systems. Ann symbolized every woman entrapped to the existential demands trying to fulfill it. She won Kerala State Award for the Best Actress presenting a promising actress to Malayalam industry.
...
6. Nandini from Kilukam
With her stellar performance, Revathi marked her presence in the movie industry through the depiction of the character Nandini. How can we forget that innocent face uttering the very famous dialogue 'Eniku vishakunuu'. Anyone who saw the movie fell head over heels for the innocent, cheerful and zestful Nandini, laughing at her lame jokes and behavior.
...
7. Dr. Rohini Pranab from Thira
Shobana proves it again!! After a long break, her successful return proves that she is an innate actress. Playing the role of Dr.Rohini, Shobana was seen in the avatar of a strong independent doctor fighting against human character. This time it was her brave courageous eyes that swayed our hearts.
8. Meera from Kalimanu
Shweta Menon Shweta Menon is a Malayalam and Hindi movie actres >> Read More... was cast to play the crucial role of Meera in this movie, which celebrated motherhood. She was critically acclaimed for her bold move to capture the real delivery of her baby in the movie creating a stir in the society. The story glorified motherhood and womanhood, with Swetha Menon depicting it with full liveliness. Her realistic acting received much acclaim from the audience.
9. Tessa from
Parvathi Menon, hailed for her versatile acting skills, was seen in a different avatar in the movie 'Charlie' enacting the role of Tessa. The movie as such was a break from the usual story lines. It presented to us a different female character that is a free spirit and, falls in love with a nomadic soul like her. The simple plot was perfected by the brilliant performance by the actress spreading her striking aura among the audience.
10. Cheeru from Paleri Manikyam
Yet another breakthrough performance by Swetha Menon, fetching her Kerala State award for the Best Actress for the first time. The actress showcased her full potential by portraying Cheeru in a captivating and licentious manner, giving full justice to the role enacted.