The Kannada film industry is not well-known among moviegoers in other sectors. The country's audiences have recently been anticipating Kannada films because performers and directors have created real action and story-driven dramas that have impressed everyone. However, the Kannada cinema genre has its collection of movies that are still respected today for the subjects they covered. While several of them had enthusiastic audience responses, just a handful of them went on to receive positive reviews. Here is the list of Top 10 underrated movies in Sandalwood.
An anthology of seven short stories, Katha Sangama, examines how emotions change throughout life. Rishab Shetty's film has seven debuts by filmmakers Karan Ananth Bio coming soon... >> Read More... , Shashi Kumar P Bio coming soon... >> Read More... , Chandrajith Belliappa The Kannada cinema industry is Chandrajith Belliap >> Read More... , Rahul PK Rahul PK works in Kannada movies as an associate o >> Read More... , Kiranraj K Kiranraj K is an Indian Short film, Documentary Fi >> Read More... , Jamadagni Manoj Bio coming soon... >> Read More... , and Jai Shankar A, portrays distinct Kannada dialects around Karnataka.
...
The 2007 Indian Kannada crime drama film Aa Dinagalu, written and directed by K. M. Chaitanya, is based on Agni Shridhar's nonfiction book Daadaagiriya Dinagalu. Chethan Kumar Bio coming soon... >> Read More... plays the lead in it.
3. Ondu Motteya Kathe
The 2017 Kannada romantic comedy Ondu Motteya Kathe was written and directed by Raj B. Shetty, who also plays the lead character. The movie was recreated in 2019 in Hindi as Ujda Chaman Click to look into! >> Read More... and Malayalam as Thamaasha.
...
4. Shuddhi
Adarsh Eshwarappa wrote and directed the criminal drama movie Shuddhi released in 2017 in the Indian Kannada language. Nivedita, Lauren Spartano, and Amrutha Karagada Bio coming soon... >> Read More... play the key characters in the film. One of the extremely few Kannada movies using sync sound was Shuddhi.
...
5. Bhoomi Thayiya Chochchala Maga
Rajendra Singh Babu S. V. Rajendra Singh Babu is an acclaimed screenwr >> Read More... is the director and writer of the 1998 Indian drama film Bhoomi Thayiya Chochchala Maga, shot in the Kannada language. Along with Shilpa and Vijayalakshmi, it also stars Ramesh Aravind Ramesh Aravind [born 1964] is an Indian writer, ac >> Read More... , Shiva Rajkumar Shiva Rajkumar is the populous Kannada actor, who >> Read More... , and other key actors.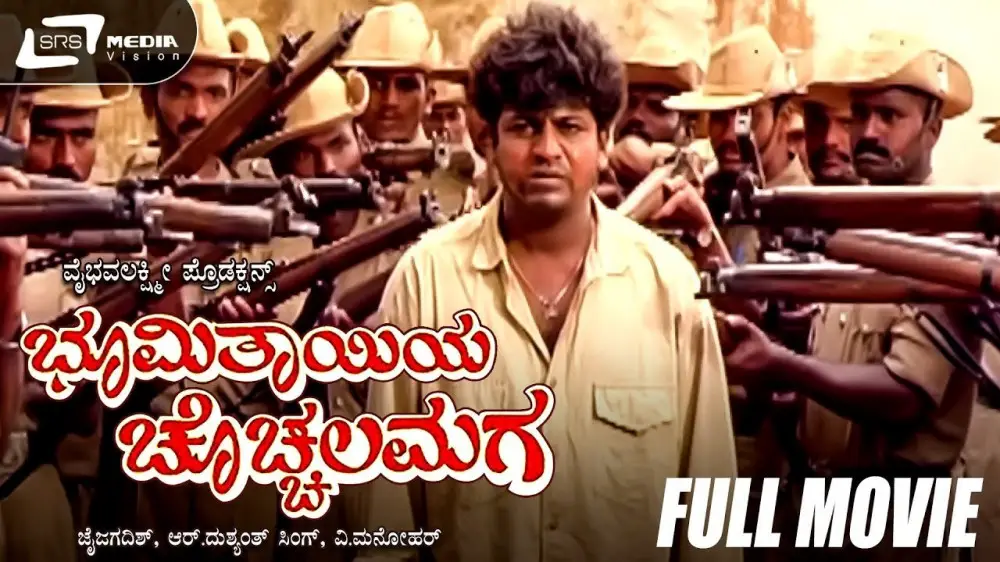 ...
6. Naanu Nanna Kanasu
Prakash Rai and Amoolya feature in the 2010 Indian film Naanu Nanna Kanasu, which was made in the Kannada language. It is a remake of the popular Tamil movie Abhiyum Naanum Abhiyum Naanum is the Tamil serial telecasted on S >> Read More... , which Prakash Rai produced and influenced by Father of the Bride.
...
7. Myna
Nagashekar wrote and directed the 2013 Indian romantic drama movie Myna in Kannada. The movie based on a true story was made by N. S. Rajkumar for Vajreshwari Combines. The principal actors were Nithya Menen Born on April 8, 1988 Nithya Menen is indeed a sta >> Read More... and Chetan Kumar Chetan Kumar is a Kannada actor, who was born in t >> Read More... .
...
8. Dweepa
Based on Na D'Souza's novel of the same name, Girish Kasaravalli's 2002 Indian Kannada-language film Dweepa was produced. The video addresses the contentious subject of dam construction and native population displacement.
...
9. Mathadana
Anant Nag Anant Nagarakatte was born in the year 1948 on 4th >> Read More... , Devaraj, Tara, Avinash, and Hemanth Vasisht play significant parts in the 2001 Indian Kannada film Mathadana, directed by T. N. Seetharam and based on the same-named novel by S. L. Bhyrappa.
10. Edegarike
Sumana Kittur's 2012 Indian Kannada criminal drama film Edegarike (Guts) based on Agni Shridhar's novel of the same name. Aditya plays the main character. The movie, inspired by actual events from the 1990s, is about cult personalities from the Karnataka underworld Muthappa Rai, Sridhar, and Bachchan.