Well, we can say that the south Indian film industry is becoming non-stop with its back-to-back hits movies in 2022. While it looks like that, the Bollywood film industry is performing poorly in Indian cinema in 2022. Kannada and Telugu cinema has made the audience speechless with their action movies. This year Kannada cinema is looking to be on fire and has released some incredible action movies their year. So, you cannot miss these brilliant movies, and we have created a list of the top 10 Kannada action movies of 2022.
1. K.G.F Chapter 2
K.G.F Chapter 2 is one of the most expensive films in Kannada cinema ever made and had made in the list of highest-grossing films in India. It is a period-action Kannada film directed by and written by Prashanth Neel Prashanth Neel is an Indian filmmaker who works in >> Read More... and stars Yash, Sanjay Dutt July 29, 1959, was the day when the two legends of >> Read More... , Raveena Tandon Raveena Tandon is an Indian film actress who is kn >> Read More... , Srinidhi Shetty Srinidhi Shetty well-known as Srinidhi Shetty Miss >> Read More... , and Prakash Raj Prakash Raj, born on 26th of March, 1965, as Praka >> Read More... in the lead roles. Being released on 14 April 2022, the film follows the story of an assassin Rocky.
...
2. James
James is an action-drama film starring Puneeth Rajkumar Puneeth was born on 17th March 1975 in Madras, Tam >> Read More... and Priya Anand Priya Anand is a popular Tamil actress who has app >> Read More... in the lead roles. It was released on 17 March 2022 and became the biggest hit of 2022. It is a must-watch film who want to see Puneeth Rajkumar for the last time in his action-packed performance. It was a great tribute to our favorite star Appu.
3. Bairagee
Bairagee is a Kannada action drama film directed by Vijay Milton SD Vijay Milton is an Indian director and cinemato >> Read More... and stars Shiva Rajkumar Shiva Rajkumar is the populous Kannada actor, who >> Read More... , Anjali, Dhananjaya, and Pruthvee Ambaar Pruthvee Ambaar (born on August 17, 1988) is an In >> Read More... in the lead roles. The film revolves around Huli Shiva, who works in a police station, and with his inspector friend, he moves to a different city. Where he witnesses an unfortunate accident that triggers the tiger within him once again.
...
4. Benki
Benki was released on 14 August 2022 and received a good response from the audience. Directed by A.R Shaan, the film features Anish Tejeswar and Sampada Kulkarni in the lead roles. The story revolves around a brother and sister set in a village background. The film shows the strong bond between sister and brother with heartfelt moments.
...
5. Avatara Purusha
Avatara Purusha is a fantasy action-thriller Kannada film directed and written by Suni. The film stars Sharan and Ashika Ranganath as the main character. The movie follows the son of an Ayurveda scholar who goes missing while on a trip with his aunt. Things become complicated when the latter's daughter decides to make things right with a deceitful plan.
...
6. Garuda
Garuda is a Kannada action thriller film directed by Dhanakumar. K and stars Srinagar Kitty Srinagar Kitty is an actor renowned for his work i >> Read More... , Rangayana Raghu Rangayana Raghu was born on 30th November, 1963. H >> Read More... , Chikkanna, and Aindrita Ray Aindrita Ray is a prominent Kannada actress, who h >> Read More... in the lead roles. It was released on 20 May 2022 and received good reviews from critics. The film shows recent events in India, such as demonetization, black money, and surgical strikes.
...
7. Karmanye Vadhikaraste
Karmanye Vadhikaraste is an action thriller Kannada movie directed by Srihari Anand. The film features Divya Gowda Divya Gowda is a Kannada film actress, who is part >> Read More... , Ugramm Manju Ugramm Manju is an Indian actor, who is famous for >> Read More... , Natya Ranga Natya Ranga is an Indian film actor who has primar >> Read More... , and Prateek Subramani as the lead actors. It was released on 15 July 2022 and received mixed reviews from the audience.
...
8. Khadak
Khadak is an action romantic Kananda film starring Dharma Keerthiraj He is the villain who took the Kannada film indust >> Read More... and Anusha Rai Anusha Rai is a Kannada actress, who was born in T >> Read More... in the lead roles. Directed by T.N Nagesh, the plot follows a selfless man Dharma who fights against injustice and helps the poor. The movie failed to make an impression with its story and lacked conviction.
...
9. Monsoon Raaga
Monsoon Raaga is a Kannada film produced by A R Vikhyath and released on 19 August 2022. The film stars Dhananjaya, Rachitha Ram, Suhasini Maniratnam Suhasini Maniratnam was born on 15th August 1961 i >> Read More... and Achyuth Kumar Achyuth Kumar was born in Bangalore. He has acted >> Read More... in the lead roles. It is a romantic action Kannada film directed by S Ravindranath. The film also stars Yasha Shivkumar Bio coming soon... >> Read More... as a supporting character.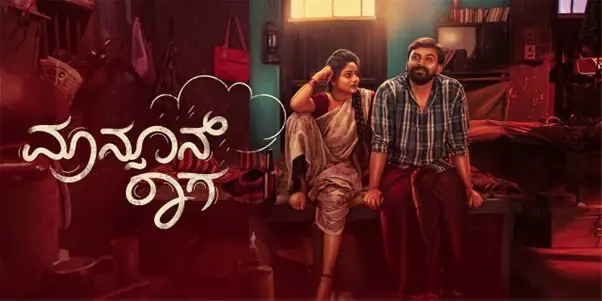 10. Ravi Bopanna
Ravi Bopanna is a Kannada thriller film directed by V. Ravichandran and stars V. Ravichandran, Kichcha Sudeepa, Ramya Krishnan Ramya Krishnan is a South Indian movie and TV actr >> Read More... , and Kavya Shetty Kavya Shetty is another Mangalorean actress in San >> Read More... in the lead roles. It follows the story of a former police officer who leads a lonely life, and his colleagues always depend on him to solve the crime case.
Conclusion
We can see the hard work and talent of the Kannada film industry in these super-hit movies. In the future, we can expect more super hit movies from Kannada cinema.