1. Shankar Nag Shankar Nag, most influential and talented Kannada >> Read More...
Shankar Nag died when he was just 35 years old. He died in a car accident in the outskirts of Davangere. His wife and daughter were also with him, but they survived the accident. Shankar Nag's death has left a void in the Kannada film industry, which no one can fill. Had he been there the quality of Kannada cinemas would have been of international standards.

2. ' Kalpana Click to look into! >> Read More... '
...
The Kannada actress, Kalpana, died when she was 35. She committed suicide in the year 1979. She had a lot of health issues and owed a lot of debts. Her indebtedness and poor health made her take that major step of ending her life.

3. 'Manjula'
...
The famous Kannada actress Manjula passed away when she was 35 years old. She had a lot of weight related problems and hence quit her career as an actress, which led to financial difficulties in her life. Initially, it was said that she died due to a kitchen stove burst. But, it was later reported that she committed suicide.

4. ' Sunil Sunil was one of the famous and talented actors of >> Read More... '
...
This Kannada actor died when his career was at the peak of success. Sunil died while he was travelling by road from Bagalkot to Bangalore. A truck banged his car. Actress ' Malashri Malashri is an Indian actress in the Kannada film >> Read More... ' was also with him. She suffered multiple injuries.

5. Silk Smitha Silk Smitha is an unforgettable personality in the >> Read More...
Silk Smitha, the South Indian actress, committed suicide when she was 35. She was the most sought after erotic actress. She was found dead in her Chennai apartment. It seems that she committed suicide, though there is no confirmation about it. People say that her financial problems, issues with her love life and, addiction to alcohol are what led to her suicide.

6. 'Soundarya'
...
South Indian film actress, Soundarya, died when she was only 31 years old. Soundarya died in an air crash that took place near Bangalore. Reports say she had a child in her womb when she died. Soundarya has received National Awards for Production as well. She was also a talented dancer.

7. Anil Kumar Anil Kumar was widely recognized in the India Film >> Read More...
...
Anil Kumar, died at the age of 32, in a bike accident. He rammed his bike into a tree nearby. He was not successful in his film career. He also acted in many TV serials. Anil was crazy about riding bikes. Ultimately that craze was the cause of his death.

8. ' Hemanth Hemanth is a Kannada film actor, who is a native o >> Read More... '
...
Hemanth, who acted in the movie ' Nenapinangala Click to look into! >> Read More... ', died of a heart attack. The actor was only 27 years old. The actor was working out at the gym when he felt a slight chest pain. They took him to the hospital, where he died.

9. ''
...
Hemashree, who has acted in Kannada films and serials, was brought dead to the hospital. It is still a mystery as to what caused her unfortunate and untimely departure. Reports show that there are traces of chloroform in her body, but they do not know if that was the cause of her death. She was unhappy with her marriage; she lost in the elections, and there were allegations of prostitution against her. These were the causes of her depression.

10. 'R. Dilip'
A very famous Kannada and Tamil actor, Dilip Kumar Muhammad Yusuf Khan was born on the 11th of Decemb >> Read More... , died of kidney failure. He was suffering from health issues for ten years. He was a successful actor but became a pauper after investing all his earnings in an unsuccessful business.
Puneeth Rajkumar Puneeth was born on 17th March 1975 in Madras, Tam >> Read More...
Puneeth Rajkumar, who was one of the leading actors in Sandalwood, started his career as a child actor. Besides being an actor, he was a singer, producer, and TV host. Puneeth played as a child actor in nearly 29 movies and since 2002, he played the hero, till his death. He had been filming for James with Priya Anand Priya Anand is a popular Tamil actress who has app >> Read More... and signed a film, Dvitva with Trisha Krishnan Born on 4th May, 1983 in Palakkad by Krishnan and >> Read More... . He had been working out in his home gym on 29th October 2021. Suddenly, he had a massive heart attack and was rushed to a hospital. Although he was treated with enough facilities, his body couldn't recuperate and he died a few hours after being admitted to the hospital. Puneeth was 46. He survived with his wife, Ashwini Puneeth Rajkumar Ashwini Puneeth is an Indian producer associated w >> Read More... and two daughters.
Chiranjeevi Sarja Chiranjeevi Sarja was born on October 17 1984 in B >> Read More...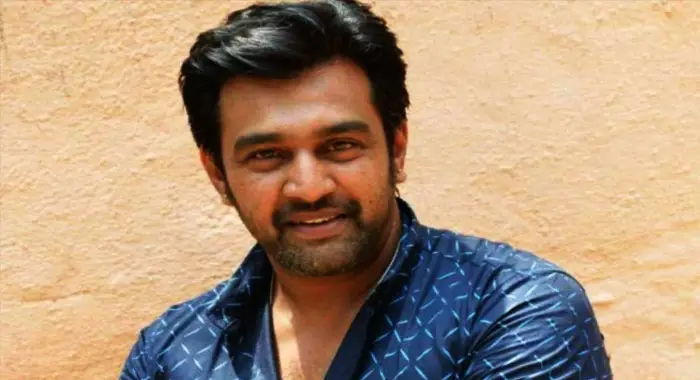 Chiranjeevi Sarja was 39 when he died due to a massive cardiac arrest on 7th June 2020. His wife Meghna Raj Meghna Raj is a South Indian actress; she mainly w >> Read More... was pregnant and after four months of his death, their son, Raayan Raj Sarja was born. Chiru started his career in 2009 with Vayuputra and he received the Innovative Film Award for Best Debut. He had been filming Ranam and Rajamarthanda, which was released after his death.