1. 'Apthamitra'
Apthamitra, which released in 2004, stars Vishnuwardhan, Ramesh Aravind Ramesh Aravind [born 1964] is an Indian writer, ac >> Read More... and Soundarya. The movie is about a couple who buys a haunted house, which was a palace where three deaths had taken place. The actress Soundarya suffers from multiple personality disorder in the film. Hence, it was not difficult for the spirit of " Nagavalli Click to look into! >> Read More... ", the court dancer who was burnt on the orders of the king to enter her body. Watch the cinema to find out how the Psychiatrist along with a religious monk, solves the issue.

2. 'Idu Saadhya' 
...
Idu Saadhya which released in 1989 is the remake of the English horror movie "Stage Fright". This is the first movie of its kind to have been filmed with 48 hours straight, thus making a world record. The story follows a group of actors who are rehearsing for their next play. They lock themselves in their rehearsal room. They do not realize that there is someone else also inside with them. Who is that someone? Watch the movie to find out.

3. ' Chandralekha Click to look into! >> Read More... '
...
Chandralekha, the horror-mystery film is about two girls and two boys. They plan to go to a guest house. They go there with the intention of committing suicide due to various reasons. There they meet a ghost named Chandralekha, who had been killed at that exact location. The ghost asks them to help her kill her murderers. The movie is the remake of Prema Katha Chitram, a Telugu film. The movie got a lot of positive reviews.

4. ' Kathe Chitrakathe Nirdeshana Puttanna Click to look into! >> Read More... '
...
The movie released in 2016 and is a remake of the Telugu movie " Geethanjali Click to look into! >> Read More... ". The movie is the story of a filmmaker who is unsuccessful as nobody wishes to produce his movies. But finally, he finds someone willing to produce his film. He narrates stories about many horrifying and scary incidents that a filmmaker has faced. He tells him that it was a true story about what happened to him. The story continues showing how they tackle the spirit.

5. 'Namo Bhootatma'
Namo Bhootatma, which released in 2014, is a comedy-horror movie and, a remake of the Tamil movie " Yaamirukka Bayamey Click to look into! >> Read More... ". The movie has four Eccentric characters. They make numerous attempts to start a guest house in a Haunted Mansion. The movie is hilarious; it has rib-tickling comedy and has parts that will scare you in between.

6. 'Ade Raaga Ade Haadu'
...
Ade Raaga Ade Haadu, which released in 1989, The movie portrays a couple who decides to get married. Once they finalize that they want to tie the knot, strange things happen. The girl gets possessed by the spirit of her mother from her previous birth. In her last birth, her mother had killed her as she had eloped with her lover. She tries to do the same in this birth as well. 

7. ' Ouija Click to look into! >> Read More... '
...
Ouija, the horror movie, which released in 2015 is a dubbed version of the Telugu film 'Aata". It is the story of a girl whose best friend dies suddenly. She finds an Ouija board in her friend's bedroom and comes in contact with a new spirit. She finds out that she too will die the same way as her best friend if she does not close the portal she opened.

8. 'Shhh!'
...
Shhh! released in the year 1993 is a horror movie directed by Upendra. The story talks about a film troupe which comes to a village to shoot their movie. They come there to shoot a horror movie, but are unfortunately haunted by some spirits. The movie earned a lot of praises. The songs of the movie also became very famous.

9. ' Last Bus Click to look into! >> Read More... '
...
Last bus, released in the year 2016, successfully ran for 100 days in the theaters. The film will be dubbed in French as well. The movie ends abruptly, and the viewer has to come to his own conclusions from that ending. It is about six people, who ignore the superstitious beliefs, and go to a haunted house in the last bus going to that area.

10. ' Shivalinga Click to look into! >> Read More... '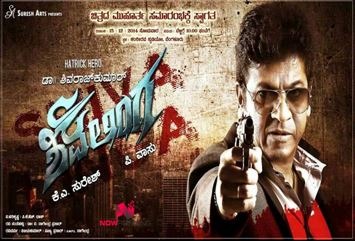 Shivalinga released in the year 2016, is a horror movie starring Shiva Rajkumar Shiva Rajkumar is the populous Kannada actor, who >> Read More... . The hero is a police officer. He and his wife stay near a cemetery. The officer has to investigate the suicide case of a man named Raheem. After a few days, he realizes that Raheem's spirit has possessed his wife's body. What happens next? Will he be able to solve the case? Watch the movie to find out.