1. MSG: The Warrior Lion Heart
A movie in which Gurmeet Ram Rahim Singh has done everything. I still don't get who watches these kinds of movies. The concept of the actor being a spy just like James Bond and the aliens will give you a headache. The story, execution and everything else is very childlike. It looks like a seven-year kid has made the film.
...
2. Kyaa Kool Hain Hum 3​
This film is third addition to the Kyaa Kool Hain Hum series. The film stars Tushar Kapoor, Aftab Shivdasani Aftab Shivdasani is an actor and producer of Indi >> Read More... , and Mandana Karimi Mandana Karimi is an Iranian model and actress; li >> Read More... as leading characters with Krushna Abhishek, Gizele Thakral Gizele Thakral is a model turned actress who was b >> Read More... , Claudia Ciesla The tide seems to have turned for Bollywood. Earli >> Read More... , Shakti Kapoor Personal life: Shakti Kapoor was born in Delhi, In >> Read More... and Darshan Jariwala The actor Darshan Jariwala is a Hindi television a >> Read More... playing pivotal roles. The movie got an "A" certificate from the censor board including 150 cuts. Most of the critics have given the rating of 1.5/10 to this film. Needless to say, the movie is a skid mark even to the genre of adult comedy. The film lacks story, screenplay, and plot and tries to strive over puns which are not even funny. Krushna's comic timing was the only source of entertainment, which was underused. The girls of the film have done nothing more than showing skin.
...
3. Mastizaade​
Mastizaade stars Tushar Kapoor, Vir Das Vir is a stand-up comedian and actor. He is known >> Read More... and Sunny Leone Sunny Leone, a famous porn star, has recently ente >> Read More... as leads along with Shaad Randhawa Shaad Randhawa is an actor in Indian movies. He wa >> Read More... , Asrani, and Suresh Menon Suresh Menon was born on 10th January 1967 in Mumb >> Read More... playing pivotal roles while Ritesh Deshmukh plays a cameo in the film. The movie is a story about two sex addicts (Tushar and Vir) treated by twin sisters (Sunny Leone). It released on 29 January and seemed like a cousin to Kyaa Kool Hain Hum 3. The movie got 2.3/10 IMDB rating. It faced many protests, because of some offensive scenes and it earned around 38.44 crores in total. This film proves that Tushar should leave the industry now. The jokes are offensive and predictable. The names of the character and their jobs, everything is made double meaning to make viewers laugh forcibly. If you have low expectations from this movie, beware! It will turn out to be worse.
...
4. Great Grand Masti Click to look into! >> Read More...
If you want to see this flick to laugh and have fun, better read your Whatsapp jokes because that would be better than watching this film. Three husbands (Aftab Shivdasani, Vivek Oberoi Vivek Anand Oberoi's birth was on 3rd Septembe >> Read More... , and Ritesh Deshmukh) looking for fun outside marriage get themselves trapped with a bhootni ( Urvashi Rautela Urvashi Rautela is an Indian actress and a top mod >> Read More... ). The third addition to the Masti series is abysmal. Director Inder Kumar has locked the logic in a box and threw it out, and the result we get is Great Grand Masti. This year it was a competition between Great Grand Masti, Mastizaade and Kya Kool Hain Hum 3 for being the worst. The film is a horror-comedy genre with no horror and absolutely no fun. Aftab is annoying, and it feels sad to see Ritesh and Vivek doing such movies.
...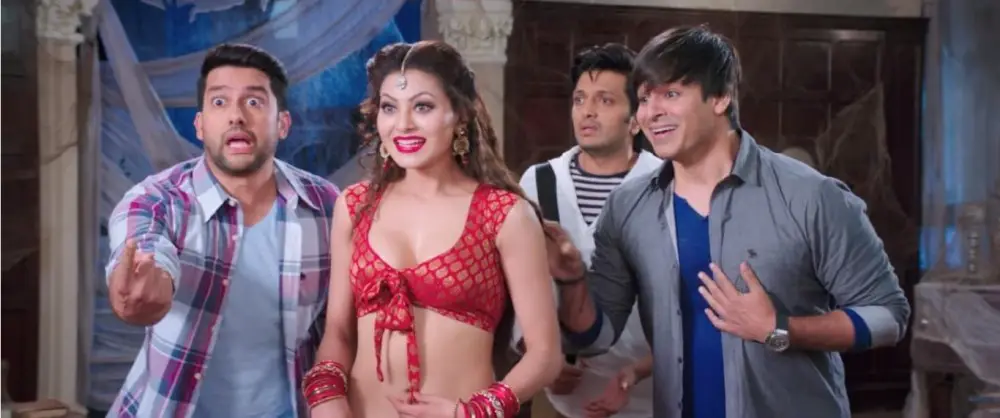 5. Teraa Surroor Click to look into! >> Read More... ​
...
It is a sequel to Himesh Reshammiya Intro: Himesh Reshammiya got his stardom after win >> Read More... starrer 2007 film Aap Ka Suroor. Tera Suroor has launched Farah Karimaee Farah Karimaee is the name of the famous Dutch-Ind >> Read More... . Naseeruddin Shah Naseeruddin Shah is an experimental actor and asso >> Read More... , Shekhar Kapur Shekhar Kapur is a renowned Indian actor, director >> Read More... and Monica Dogra Monica Dogra is a singer/ actor born in Baltimore, >> Read More... can be seen in supporting roles. This flick makes you ask Himesh that why he is even bothering to act. People love him as a composer only. The movie is very slow and stretched. Repetitive dialogues, flat expressions, and numerous flashbacks make you hit your head on a wall.
...
6. 1920 London
Vikram Bhatt Vikram Bhatt (Born 1969) is a prominent film direc >> Read More... tried to scare us with the same old elements which didn't work for the film. The cast includes Sharman Joshi Sharman Joshi was born in Mumbai, Maharashtra to a >> Read More... , Meera Chopra Meera Chopra is a well-known actress in the South >> Read More... , and Vishal Karwal Born on 18th November, 1984, Vishal Karwal always >> Read More... as leads. A young couple (Meera and Vishal) living in London, the husband gets trapped by a witch. Then to save her husband, the lady turns to Rajasthan where only her ex-lover Sharman Joshi can help her husband. Sharman doesn't fit the role of an exorcist. He tries to be dramatic, but he can't pull it off. The witch wasn't even looking scary. The not so scary plots, weak storyline, the poor casting and easily forgettable songs make the movie worth putting on this list.
...
7. Sanam Re Click to look into! >> Read More...
After watching this film you will curse yourself for your action. It includes Pulkit Samrat Pulkit Samrat is a popular Indian model and actor, >> Read More... as Akash, Yami Gautam Yami Gautam is a Hindi television and movie actres >> Read More... as Shruti and Urvashi Rautela as Akansha/Mrs. Pablo. Rishi Kapoor Rishi Kapoor is an actor born in the prominent Kap >> Read More... also played an important character in the film. The movie earned 30.32 crores in total. The only good thing about the flick is its music. Sanam Re has the worst screenplay I have ever seen. You won't understand the story if you missed a single scene in the film. Some theories sound ridiculous and baseless like "Take 500 steps from here, and you will find your soulmate, your heart will beat at her doorstep," and the movie shows that if you want to save a contract, then you have to woo the investor, that's the only way to do it. Is it? The storyline doesn't connect much.
8. Tum Bin 2
The film looks exactly like its prequel, even the character names are same. The film comes with many loopholes. The girl remains confused whom she loves till the very end. Shekhar ( Aditya Seal Like many other young actors in Bollywood today, >> Read More... ) makes Taran ( Neha Sharma Neha Sharma is born in Bihar. But she migrated to >> Read More... ) realize that she loves her fiancé Amar (Ashim Gulati). Amar's father introduces Taran (Neha) to Shekhar (Aditya) knowing that he has killed his son just because Shekhar is feeling guilty. Why? The soul lies in the music of this movie which is not as good as the Tum Bin.
9. Befikre
If you have watched any of the Aditya Chopra's film, then Befikre is same. Repeating old stories in the new style is Aditya Chopra's specialty. The movie was predictable with each and every scene. Dharam ( Ranveer Singh Ranveer Singh Bhavnani is an Indian movie actor wh >> Read More... ) and Shyra ( Vaani Kapoor Vaani is a model and an actress who was born in 23 >> Read More... ) live in a live-in relationship. They break up and then become friends. Enters, the third predictable character Armaan Rehlan aka Aney who woos Shyra and asks her to marry him, which makes Dharam realizes that he loves Shyra. Sounds familiar? Yes, indeed it is. Ranveer's acting has pulled off the film a bit while Vaani was disastrous.
10. Fitoor
Fitoor meaning obsession based on a Charles Dickens The world-renowned British writer and social criti >> Read More... ' novel "Great Expectation." The movie contains a powerful cast including Aditya Roy Kapur Aditya Roy Kapur, a young and successful actor wa >> Read More... , and Tabu with Ajay Devgan Ajay Devgn is an Indian film actor. He is perhaps >> Read More... in a cameo. Aditi Rao Hydari As her title may be suggesting, Aditi the talente >> Read More... , Akshay Oberoi Akshay oberoi is an Indian actor, who belongs to a >> Read More... , Lara Dutta Lara Dutta is an Indian actress, model, movie prod >> Read More... , Rahul Bhat Actor Rahul Bhat got noticed for his talent with h >> Read More... and Suchitra Pillai Suchitra Pillai, born in the year 1970, is an Indi >> Read More... are supporting actors in the film. The movie lacks a clear storyline. You get confused with Firdaus (Katrina) and Noor's (Aditya) relationship. Fitoor lacks storyline detailing. Ajay Devgan's role seemed meaningless. He portrayed the character of a Jihadi, but didn't act like one and he was funding Noor for no prominent reasons. Tabu portrays her role beautifully in parts. The shots of Kashmir is mesmerizing.