Hrithik Roshan Hrithik Roshan with his unimaginable dance moves i >> Read More... is known as one of the best dancers in Film Industry. He has huge fans, especially girls who have infatuation towards his acting and dancing. He started his career with 'Kaho Na Pyar Hai' which became a Blockbuster movie. Hrithik approved himself that he's just not only outstanding at his work but also a great human being. Here are 10 Best Dance moves in his movies that people love watching it:-
1. Main Aisa Kyun Hoon- Lakshya
This song is choreographed by Prabhu Deva Prabhu Deva is one among the populous cinema perso >> Read More... and also earned National Film Award as well as Filmfare Award for Best Choreography. It is the best performance of Hrithik, and also have flexibility, and the song has a Funky-Techno hip-hop.
2. Tu Meri- Bang Bang Click to look into! >> Read More...
Bang Bang dance which is produced by Fox Star Studio and directed by Siddharth Anand Siddharth Anand was born on 16th March 1983 in Jal >> Read More... . This song was danced so beautifully by Hrithik and Katrina.
3. Senorita- Zindagi Na Milegi Dobara
Senorita song featured Hrithik Roshan, Abhay Deol Abhay Deol is an actor and director of the TV indu >> Read More... , and Farhan Akhtar One of the most recognized young director of India >> Read More... . The song was choreographed by Bosco-Caesar, in 2011 and also won the Filmfare Award in 2012.
4. Dhoom Again- Dhoom 2
Hrithik is an idea for the person who chooses dance as his dream or career; even youth adore his techniques or depict his style of dancing. Dhoom Again music show off's his six-packs abs with stunning actress Aishwarya Rai Bachchan Aishwarya Rai Bachchan is a popular Indian actress >> Read More... . His most of the moves in the song is floor dance itself.
5. Baawre- Luck By Chance Click to look into! >> Read More...
Hrithik played a supportive role in 2009, movie Luck By Chance. He has a flexible body which performs gracefully even if the song is on the fast tempo. His performance is notable in the picture as he dances on a folk tune in Baawre.
6. Bang Bang- Bang Bang
Bang Bang acquired abundance applause for the track, but the credit goes to Hrithik and super hot Katrina Kaif Latest Videos of Katrina Kaif >> Read More... for the alliance with each other. Bang Bang is a totally newest to the Bollywood and falls under modern disco genre.
7. Raghupati Raghav- Krrish 3
Hrithik Roshan with exotic girl Priyanka Chopra Born on 18 July 1982, Priyanka Chopra is an establ >> Read More... dance on Raghupati Raghav, the song was a bhajan, but the music was re-composed as a dance song for the party going folks. Hrithik rocked the stage even if the dance steps are repeated several times.
8. It's Magic- Koi Mil Gaya
Hrithik Roshan shows a magic of dancing skills in the story and shocks everyone as well in real life too he surprises the public with his charm and skillfulness.
9. You Are My Soniya-Kabhi Khushi Kabhie Gham
This song was filmed by Hrithik Roshan and Kareena Kapoor Khan Kareena Kapoor is a super hit actress working in I >> Read More... . These celebrities displayed an awesome chemistry and performances. The way they engaged in the moves made the song famous.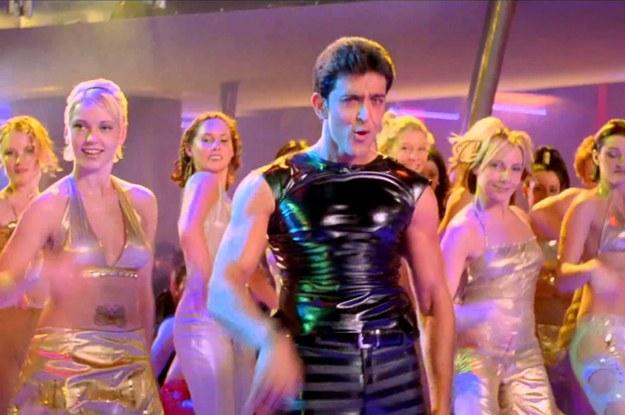 10. Ek Pal Ka Jeena- Kaho Na Pyar Hai
Ek Pal Ka Jeena, one of the dignified song ever, his moves made a big super hit because of a story is written in the movie. Ever since this song is playing, more youngsters would groove even when they don't know how to dance. The dance moves are excellent, till date in the history.