Bollywood has been the leading hero of our country for a long time now. In spite of the dominance of the Indian film industry, there have been many Indian Television Series which left an unforgettable blotch in the thoughts of the many. There are TV shows which gave an authentic approach to virtuous story-telling. These programs definitely deserve the appreciation and attention. There have been the talks of bringing back some of these series back on the television screens as they are still fresh among the audience.
We present here the list of Top 10 Indian television shows which are seriously needed back on our small screens:
1. Dekh Bhai Dekh One of the most popular and hilarious Indian TV sh >> Read More...
...
Classic TV series of 90's Dekh Bhai Dekh is one of that comicality that was loved by all. Mrs. ' Jaya Bachchan Born on 9th April 1948 Jaya Bachchan is an Indian >> Read More... ' being the proud producer of this comical show had placed together astounding artists with great comic timing. The show starred Sushma Seth Sushma Seth is an extremely popular actress who ha >> Read More... , Navin Nishcol, Shekhar Suman Born on 14th June, 1960, Shekhar Suman is a well k >> Read More... , Farida Jalal Farida Jalal is a veteran film and television actr >> Read More... , Amar Upadhyaya (Popularly known for playing the character of Mihir from ""), Vishal Singh The Gujarati boy image on onscreen as Jigar in Saa >> Read More... (Currently playing character of Naitik Singhania in ""), Deven Bhojani Deven Bhojani is an Indian TV serial actor who was >> Read More... , , . The story was about how three generations of a family go through all the relations, troubles, business problems, parents, in-laws with a tadka of comedy in it. I don't think anyone would defy flicking the channel if this situational comedy is being aired today. In my opinion you can call it " Taarak Mehta Ka Ooltah Chashmah Taarak Mehta Ka Ooltah Chashmah is a television se >> Read More... " of 90's.
2. " Tu Tu Main Main Tu Tu Main Main, a comedy serial on Indian televis >> Read More... "
...
The famous squabbling show- Tu Tu Main Main between a mother-in-law and her sister-in-law is another unforgettable Indian drama. The show was directed by Sachin Pilgaonkar This Actor received National Award for his perform >> Read More... and had achieved immense accomplishment. The show featured Supriya Pilgaonkar Supriya Pilgaonkar is best known as Supriya in the >> Read More... , Mahesh Thakur Mahesh Thakur who has been in industry for 19 year >> Read More... , Kuldeep Pawar Kuldeep Pawar was a dynamic Marathi actor who coul >> Read More... and Reema Lagoo Reema Lagoo is an Indian television and film actre >> Read More... . This Nok-Jhok of Saas-Bahu was shown in a very humorous way. The story revolved around two quirky and witty ladies. This program is another spicy and funny merry-go- round of old good 90's which can be watched again and again.
...
3. Shrimaan Shrimati Shrimaan Shrimati was a famous TV serial broadcast >> Read More...
This show is another memorable program which was developed on the idea of "love the neighbor's wife." The program showcased Jatin Kanakia Intro: Jatin Kanakia was one of the finest comedy >> Read More... , Rakesh Bedi Rakesh Bedi along with Staish Shah can be termed a >> Read More... , Reema Lagoo and Archana Puran Singh Archana Puran Singh is an Indian TV artist and pre >> Read More... as central characters. " Bhabi Ji Ghar Par Hain 'Bhabi Ji Ghar Par Hai!' is a comedy-centr >> Read More... " is the modern version of this show. The show was a big hit and gained great success and appreciation.
...
4. "", " Hum Paanch Season 2 Balaji Telefilms private limited, and Zee Telefilm >> Read More... "
...
Hum Paanch, a comic drama that ran for four years is said to be the show, which made Ekta Kapoor Ekta Kapoor; a legendry producer in Indian TV and >> Read More... the Queen of Indian television. The show achieved incalculable fame. The show had five female protagonists and a very different story-line. One of the hilarious show, which had a story spinning around a Dad and his five daughters with two wives with one dead, but alive and how the father managed all of them single-handedly facing problems from all around the world. The show had diverse approach and comedy was unlike any other show. The show stars Ashok Saraf Ashok Saraf was born on 4 June 1947. This popular >> Read More... , Vidya Balan Vidya Balan is an award winning Bollywood actress >> Read More... , , Bhairavi Raichura Bhairavi Raichura is an Indian Television actor tu >> Read More... and Vandana Pathak Vandana Pathak, who plays the character of Bakula >> Read More... gained huge stardom and became television icons overnight. I personally can watch this show again and again for hours.
5. Office Office Office- Office is a Hindi-language sitcom written >> Read More...
...
We all knew Pankaj Kapur Pankaj Kapur is a prominent Indian actor and direc >> Read More... as simple good old man Mussadilal from Office Office before ascertaining him as ' Shahid Kapoor Shahid Kapoor also identifies as the name Shahid K >> Read More... 's father. The role of ultimate common man played by Pankaj aka Mussadilal faced a number of problems and we saw him visiting a government office in each and every episode for seeking Redressal. However, what emerged in that government office made for the great laughs. The laughter increased when Usha Madam aka Asawari Joshi Asawari Joshi is an Indian actress born on May 6 1 >> Read More... , who made Mussadilal cut vegetables and Bhatia Sahab ( Manoj Pahwa Manoj Pahwa is an Indian television and cinema act >> Read More... ) who would listen to his problem only when he brought him some chatpata samosas. The show also starred Sanjay Misra, Vrajesh Hirjee Known for his comic timing and comic roles, Vrajes >> Read More... , Deven Bhojani, Hemant Pandey Hemant Pandey is an Indian actor known for his dif >> Read More... and Eva Grover Eva Grover is a well-known Indian film and televis >> Read More... . The show highlighted glitches of venality and fraud faced by a common man in his everyday life, something that is applicable even today.
...
6. ""
Sarabhai vs. Sarabhai remains incomparable even today. It is counted as one of the most hilarious and amusing shows on Indian television. The story illustrated in the upper class of Modern Gujarati family and the daily wrangle between an elite mother-in-law and her middle class daughter-in-law. The funny-tussle was a treat to watch. The show enjoys enormous fame and is still admired a lot. The show had wonderful star cast and they were - Satish Shah Satish Shah is a Hindi and Marathi TV actor. He ro >> Read More... as Indravadan Sarabhai, Ratna Pathak Ratna Pathak is an Indian actress who has been a p >> Read More... as Maya Sarabhai, Sumeet Raghavan He is a TV and film actor. He was born in Mumbai, >> Read More... as Saahil Sarabhai, Rupali Ganguly Rupali Ganguly is a popular Indian television actr >> Read More... as Monisha Sarabhai, Rajesh Kumar Rajesh Kumar is a renowned Indian actor, who rose >> Read More... as Rosesh Sarabhai. The show was replacement for the audience at that time when boring Saas-Bahu operas were dominating the perch. The internet was stormed with the demand of bringing back this sitcom with all new season and the old good cast. We hope to see them soon again on our idiot-box.
7. " Jassi Jaissi Koi Nahin This show aired in India on 1 September 2003 bring >> Read More... "
Jassi Walia – a tame girl with flavorless look, wimpy glasses, clumsy hairs and a golden heart triumphed over her associates, her charming boss and moreover all of us 'the audience'. Jassi Jaisi Koi Nahi was a story of a normal girl with whopping dreams. The story of this show was very different from those daily soap operas and was a makeover of Indian Television. The script of this show had a great connectivity between the viewers and the geeky character. Mona Singh Mona Singh is a popular Indian model-turned-televi >> Read More... , who started her journey as Jassi became the sweetheart for the nation. She gained immeasurable prominence overnight. Mona Singh's come back in Kavach-Kali Shaktiyon Se reminded us her days of Jassi and there was an urge of re-starting the serial for its honest audience.
8. ' Khichdi Instant Khichdi is a SitCom based on the lives of >> Read More... '
The show took over the million hearts with its humorous situations that happened in a Gujarati joint family that lived in a country yard. The impassive wittiness and those funny one-liners made the unforgettable remark that even today there is no replacement found for those hilarious jokes. The show was unlike other shows of that time and gained huge popularity. The sitcom gave us marvelous actors and artistic characters like Hansa ( Supriya Pathak Supriya Pathak is an Indian actress who has been r >> Read More... ), Praful ( Rajeev Mehta Rajeev Mehta is a famous Indian television and Bol >> Read More... ), Babuji ( Anang Desai Anang Desai was born on May 4, 1953 at Ahmedabad. >> Read More... ), Jayshree (Vandana Pathak) and Himanshu ( Jamnadas Majethia Versatile man of many talents, J D Majethia or Jam >> Read More... ). They became iconic characters and are still ruling over. The show raised the bar of comedy to altogether new level. There is no show made till date that can match the funniness of this show.
9. ' Shaktimaan Shaktiman is a famous Indian Fictional show with a >> Read More... '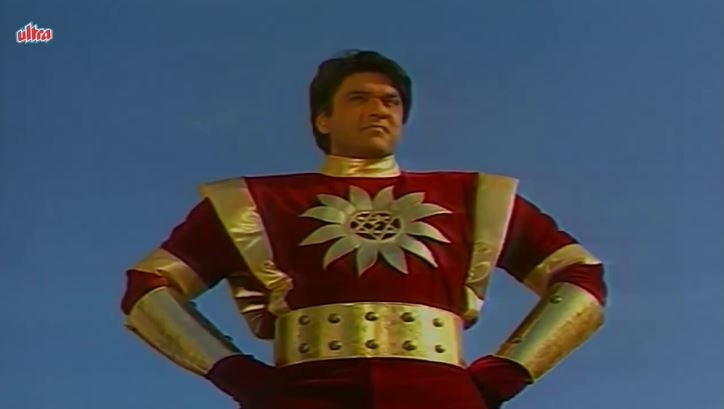 The best superhero for 90's kids and who will was and is close to our heart Shaktimaan (played by Mukesh Khanna Most children born in the 90s era would be familia >> Read More... ) has been the best part of our childhood. The story revolved a common man who was chosen to eradicate the evilness from the earth. The hero that became an inspiration and taught children to stand up against wrong and fight for good. The serial is all set to come back and will be a treat for kids of 90's but will it be able to create the same magic again for kids today who are in love with the only thing i.e. internet and hardly cares about cartoons and superheroes.
10. ""
The show, which brought a new wave in Magical world Shaka Laka Boom Boom is still one of the utmost favorite kids program of all time. The story revolves around Sanju ( Kinshuk Vaidya Kinshuk Vaidya, is an Indian TV actor best known f >> Read More... ) who finds a pencil, which brings every sketch to life. The show dealt with the abilities of the magic pencil and the consequences created by it and how Sanju and his friends had an adventure ride with the help of this magical pencil. The fantasy of having that dreamlike pencil is still alive in a small corner of our heart.