1. Mere Dad Ki Maruti ( 1 Hour 42 Mint )
Mere Dad Ki Maruti was a comedy movie, directed by Ashima Chibber It is rare to see a woman among the long list of m >> Read More... . It starring Saqib Saleem Saqib Saleem also known as Saqib Saleem Qureshi (b >> Read More... , Prabal Panjabi Prabal Panjabi is an Indian actor who works in Bol >> Read More... , and Ram Kapoor Ram Kapoor is an acclaimed and renowned television >> Read More... and based on the film named Dude, Where is my car? It was a hit movie in Delhi and Punjab and did a business of 12.54 crores only.
...
2. Peepli Live ( 1 Hour 44 Mint)
Peepli Live based on the story of farmer's suicide, directed by Anusha Rizvi Anusha Rizvi is a filmmaker as well as a screenwri >> Read More... as her debut in direction. It was starring Naseeruddin Shah Naseeruddin Shah is an experimental actor and asso >> Read More... , Shalini Vatsa Shalini Vatsa is an Indian film and theater actres >> Read More... , and Malaika Shenoy Malaika Shenoy is an Indian film actress and TV sh >> Read More... and earned 299 million in just three weeks. It was declared a super sit movie and nominated for best film in Filmfare Awards.
...
3. Joker ( 1 Hour 46 Mint)
...
Joker was a comedy as well as a science fiction Indian movie, directed by Shirish Kunder Shirish Kunder is an Indian Film producer, directo >> Read More... . It was starring and Sonakshi Sinha Sonakshi Sinha is a well-known Indian Actress. She >> Read More... and this is their second movie together. In this picture communication with Aliens along with basic facility problems of villages was represented in a humorous way.
4. Aisha ( 2 Hours 6 Mint)
...
Aisha was a Comedy, Melodrama movie, directed by Rajshree Ojha Rajshree was born on 1976, in Kolkata India. She d >> Read More... . It starring Abhay Deol Abhay Deol is an actor and director of the TV indu >> Read More... and Sonam Kapoor Sonam Kapoor, Daughter of Anil Kapoor and model Su >> Read More... and story is based on upper-class families of India and in the movie Sonam as Aisha filmed a character as Match Maker. The box office collection of the movie was only 220 crores.
5. Life of Pie ( 2 Hours 7 Mint)
...
Life of Pie was a survival drama movie, directed by Ang Lee Ang Lee is a Taiwanese-origin filmmaker who has pr >> Read More... . It was based on the novel written by Yann Martel with the same name and starring Suraj Sharma Suraj Sharma is an Indian actor. Suraj made his fi >> Read More... , Tabu, and Irfan Khan. It was a story of a 16 years old boy, how he survive on a ship with a Bengal tiger. This film earned 609 million and was nominated for Golden Globe Awards.
...
6. Kites ( 2 Hours 10 Mint)
...
Kites starring Hrithik Roshan Hrithik Roshan with his unimaginable dance moves i >> Read More... , , and Barbara Mori Considered to be the first Mexican Actress that pe >> Read More... , and directed by Anurag Basu Anurag Basu is a jack of all trade Indian film/tel >> Read More... was a romantic, thriller movie. It was also released in North America along with India. The overall collection of this movie was 49 crores, and the failure of the film was due to a cutting of action scenes, songs, and melodrama.
7. Raavan ( 2 Hours 11 Mint)
Raavan was an adventure movie, directed by Mani Ratan. It starring Aishwarya Rai and Abhishek Bachchan Abhishek Bachchan, or Abhishek Srivastava, is a ve >> Read More... and the songs are composed by A.R. Rahman. This film collected 288 million on box office, and according to Indian critics, it was a flop movie. Abhishek Bachchan won Best Actor in Negative Role award in Zee Cine Awards 2011 for this movie.
8. I Hate Luv Storys ( 2 Hours 14 Mint)
I Hate Luv Storys was a romantic movie, directed by Punit Malhotra A young newcomer in Bollywood in the field of Dire >> Read More... . It was starring Imran Khan Imran Khan is an Indian film actor, who is famous >> Read More... and Sonam Kapoor in lead role. This Movie based on the story of a boy Jai who hates love stories but after meeting with a girl Simran, he finally falls in love with her. This movie was a hit on screen and collected 82.5 crores.
9. Khosla Ka Ghosla ( 2 Hours 15 Mint)
Khosla Ka Ghosla was a comedy movie, directed by Bibakar Banerjee. It was starring Anupam Kher Anupam Kher is a very popular actor, director, and >> Read More... and Boman Irani Boman Irani is a well known name today in the Bol >> Read More... . This film was a remake of Kannada movie gowda vs. Krishna Reddy Bio coming soon... >> Read More... and won the best feature film award in National Film Awards The National Film Awards gets presented every year >> Read More... in 2006.
10. Hate Story ( 2 Hours 19 Mint )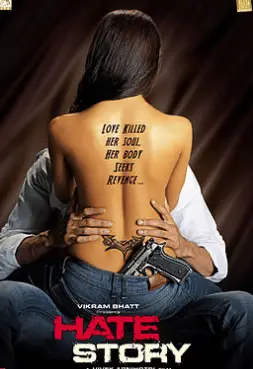 Hate Story was a revenge story, directed by Vivek Agnihotri Vivek Agnihotri is the man behind some of the most >> Read More... . It was starring Nikhil Dwivedi Nikhil is an actor hailing from Kanpur, Uttar Prad >> Read More... and Paoli Dam The Bengali film actress was born on 4th October 1 >> Read More... in lead role. It is the story of how a girl fights to the man who betrayed her. This film collected 250 million in India and had two sequels also.