The horror genre is the oldest genre in the world of cinema. Bollywood itself has its big names when it comes to horror films such as Ram Gopal Varma Ram Gopal Varma is a famed Indian film director an >> Read More... , Vikram Bhatt Vikram Bhatt (Born 1969) is a prominent film direc >> Read More... and the Ramsay brothers. A box office success for Bollywood horror movies is rare. Among various horror flicks, there are a few who are genuinely scary. Here are the top 10 scariest Bollywood movies:
1. 'Kohraa' (1964)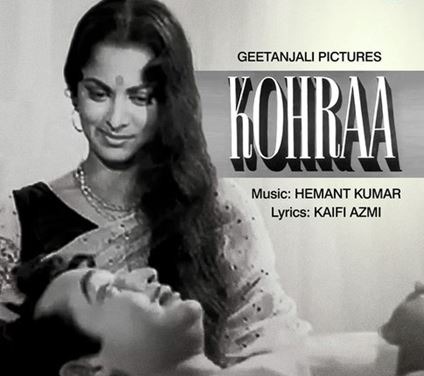 Have you watched Alfred Hitchcock's movies? Do you love his movies? Then you will love Kohraa as well. Alfred Hitchcock's 'Rebecca' was the inspiration behind the movie. The movie begins when Rajeshwari ( Waheeda Rehman She took birth in a Tamil Urdu speaking Muslim fam >> Read More... ) marries Amit (Biswajeet Chatterjee) and shifts to his mansion. In the absence of Amit, Rajeshwari discovers that Amit's ex-wife haunts the mansion. With its famous plot twist, many reviewers confess that it is better than Rebecca. This movie also won the Filmfare award for Best Art Direction.

2. 'Veerana' (1988)
...

A horror list without mentioning any Ramsay Brothers' movie is always incomplete. The film released in 1988 is about a witch who uses her charm to lure and kill people. The witch wanted to kill Pratap's family members and targets their daughter, Jasmine. The gory and scary witches and monsters which are a trademark of Ramsay's movie are present in this one too.

3. 'Raat' (1992)

It is a horror movie by Ram Gopal Varma starring ' Revathi Bio coming soon >> Read More... ' who is the protagonist. A family moves into a house which was ill-famous. The suspense begins when a cat gets killed, but the real horror starts when the cat's spirit possesses Manisha. It was a success when it was released, and it is among the best works of Ram Gopal Varma. The movie will give you chills and for those people who love cats, don't watch it alone.

4. ' Raaz Click to look into! >> Read More... ' (2002)

Mukesh Bhatt Mukesh Bhatt is an Indian film producer who was bo >> Read More... brought Raaz to the audience when there was a drought of scary flicks in Bollywood. This movie immediately garnered people's attention. The movie is about a couple, Sanjana ( Bipasha Basu Bipasha Basu, born in January 7,1979 in Delhi, is >> Read More... ) and Aditya ( Dino Morea Dino Morea is a die-hard Bollywood actor and a for >> Read More... ) who go for a holiday. Upon their arrival, a spirit haunts Sanjana, who later reveals some dark secrets about Aditya. There are also sequels to this movie, 'Raaz 2' and 'Raaz 3'.

5. 'Bhoot' (2003)
...

It is a supernatural horror film which Ram Gopal Varma directed during his hay-days. It has the same elements which a typical horror movie contains- a married couple, a new flat and a spirit. A great cinematography churned out a scary movie. Swati ( Urmila Matondkar Urmila Matondkar is an Indian actress born on 4th >> Read More... ) and Vishal (Ajay Devgn) move into a new flat which a spirit haunts. The activities and experiences drive Swati crazy and Vishal must now protect his wife anyhow. Various crazy scenes will scare you to the core.

6. 'Vaastu Shastra' (2004)

Another one of RVG's work which begins when a family moves to an old house which also has a spooky tree in the garden. Their son notices some events and also makes some imaginary friends. The parents ignore him, but the horror begins when the murders take place one by one with their maid Rukma being the first victim. The cast of the movie included and J D Chakravarty. It was dubbed into Telugu as well.

7. ' 1920 Click to look into! >> Read More... ' (2008)
...

This film by Vikram Bhatt revolves around a married couple, Arjun ( Rajneesh Duggal Rajneesh Duggal is a former model and Bollywood ac >> Read More... ) and Lisa ( Adah Sharma Adah Sharma is an Indian actress and a model. She >> Read More... ). They move to a haunted royal mansion and then the possession of Lisa by a demonic spirit is what brings a scary fest. Arjun then tries to save her. This movie is bound to scare everyone with its sheer adroitness with which the movie is carried forward.

8. '13B' (2009)

The title itself has the number which is regarded 'unlucky'. This movie did not bank on camera angles or scary background scores. A family shifts to a new apartment on the 13th floor. There they encounter strange events and are also hooked to a TV serial. Later the events of the serial become like their daily life. This then unearths a new secret. The movie has chills, and anyone should not watch it alone.

9. Ragini MMS (2011)

It is a found footage horror movie which was inspired by the Hollywood flick 'Paranormal Activity'. Ragini ( Kainaz Motivala Kainaz Motivala is an endowed Indian model and fil >> Read More... ) and Uday (Raj Kumar Yadav) go to a farmhouse which was rigged by Uday with cameras. He planned to record the intimate scenes between them. They soon find out that it was a haunted house. The people were thrilled with this movie. It is rumoured that the film is based on true events.

10. Horror Story Click to look into! >> Read More... (2013)

The story begins with a group of youngsters hanging out together. They were there to bid farewell to a friend who was going out for higher studies. They decide to spend a night in a haunted hotel unaware that it would be their biggest mistake. What followed were some frightening and terrifying scenes. Grave Encounters is the inspiration behind the movie.