Horror films have been made in Bollywood since a very long time. The genre has seen a distinct development throughout the years. The jump scares have been replaced by more sinister plots and sometimes even psychological horror. Film-makers have experimented with myths, legends, and supernatural stories to produce scary and brilliant horror movies. Several horror movies have become big hits, hence proving that the Indian audience loves to be scared.
Let us look at 10 recent horror movies of Bollywood.
1. Ek Thi Daayan Click to look into! >> Read More...
...
This 2013 movie was produced by Ekta Kapoor Ekta Kapoor; a legendry producer in Indian TV and >> Read More... and directed by Kannan Iyer Kannan Iyer is a versatile Indian actor, writer, a >> Read More... . It told the story of an evil witch based on Indian myths and legends. The movie was about a magician named Bobo who is troubled by the witch since his childhood. After becoming an adult, he is still convinced that the witch is somewhere around him, looking for children to capture and sacrifice. The star cast of this film included Emraan Hashmi Emraan Hashmi is one of the most successful & cont >> Read More... , Konkona Sen Sharma Konkona Sen Sharma is a Bollywood actress hailing >> Read More... , Kalki Koechlin Kalki Koechlin is a famous film actress, model and >> Read More... , and Huma Qureshi Huma Qureshi is a model-turned-actress in Bollywoo >> Read More... .
2. Horror Story Click to look into! >> Read More...
...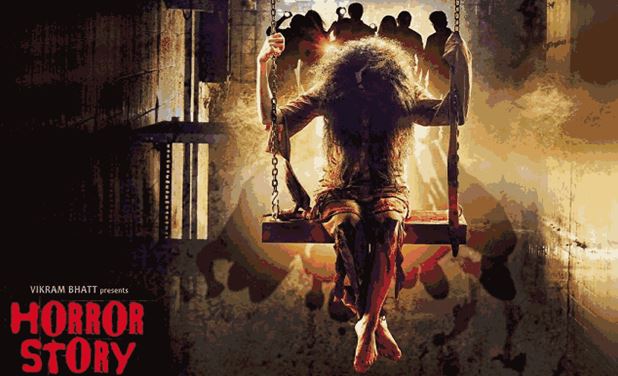 This movie released in the year 2013 and was a multi-starrer horror film. It depicted the experiences of a group of youngsters when they spend a night at a haunted hotel and discover sinister secrets about the history of the place. Will all the youngsters be able to make it to the morning alive? Who is the evil spirit hunting them down? All these questions are answered by the film. It is quite scary and impressive. Some of the actors of this film are Karan Kundra Karan Kundra is a dashing, handsome, sexy, stylish >> Read More... , Radhika Menon Kodungallur, India. She started her career with Vi >> Read More... , Ravish Desai Ravish Desai is an Indian actor and model, working >> Read More... , Sheetal Singh Sheetal Singh is a delightful Indian on-screen cha >> Read More... , etc.
...
3. "Ragini MMS 2"
This movie was a sequel to the terrifying 2011 movie Ragini MMS. Ragini MMS 2 released in 2014 and was marketed as India's first erotic-horror film. The movie picks up the story of Ragini from the previous film and takes the audience on a journey to explore the story of the evil spirit who haunted Ragini and is now haunting the cast and crew of a film being shot in the same house where Ragini had gone to in the previous film. The stars of this movie are Sunny Leone Sunny Leone, a famous porn star, has recently ente >> Read More... , Parvin Dabas Parvin Dabas is an Indian actor. He is also named >> Read More... , Saahil Prem 'Saahil Prem', is an actor as well as an a >> Read More... , Sandhya Mridul Sandhya Mridul is once again one of the popular fa >> Read More... , Divya Dutta Divya Dutta was born in Mumbai, Maharashtra, India >> Read More... , etc. The film packed quite a few scares, and its format was new and exciting to the audience.
...
4. ' Pizza Click to look into! >> Read More... '
...
Pizza is a 2014 movie which is a remake of the popular 2012 Tamil movie of the same name. Pizza tells the story of a man who delivers pizza for a living and whose wife is an aspiring author. The man is not a believer in supernatural entities. The film describes his experiences when he goes to deliver a pizza to a lady. After that, he is caught in a chain of events for which he has no rational explanation. The main characters of this movie were played by Akshay Oberoi Akshay oberoi is an Indian actor, who belongs to a >> Read More... , , Dipannita Sharma Dipannita Sharma is an Indian supermodel cum actre >> Read More... , Arunoday Singh Arunoday Singh is an Indian film actor. He was bor >> Read More... , etc.
5. ' Alone Click to look into! >> Read More... '
...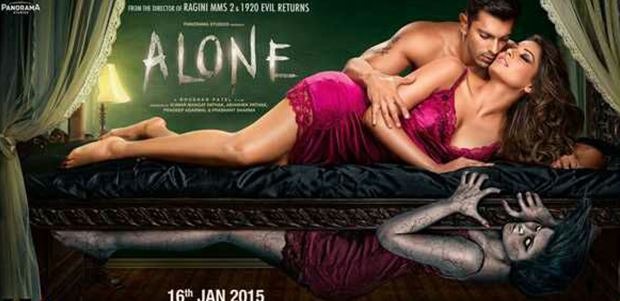 This 2015 movie had the first popular film role of TV actor Karan Singh Grover Karan Singh Grover is a famous Indian actor who is >> Read More... . The movie is based on a married couple who experience supernatural events when they return to their family house in Kerala. The fears of the wife are dismissed by the husband, who does not believe in anything supernatural. The wife, Sanjana, believes that she is being haunted by the spirit of her dead twin sister. The film takes this story to an interesting climax with a twist. The film stars Bipasha Basu Bipasha Basu, born in January 7,1979 in Delhi, is >> Read More... , Zakir Hussain Zakir Hussain is a veteran and prominent film and >> Read More... , Neena Gupta Neena Gupta is a very popular and well-known figur >> Read More... , and Dino Morea Dino Morea is a die-hard Bollywood actor and a for >> Read More... as well.
...
6. "Darr @ The Mall"
This was a 2014 film starring Jimmy Shergill Jimmy Shergill is a renowned Indian actor and prod >> Read More... , and Nushrat Bharucha Who will forget the dictator and bossy girlfriend >> Read More... . The film is based on a newly constructed mall which is the site of supernatural disturbances. After the death of a few construction workers and staff, the mall is widely publicized as haunted. After the inaugural party of the mall, a few people are trapped inside where they have to survive the attacks of the spirits that have taken up residence inside the mall. The film is genuinely scary and thrilling.
7. ' Khamoshiyan Click to look into! >> Read More... '
Khamoshiyan is a horror as well as a romantic film released in 2015. It is based on the life of a novelist who falls in love with the mysterious and beautiful owner of a guest house in Kashmir. She is revealed to be married though her husband is never seen, only heard. The novelist discovers shocking secrets about the place and the couple, and his love is put to the test as he has to battle evil spirits to free his lady love from the place and the horrors of her past. The lead characters of this film were played by Sapna Pabbi Sapna Pabbi is a British model and television actr >> Read More... , Ali Fazal Ali Fazal is an Indian actor who was born on 15th >> Read More... , and .
8. ' 3G Click to look into! >> Read More... '
3G is a 2013 horror movie about a couple who are subjected to supernatural tortures after purchasing a haunted 3G phone. The phone is said to be haunted by an evil spirit which torments all its owners and plays with their fears. The actors of this film are , Sonal Chauhan Sonal Singh Chauhan is an Indian model, actress, a >> Read More... , Mrinalini Sharma Mrinalini sharma is Indian actress born in New Del >> Read More... , and 'Asheesh Kapur'. It is a unique film which amalgamates modern technology with supernatural forces to deliver a scary movie.
9. " 1920 London Click to look into! >> Read More... "
This 2016 horror film is the third movie of the 1920 series, preceded by 1920 and 1920: Evil Returns. This film is based on the story life of Shivangi, who is an Indian princess living in London with her husband. The husband, Veer, is haunted by an evil spirit which seems to be killing him slowly. To save her husband, Shivangi has to seek help from Jai, who was her lover before marriage. The movie follows the struggles of the duo to save Veer and drive away the evil spirit. It stars Sharman Joshi Sharman Joshi was born in Mumbai, Maharashtra to a >> Read More... , Meera Chopra Meera Chopra is a well-known actress in the South >> Read More... , and Vishal Karwal Born on 18th November, 1984, Vishal Karwal always >> Read More... in the lead roles.
10. Raaz Reboot Click to look into! >> Read More...
This 2016 movie is the fourth film in the Raaz series. The first three films were Raaz, Raaz: The Mystery Continues, and " Raaz 3 Click to look into! >> Read More... ". The fourth film is about a married couple who go to live in Romania for a job offer. There, they become the victims of supernatural forces which seem to trouble their marriage. The lady has to seek help from her former abusive boyfriend to drive away the evil spirit. The film starred Emraan Hashmi, Kriti Kharbanda Model-turned- actor Kriti Kharbanda is a popular >> Read More... , Suzanna Mukherjee Suzanna Mukherjee is a young and beautiful upcomin >> Read More... , and Gaurav Arora Gaurav Arora born in an Indian family has just ste >> Read More... in the lead roles.