The Indian television industry has grown and flourished rapidly since its inception. Various new channels have cropped up with a plethora of new shows. The scale of the industry has increased day by day as well. With growing viewership, the producers feel free to spend a lot of money to shoot the serials. Nowadays, we often see the cast and crew of TV serials heading abroad to shoot important sequences. This helps to attract the audience and make the serial more interesting and beautiful.
Here are 10 such Hindi TV serials that were shot abroad.
1. ""
...
This serial has been airing on Star Plus for a long time. It is about a traditional Marwari joint family and their trials and tribulations. The lead actors, Hina Khan Hina Khan is a gorgeous Indian Model and Televisio >> Read More... and Karan Mehra Karan Mehra is a model, Hindi TV actor, and a fash >> Read More... , have enjoyed the attention of the audience for a long time. The show focuses on Naitik and Akshara, a married couple, and their children. It is quite a popular show. Hence, it is not surprising that the cast has gone abroad for shooting more than once. Apart from India, this show has been shot in places like Bangkok, Cape Town, Hong Kong, and Zurich.
2. Hitler Didi Hitler Didi which literally means Hitler Sister is >> Read More...
...
This Zee TV show is based on a strong woman named Indira Sharma, living in Delhi with her family. She has to look after her family and face social problems all alone to lead a respectable life. It is also a love story between Indira and Rishi, played by Rati Pandey Rati Pandey is an Indian actress, model and a danc >> Read More... and Sumit Vats Born in New Delhi on 17th March, 1981, Sumit Vats >> Read More... . The show went to Macau to shoot an important sequence. The locales of Macau were shown beautifully in the serial.
...
3. Bade Acche Lagte Hai Bade Acche Lagte Hai was an Indian Television Fami >> Read More...
"Bade Acche Lagte Hai" on Sony Entertainment Television is the love story between two middle-aged individuals, Ram and Priya, played by Ram Kapoor Ram Kapoor is an acclaimed and renowned television >> Read More... and Sakshi Tanwar Sakshi Tanwar is a leading Indian television and f >> Read More... . It was one of the most popular shows on television. After Ram and Priya get married in the show, they go to Australia for their honeymoon. Many tourist spots and adventure sports of Australia were shown in the serial. Apart from that, the cast went to Dubai to shoot the reunion sequence of Ram and Priya.
...
4. " Saath Nibhaana Saathiya Saath Nibhana Saathiya is a popular Hindi daily so >> Read More... "
...
This Star Plus serial has been airing for a long time and is quite popular among the audience. It started as the story of two cousin sisters, Gopi and Rashi, who get married into the same household. Now, it also focuses on the life of their children. The cast and crew went to Switzerland for shooting a few episodes. Ahem, and Jigar were shown going on a business trip to Switzerland with their wives and mother. Many locations such as Lake Geneva, Ticino, Swiss Alps, and Lucerne were shown in the show.
5. " Pyaar Ka Dard Hai Meetha Meetha Pyaara Pyaara Rajshri Productions has come up with a daily soap >> Read More... "
...
This Star Plus show was based on the beautiful love story of Aditya and Pankhuri, two polar opposite people who have radically different views about love and marriage. The lead characters were played by Disha Parmar Disha Parmar is an Indian actress who works on Ind >> Read More... and Nakuul Mehta Nakuul Mehta is an Indian Model, Anchor and an Ac >> Read More... . The two get married on the show and go off to Australia for celebrating their honeymoon. Their romantic scenes were filmed in many beautiful Australian locations. The entire sequence was very nicely shot and presented, and the audience loved their romance in the foreign country.
...
6. Savitri Click to look into! >> Read More...
'Savitri' was a fantasy serial on Life OK about the love story between Savitri and Satya who meet in different births and fall in love. This tale of reincarnation was a visual delight and was loved by the audience. This show had an exquisitely shot underwater sequence of Satya and Savitri. That scene was filmed in Bangkok.
7. Diya Aur Baati Hum Diya Aur Baati Hum is an Indian romance, drama TV >> Read More...
"Diya Aur Baati Hum" was a Star Plus show based on the love story between an ambitious woman, Sandhya, and a grounded man, Suraj, who are married to each other. In the show, Suraj is shown as an extremely skilled cook. He goes to an international cooking contest which is held in Singapore. The cast and crew shot in Singapore for many days. The entire sequence was important for the show as it kick-started the romance between Sandhya and Suraj.
8. Kaisa Yeh Ishq Hai…Ajab Sa Risk Hai
This Life OK show was a love story between a modern girl, Simran, and a traditional Haryanvi boy, Rajveer who face troubles because of the differences between their beliefs and lifestyles. In the show, Simran lives in Singapore. Quite a few episodes at the beginning of the show were shot outdoors in Macau, Bangkok, and Singapore. The love story between the lead characters flourished in these beautiful locales which the viewers loved.
9. Tu Mera Hero Tu Mera Hero is a show based on a Bollywood movie >> Read More...
Tu Mera Hero was a show on Star Plus based on the lives of a couple, Panchi and Titu. The character of Titu was shown as an extremely lazy fellow who had no interest in working or taking up responsibilities. An important sequence of the show was shot in New Jersey. Titu gets a job offer in New Jersey, and the cast of the show was shown going there. Many exotic locales were shown in that sequence. The show starred Priyanshu Jora A charming young boy born on 13 November 1991 in R >> Read More... and Sonia Balani Sonia Balani is a young notable TV Actress. She wa >> Read More... in the lead roles.
10. " Rab Se Sohna Isshq Rab Se Sohna Ishq was telecasted on July 16, 2012 >> Read More... "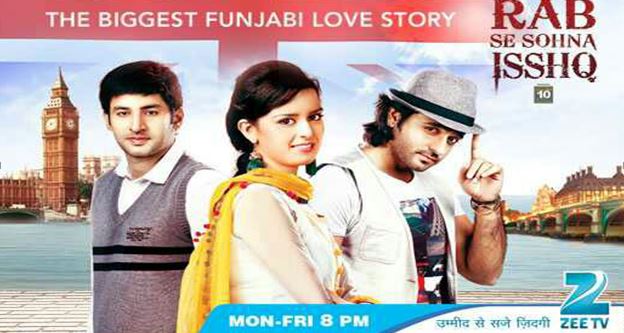 This show aired on Zee TV was a love triangle among the lead characters, Sahiba, Ranveer, and Daljeet. The show began with Ranveer ditching Sahiba on the day of their wedding to move to London. Following this, Sahiba goes to London to get her man back. About three months of this show was based in London. Several museums, opera houses, bistros, etc, of London were showcased on the show beautifully. The show even had local British people playing small roles during the London sequence.