Bringing to you a list of 10 fashion mis-happenings that shocked us to the core!
1. If we are talking about fashion disasters, and we definitely need to have Rani Mukerji Rani Mukerji is one of the most celebrated Indian >> Read More... 's extremely unpleasant satin gown on the list. She seems to be really messed up here, since she can't figure out whether it's the red carpet she is walking down or her bedroom.
...
2. Aishwarya Rai Bachchan Aishwarya Rai Bachchan is a popular Indian actress >> Read More... 's 2003 Cannes' appearance as a blingy tree or maybe an extravagantly glittery green bird is definitely her worst fashion blunder. That parrot green lehenga is so shiny that even the sun refused to shine on it.
3. Famous for her controversial statements and much-revealing outfits, Mallika Sherawat Mallika Sherawat is a glamorous Model turned bold >> Read More... just killed it this time. She looks like some kind of a weird black mermaid. Is it a bikini or a gown? We would simply like to categorize this dress in the section of Mindless-Mallika collection.
...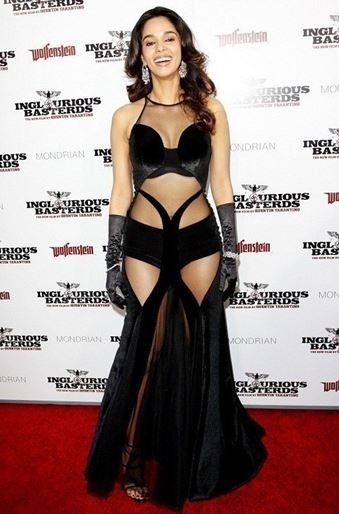 4. We've always adored Mandira Bedi Mandira Bedi is a well know Indian television pres >> Read More... for her impeccable sari collection, but this weird animal print jump suit has left us all shattered.
...
5. Hazel Keech Hazel Keech or Rose Dawn is an actress and model. >> Read More... 's frightful red-rose-bouquet outfit is so appalling that you can have nightmares about it. Hazel, we know you've been off the silver screen for a while now, but this is not how you are supposed to get attention.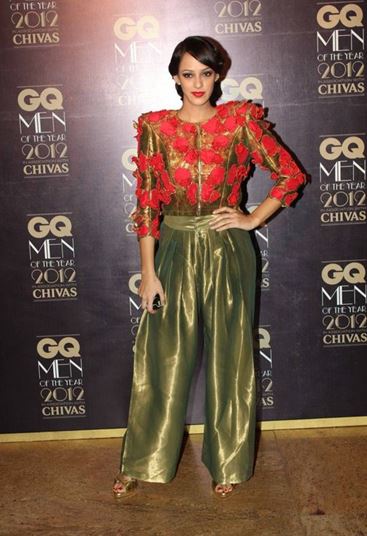 6. Either ' Ekta Kapoor Ekta Kapoor; a legendry producer in Indian TV and >> Read More... ' is wearing a shockingly revealing cleavage outfits or some equally disastrous dresses. Someone please get her a stylist and save us from the horror!
7. Sonakshi Sinha Sonakshi Sinha is a well-known Indian Actress. She >> Read More... 's attempt to look like a seductive Egyptian queen fails miserably. It looks as though her dress is going to tear open any moment!
8. Sonam Kapoor Sonam Kapoor, Daughter of Anil Kapoor and model Su >> Read More... is pretty, dresses up exceptionally well, but this Maggi-dress that looks as if she's covered herself with a 'razayi' does not impress us. She made a really bad fashion statement at Cannes' that year.
9. What on earth is Vidya Balan Vidya Balan is an award winning Bollywood actress >> Read More... wearing? That gown was used for flood control in Tamil Nadu this year. She just ruined the whole Anarkali style for us. It is so embarrassing that a talented actor like herself shows up like this or worse at times.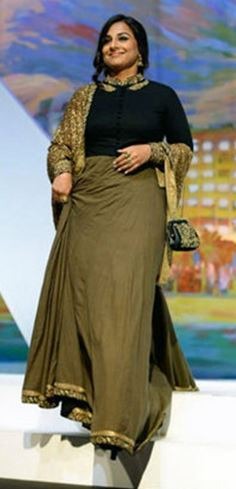 10. This is an old picture, but boy it never gets old! looks so weird in the yellow dress which does not really cover her chest so she has to wear a bikini top of the same colour. And the ribbon-like neckpiece just makes it funnier.