Each one has a favorite Bollywood romance that has impacted just how much we like and remember a certain movie. Sometimes a film's performance can be attributed to the lead actors' chemistry alone, regardless of how strong the plots are. Though we were all dubious about their chemistry, several films have given us some very unusual performers in relationships. Oddly enough, they have worked. Whom are we talking about, you ask? Let's look at it.
Love is ageless! That has been said numerous times. But this famous couple has also demonstrated it. Alia Bhatt and Ranbir Kapoor just become husband and wife. But did you realize that there is a 10-year difference between their ages? Alia Bhatt is 29 years old, while Ranbir Kapoor is 39. On April 14, the country welcomed the wedding of one of the most adored celebrity couples, Ranbir Kapoor and Alia Bhatt. Although it was a small gathering, their close friends and family made the wedding look stunning. Ranbir and Alia both had to leave right away for work due to prior responsibilities. Ranbir Kapoor revealed during an interview with a major entertainment website that they have yet to accept that they are married.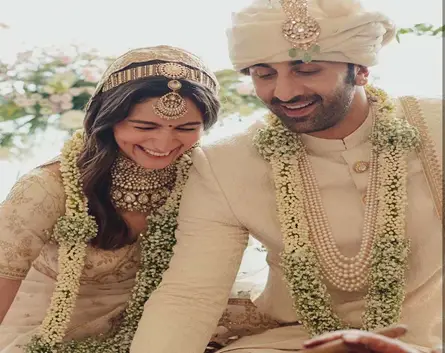 ...
Few people are well aware that Riteish Deshmukh is nine years older than his wife Genelia D'Souza, making them the ideal couple. They have fantastic chemistry, they look so good together that their age difference is irrelevant. On February 3, 2012, Riteish and Genelia wed after nine years of dating. They made their acting debut together in the 2003 movie Tujhe Meri Kasam, and they instantly fell in love. We all know the rest is history. The metamorphosis of Riteish and Genelia into Mr. and Mrs. Deshmukh is quite captivating. They started as friends before becoming best buddies and now being referred to as Mr. and Mrs. Deshmukh with affection is fascinating.
3. Milind Soman And Ankita Konwar
Due to their significant age differences, Milind Soman's marriage to Ankita Konwar in 2018 caught many people's attention. Konwar was 26 years old and Soman was 52 at the time. The pair suffered a great deal of teasing and inquiries about their relationship, but they managed it with compassion, and their love has only gotten deeper with time. In April, the pair exchanged vows in a small ceremony in Alibaug. Currently, the couple renewed their vows during a barefoot wedding in Spain. "Till eternity with each other," Ankita said alongside photos she posted from the event on Instagram. The outdoor, barefoot wedding we've always dreamed of having with our lovely family
...
4. Shahid Kapoor And Mira Kapoor
Shahid, who has a substantial female fan base, broke millions of people's hearts when he wed Mira Rajput Mira Rajput is the wife of the charming Bollywood >> Read More... . In July 2015, they exchanged vows in a private ceremony. Shahid chose to get married through an arrangement, in contrast to his parents, Pankaj Kapur and Neelima Azeem. Due to the couple's 13-year age gap, his wedding to Delhi-based Mira Rajput became the talk of the town. The two young lovers have shown that age is just a number to them despite their age difference. Shamira often provides serious couple goals, from exchanging love posts for one another to partaking in social media PDA.
...
5. And Kareena Kapoor
On the Tashan set, where they were filming, Saif Ali Khan and Kareena Kapoor fell in love. Saif and Kareena decided to get married in 2012 despite having a 10-year age gap. They had been living together for five years at that point. A star-studded sangeet, Mehendi, nikah, and after-party were held, nevertheless. When considering a legal marriage, what appears to be a low-key celebration evolved into a lavish occasion; it is estimated that their royal wedding cost over Rs 10 crores.
...
Age rarely counts where there is respect and love! Guess what became the buzz of the town as Bollywood stars Katrina Kaif, 38, and Vicky Kaushal, 33, recently exchanged vows in a well-publicized yet private extravaganza wedding? The emphasis on their age is the key to the solution! They did have a five-year age difference.
...
Kunal Khemu, the actor from Go Goa Gone Click to look into! >> Read More... , is 5 years younger than his wife, Soha Ali Khan. When the two collaborated on the film Dhoondte Reh Jaaoge in 2009, they fell in love. The couple moved in together in 2013 and had always been very outspoken about their love. Two years into their live-in relationship, Kunal proposed to Soha in Paris in 2014. The wedding took place on January 25, 2015. It is clear from their love and dedication to one another that their age gap was never a problem for them.
...
Shirish Kunder, a former film editor who is now a director, is 8 years younger than his wife, Farah Khan. Mai Hoon Naa, Farah's first film as a filmmaker, was edited by Shirish. Their on-set companionship soon developed into love. Despite social obstacles including an 8-year age difference and opposing religious beliefs, these two soul mates were unable to stay apart. They were blessed with two daughters and a son after their wedding in 2004. "I don't know if one gets reborn or not, but if it were so, then I would like to marry Shirish in my second birth too," said Farah.
...
Akshay Kumar is a self-made celebrity whose stardom cannot be contained. Nevertheless, his lovely wife Twinkle Khanna is one of the most well-known authors. And when combined, they are undoubtedly lethal. Akshay, who was known to be a ladies' man, fell in love with Twinkle, who was 6 years his junior. The pair has a youngster together and appears to be extremely happy. Akshay's persona as a Casanova transformed after his marriage to Twinkle to that of a cool dad.
Shibani and Farhan started dating in 2018. On the sets of the television program I Can Do That, the pair got to know one another. Nevertheless, they are seven years apart in age. Actors Farhan Akhtar and Shibani Dandekar's announcement of their engagement left their fans ecstatic after four years of courtship! The pair wed on February 19 in a small ceremony at Farhan's farmhouse in Khandala, attended only by close relatives and friends. On February 20, the newlyweds had a reception in Farhan's Bandra home.