Due to her reputation for playing tragedy and sadness, Nirupa Roy Nirupa Roy had acted in over 100 films as a heroin >> Read More... was unkindly referred to in the Hindi cinema industry as the "Queen of Misery." From 1946 through 1999, Nirupa Roy was a working actress, most known for playing the role of Mother. She became famous as the impoverished, suffering mother in the 1970s thanks to her performance as the mother of and Shashi Kapoor's characters in Deewaar. Nirupa Roy appeared in over 250 films and was nominated for and won three Filmfare Awards. Ten of Nirupa Roy's most well-liked movies are listed below:
1. Laal Baadshah
Amitabh Bachchan, in a double role, Raghuvaran, Nirupa Roy, Manisha Koirala Manisha Koirala, is a Bollywood actress of Nepales >> Read More... , Shilpa Shetty A model turned actress, producer, entrepreneur and >> Read More... , and Amrish Puri Amrish Lal Puri was born on 22nd June, 1932 in Pun >> Read More... appear in K. C. Bokadia's 1999 Indian Hindi-language crime drama film Laal Baadshah. A man who was raised without his biological parents goes on to become the representative of the people. His concern for others eventually pushes him to take on a risky journey to discover the identity of his birth parents.
...
2. Inteqam
Inteqam, Rajkumar Kohli's 1988 action movie, is an Indian production. The film's lead actors include Sunny Deol Sunny Deol is a film actor, director and producer. >> Read More... , Anil Kapoor Anil Kapoor was born on 24th December 1956 in Mumb >> Read More... , Nirupa Roy, Meenakshi Sheshadri, and Kimi Katkar The sex bomb of the eighties is now 47 and mother >> Read More... . In revenge for her brother sexually assaulting his sister, a man kidnaps a girl on the night of her wedding. They all recognize their mistakes as a result of circumstances and make amends.
3. Namak
Kawal Sharma Kawal Sharma is a well-known director in the Bolly >> Read More... produced and directed the 1996 action film Namak in Hindi. Sanjay Dutt July 29, 1959, was the day when the two legends of >> Read More... and Farah Naaz Farah Naaz is a Bollywood actress who made her deb >> Read More... both appear in the movie. Anu Malik Anu Malik is considered as one of the most famous >> Read More... wrote the film's soundtrack. When Prabhat accidentally shoots Gopal one day while playing with a loaded weapon, he escapes from fear of being caught and pronounced dead.
...
4. Gangaa Jamunaa Saraswati
Manmohan Desai Manmohan Desai is an Indian film producer and dire >> Read More... directed the 1988 Hindi film Ganga Jamuna Saraswati, sponsored by Harakh Chand Nahata and produced by S. Ramanathan. Amitabh Bachchan played the role of Ganga, Meenakshi Sheshadri played Jamuna, and Jaya Prada Jaya Prada is a renowned Indian actress and politi >> Read More... played Saraswati. Mithun Chakraborty When we talk about the few legends in the Indian f >> Read More... , Amrish Puri, Nirupa Roy, and Aruna Irani Aruna Irani is an Indian actress who has acted in >> Read More... are among the cast members. Two devoted lovers, Ganga and Jamuna, are separated by accident. While Saraswati starts to like Ganga, Ganga eagerly searches for another woman.
...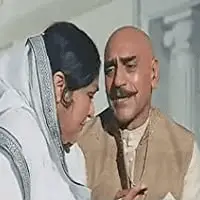 5. Mard
Amitabh Bachchan and Amrita Singh Amrita Singh is an Indian film and TV actress. She >> Read More... star in the 1985 Indian action film Mard, which is in the Hindi language. General Dyer imprisons Azad, a powerful and wealthy king, in a dungeon because he wants to rule over his kingdom.
...
6. Maa
In 1976, the Indian Bollywood family drama Maa was released. M. A. Thirumugam directed the film, produced by Sandow M. M. A. Chinnappa Devar. Dharmendra, Nirupa, Roy, and Hema Malini Hema Malini is perhaps the only dream girl of the >> Read More... play lead roles. Vijay's mother warns him to avoid taking the kids away from their mother because he makes a living by hunting animals. The animals become furious when Vijay won't stop and attack him shortly after.
...
7. Jawani Diwani
Narender Bedi directed the 1972 musical romance film Jawani Diwani. Additionally, this marked Kader Khan's first-time writing dialogue. But when he learns that she has a marriage contract with another man, everything changes.
...
8. Kuchhe Dhaage
Raj Khosla's 1973 action film Kuchhe Dhaage was filmed in India. Laxmikant Pyarelal Laxmikant Shantaram Kudalkar and Pyarela l Rampras >> Read More... created the melody, and Anand Bakshi Anand Bakshi was an old poet and lyricist with his >> Read More... wrote the lyrics. A man is punished by hanging after being betrayed. His wife declares that she will do everything in her power to raise their child to track down and kill those who betrayed him. "Thakurain," the mother of Lakhan ( Vinod Khanna Vinod Khanna, the name of the tinsel town, is alwa >> Read More... ), is played by Nirupa Roy.
...
9. Anurodh
Anurodh, a 1977 Hindi musical drama film produced by Girija Samanta and directed by Shakti Samanta Shakti Samanta, an eminent Indian film director, w >> Read More... , is based on the 1963 Bengali film Deya Neya. It is unacceptable for the son of a wealthy businessman to like singing. The tension between them results in the boy leaving home, and when he becomes a successful musician, he takes on a new personality.
10. Betaab
Bikram Sing Dahal, Rahul Rawail Rahul Rawail is the son of veteran film director H >> Read More... , and Javed Akhtar Javed Akhtar is an Indian poet, lyricist, film scr >> Read More... collaborated to make the 1983 Indian romantic comedy Betaab. When Sunny unexpectedly meets Roma, a childhood friend, they fall in love. However, Roma's father chooses to end their relationship since he disapproves.