There are celebrities who have struggled in their past, and now they have earned their place in the B town. They had their family support to work in films and also to break the obstacles in their life. It is always their parents, who made them so strong and successful. Here are some top ten stars with a single parent.
1. Shah Rukh Khan Shah Rukh Khan or also known as SRK is a prominent >> Read More...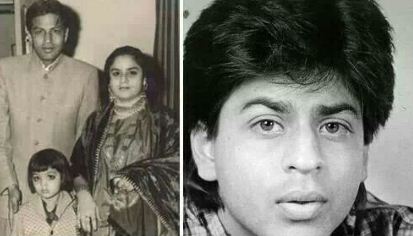 ...
The handsome and stunning actor is Shah Rukh Khan. He belonged to a middle-class family where his father, Meer Taj Mohammed Khan, was an Indian independence activist from Peshawar and joined the Indian National Congress Party. Shah Rukh Khan says that he is half Hyderabadi, half Pathan, and half Kashmiri. His father died in the year 1981 due to cancer, and his mother cared for him as a single parent and she died in the year 1991 due to diabetes.
2. Karisma Kapoor Karisma Kapoor is a well known face from the famil >> Read More...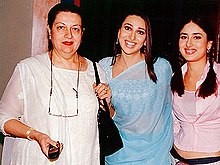 ...
Karisma Kapoor belongs to famous iconic family background. Her entire family is working in Bollywood. She did many amazing films and has won many Filmfare awards. Karisma got married in the year 2003 to Sanjay Kapur, but they got divorced in 2016. Her parents were Randhir Kapoor Randhir Kapoor was born on the 15th of February 19 >> Read More... and Babita Kapoor Babita is a yesteryear actress who worked for a sh >> Read More... . Her parent got separated due to some conflict in the year 1988, and her mother raised her alone. After Karisma's film debut in Bollywood, her parents got together in the year 2007.
3. Shahid Kapoor Shahid Kapoor also identifies as the name Shahid K >> Read More...
...
Shahid Kapoor is the super stunning actor of Bollywood. He has worked with many famous stars. He married Mira Rajput Mira Rajput is the wife of the charming Bollywood >> Read More... , and they are blessed with two children. Ishaan Khatter from Dhadak is the half-sibling of Shahid Kapoor. His parents are Pankaj Kapur Pankaj Kapur is a prominent Indian actor and direc >> Read More... and Neelima Azeem Neelima Azeem is a classical dancer and an actress >> Read More... . His parents got divorced when Shahid was just three years old, and his father married Supriya Pathak Supriya Pathak is an Indian actress who has been r >> Read More... . Shahid was brought up by his mother, and then his mother married Rajesh Khattar Rajesh Khattar is a prominent Indian Artist. He is >> Read More... .
4. Kareena Kapoor Khan Kareena Kapoor is a super hit actress working in I >> Read More...
...
Kareena Kapoor is a very beautiful actress in B town. She belongs to the renowned Kapoor family. She was born in the year 1980. Kareena married , and they have two children. She has a sister Karisma Kapoor, and her parents are Babita and Randhir Kapoor. Her parents got separated and she was brought up by her mother until she started to work in Bollywood films.
...
5. Farhan Akhtar One of the most recognized young director of India >> Read More...
...
Farhan Akhtar is the son of Javed Akhtar Javed Akhtar is an Indian poet, lyricist, film scr >> Read More... . He is a singer, actor, lyricist, director, and producer. He has one sister Zoya Akhtar Zoya Akhtar has now become a household name promin >> Read More... . He and his sister have worked together as lyricists in the Hollywood-based film Bride and Prejudice. Farhan married Adhuna Bhabani and got separated after 16 years of relationship in the year 2016. His father, Javed Akhtar, divorced his mother, Honey Irani Honey Irani is an actress and screen writer. She w >> Read More... and married Shabana Azmi Shabana Azmi is a film actress of Indian origin an >> Read More... .
6. Konkona Sen
...
Konkona is a gorgeous actress in Bollywood. Konkona Sen was born in Calcutta in West Bengal. Konkona Sen married Ranvir Shorey Intro: Ranvir Shorey is a popular Indian movies ac >> Read More... and got divorced in the year 2020. She is a single mother. Her parents are Mukul Sharma Mukul Sharma is a famous writer and screenwriter. >> Read More... and Aparna Sen A vetern filmmaker and actress, Aparna Sen has bee >> Read More... . Her father was a journalist, and her mother is a director and actress. Her parents got separated, and she was brought up by her mother, Aparna Sen.
7. Sara Ali Khan Sara Ali Khan is the daughter of the Bollywood act >> Read More...
Sara Ali Khan is a budding actress in the Bollywood industry. Her first film was Kedarnath, along with Sushant Singh Rajput Sushant Singh Rajput is one of the famous Indian t >> Read More... . She was born in the year August 1995. Her parents are Saif Ali Khan and Amrita Singh Amrita Singh is an Indian film and TV actress. She >> Read More... . Sara's parents got separated, and she was raised by her mother. Her brother Ibrahim is younger than her. Her father's second marriage was with Kareena Kapoor Khan, and she has two half-siblings.
8. Shruti Haasan Shruti Hassan is an Indian film actress born on 28 >> Read More...
Shruti Haasan is well-known in Bollywood as well as in South Indian cinema. She started her career as a child artist and had sung many songs. Her sister is Akshara Haasan Akshara Haasan is an eminent Indian screenwriter, >> Read More... . Her parents Kamal Haasan Kamal Haasan is the most versatile actor that Indi >> Read More... and 'Sarika Thakur,' got separated.
9. Masaba Gupta Masaba Gupta is one of the most accredited and you >> Read More...
Masaba Gupta is a fashion designer and an actress in the Bollywood industry. Her mother, Neena Gupta Neena Gupta is a very popular and well-known figur >> Read More... , was a famous Indian actress during the 80s and 90s. We have recently seen both Masaba and Neena Gupta on Netflix's original series Masaba, which was based on their real-life. She was brought up by her mother. Masaba was unaware of his father until she met him after 30 years. Her father was a West Indies Cricketer Viv Richards Sir Isaac Vivian Alexander Richards, by and large, >> Read More... . Her mother was not married and gave birth to Masaba.
10. Ranbir Kapoor Ranbir Kapoor is a noted Indian film actor. He was >> Read More...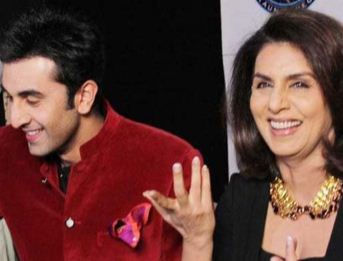 Ranbir Kapoor is a super smart and hot actor in the Bollywood cinema. He has done many fabulous films like Bachna Hai Haseeno, Barfi, Rockstar, and many others. Rishi Kapoor Rishi Kapoor is an actor born in the prominent Kap >> Read More... , his dad, was a good inspiration for Ranbir Kapoor. His mother is Neetu Kapoor. Both his parents were in the Bollywood industry. His father died due to leukemia at the age of 67.