In today's era, the consumption of drugs has increased, whether the people living in slums or mansions. Let's glimpse at the Bollywood Industry. Many celebrities have found themselves under the NCB interrogation over their alleged drug involvement. Aryan Khan Aryan Khan is the first child of the King of Roman >> Read More... , Siddhanth Kapoor Siddhanth Kapoor is the son of the famous actor, S >> Read More... , Rhea Chakraborty Recently been appraised for his role in Sonali Cab >> Read More... , Sanjay Dutt July 29, 1959, was the day when the two legends of >> Read More... , Prateik Babber, Fardeen Khan Fardeen Khan is a former film actor, known for doi >> Read More... , Bharti Singh Bharti Singh is a well known comedian and actress >> Read More... and her husband, Harsh Limbachiyan, and many more stars have made headlines for involvement in drug cases. Let's read about how all the celebrities became a part of controversial drug cases in the Bollywood Industry.
1. Aryan Khan
Aryan Khan, 24 years old son of Bollywood King Khan, also known as Shah Rukh Khan Shah Rukh Khan or also known as SRK is a prominent >> Read More... , was arrested by NCB (Narcotics Control Bureau) following a raid on a cruise outside Mumbai in October 2022. He was kept in custody for at least a month and granted bail. According to the NCB charge sheet, he was not found guilty in the drug cruise case on March 27, 2022. Finally, a clean chit was given to him on May 27, 2022.
...
2. Rhea Chakraborty
After the sudden demise of SSR, the whole nation was shocked. When NCB investigated this matter, it turned the entire Bollywood Industry upside-down. During the investigation of SSR's death, many links between the actors and drug dealers unfolded. The one name that came out was Rhea Chakraborty, the rumored girlfriend of Sushant Singh Rajput Sushant Singh Rajput is one of the famous Indian t >> Read More... , who was arrested by NCB on September 8, 2020, over the allegations of drug consumption and procurement. Maybe, she has also supplied drugs to Sushant Singh Sushant Singh is an Indian film actor and a host o >> Read More... . However, NCB could not prove that she had consumed or possessed any drugs. However, after spending a month in custody, she was finally granted bail on October 7, 2020. Still, in this matter, she has not given a clean chit.
3. Siddhanth Kapoor
Siddhanth Kapoor, son of famous Bollywood actor Shakti Kapoor Personal life: Shakti Kapoor was born in Delhi, In >> Read More... and brother of prominent actress Shraddha Kapoor Shraddha Kapoor, born on March 3rd, 1989, is a you >> Read More... , was found confirmed that he took drugs. He tested positive for consuming drugs. His blood test report confirmed that he had taken drugs. After that, he was detained in Bengaluru following a police raid at a rave party in a city hotel. He was released on bail late at night on Monday.
...
He is a prominent actor and the son of actress Smita Patil This versatile actress was born on the 17th of Oct >> Read More... and actor Raj Babbar Raj Babbar is an actor turned politician. He is re >> Read More...
...
5. Fardeen Khan
Fardeen Khan is a famous Bollywood actor of his time. He returned to Bollywood after a long break of 12 years. But, in 2001, he allegedly bought drugs and was caught red-handed. He got caught with 9 grams of cocaine. In 2012, all the allegations were removed from him. After that, immunity was granted to him in that drug matter, and the same year, he had to undergo a de-addiction course to get rid of the habit.
...
6. Sanjay Dutt
Sanjay Dutt is a well-known actor in Bollywood Industry. We all know about his past. Most celebrities never admit it, but Sanjay Dutt has been quite vocal about his drug addiction's phase. He hadn't only mentioned in interviews but also publicly told the reality of his drug obsessions in his biopic film "Sanju'' characterized by the prominent actor " Ranbir Kapoor Ranbir Kapoor is a noted Indian film actor. He was >> Read More... ." Even before the 1993 bomb blast case, he spent five months in jail in 1982 because he was caught possessing illicit substances.
...
Armaan Kohli, the son of Film Director Rajkumar Kohli and actress Nishi Kohli Nishi is a well known Punjabi actress who did not >> Read More... , was once involved in drug cases. He is an actor and was a contestant in "". In August 2021, drugs were recovered from his place by the NCB in a raid. Officers reported that he was found in an intoxicated condition, and from his home, they also recovered a small amount of cocaine.
...
8. Bharti Singh & Harsh Limbachiyan
Bharti Singh is a famous comedian artist, and her husband is a well-known Indian screenwriter, producer, and television host. In 2020, they were arrested for the consumption and procurement of drugs but after some time they were released on bail. Now, again in 2022, The Narcotics Control Bureau(NCB) filed a 200-page charge sheet against them. They were summoned by the NCB for interrogation because they had recovered drugs from their place. Eventually, the couple confessed that they were used to consuming cannabis, and NCB officers even recovered 86.5 grams of ganja at their home in 2020.
...
Sara Ali Khan, 27 years old daughter of actor , was also summoned by NCB during an investigation of Sushant Singh Rajput's case. Rhea Chakraborty, the girlfriend of SSR, stated to NCB that Sara had offered her vodka and marijuana, but she refused to consume them. After hearing this statement from Rhea, NCB also summoned Sara for an interrogation. However, NCB did not charge her.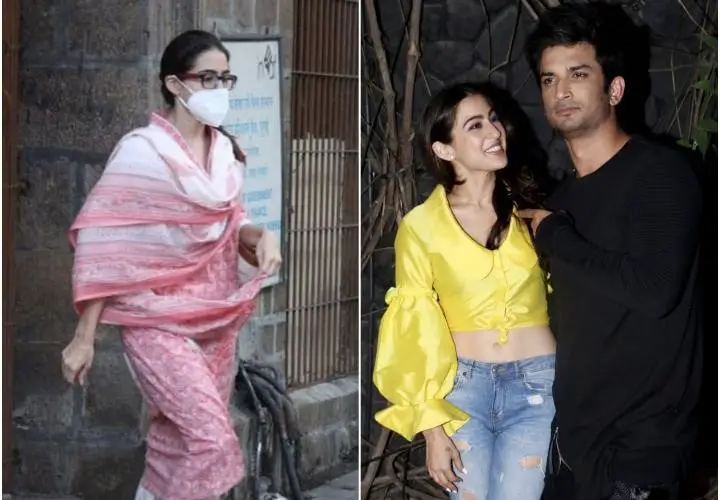 10. Karan Johar's Party
The Narcotics Control Bureau(NCB) has unfolded many cases after the demise of Sushant Singh Rajput. Karan Johar's party, organized at Karan Johar's house, also came under The Narcotics Control Bureau(NCB) investigation. At KJ's house, well-known and high-class stars were partying and found consuming drugs. Ranbir Kapoor, Deepika Padukone Deepika Padukone is an Indian actress and model. S >> Read More... , Vicky Kaushal Vicky Kaushal is a famous Indian movie actor. He w >> Read More... , , Shahid Kapoor Shahid Kapoor also identifies as the name Shahid K >> Read More... , Varun Dhawan Varun Dhawan, a new comer entered Bollywood with h >> Read More... , Arjun Kapoor Arjun Kapoor is a Bollywood star. He was born on 2 >> Read More... , etc. All these famous stars were involved in that party. The audience noticed 'cocaine lines' on the sofas in the viral video.