The joint family culture is prevalent in India as it is a country which relies heavily on culture and tradition. Indian films also reflect that sort of mentality. There have been several films throughout the years like Hum Aapke Hain Koun, Kabhi Khushi Kabhie Gham, Hum Saath Saath Hain, etc, that have shown a glorious picture of big, joint families. There might be problems in big families, but living together is worth its while. Here are some Bollywood films that have depicted big joint families.
1. Prem Ratan Dhan Payo
...
Sooraj Barjatya Sooraj Rajkumar Barjatya, also known as Sooraj Bar >> Read More... 's film, Prem Ratan Dhan Payo, released in the year 2015 and starred Salman Khan Salman Khan is a very famous Indian actor and a pr >> Read More... and Sonam Kapoor Sonam Kapoor, Daughter of Anil Kapoor and model Su >> Read More... . It depicted the importance of loving one's family, irrespective of whether they are related by blood. In the film, Salman Khan's character, Prem, does his best to reunite his lookalike, Yuvraj Vijay Singh, with his step-sisters and extended family who had been alienated due to property issues and misunderstanding. Like all Rajshri movies, this one too taught the viewers the importance of loving one's family and sticking together in spite of all odds.
2. Kapoor & Sons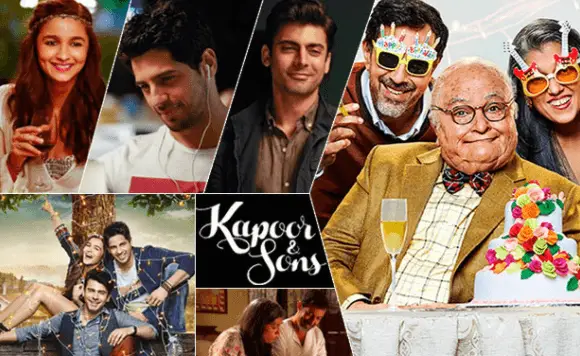 ...
Kapoor & Sons is a 2016 film starring Sidharth Malhotra Sidharth Malhotra is an Indian actor who was born >> Read More... , Fawad Khan, Alia Bhatt Alia Bhatt is a trendsetting actress from Mumbai, >> Read More... , Ratna Pathak Ratna Pathak is an Indian actress who has been a p >> Read More... , , and Rishi Kapoor Rishi Kapoor is an actor born in the prominent Kap >> Read More... . The film is about a dysfunctional family which has several issues affecting their relationships with each other. The film showed modern and very relatable issues plaguing families of this age and how they often keep emotions pent up inside their minds to avoid confrontation. Kapoor & Sons got a lot of appreciation for its mature treatment of social and family issues. It teaches us a lot about being with one's family despite differences.
3. Vivah
...
Vivah is a family film directed by Sooraj Barjatya. The film stars Amrita Rao Amrita Rao was born on June 7, 1981 in Mumbai, Mah >> Read More... , Shahid Kapoor Shahid Kapoor also identifies as the name Shahid K >> Read More... , Anupam Kher Anupam Kher is a very popular actor, director, and >> Read More... , Alok Nath Alok Nath is an Indian television and Bollywood fi >> Read More... , , Lata Sabharwal Lata Sabharwal is a famous Bollywood actress and a >> Read More... , , etc. The film showed the journey of a couple between engagement and marriage. In an arranged marriage, it is always a special journey when the two families get to know each other. Vivah showed us the beauty of joining two families in a matrimonial bond. The family of Shahid Kapoor's character was the perfect example of a happy joint family of the present age.
4. Mere Yaar Ki Shaadi Hai
...
Having been directed by Sanjay Gadhvi Sanjay Gadhvi is a famous Indian director known fo >> Read More... , the film Mere Yaar Ki Shaadi Hai was a fresh, fun movie based on a love triangle. Sanjay and Anjali are childhood friends. Although Anjali has always been in love with Sanjay, he realizes his feelings for her only when she is set to marry a guy named Rohit. The film showed a beautiful joint family that Anjali belongs to. They all live together happily in a big house, just like one would imagine in a perfect world. The film starred Uday Chopra Born on 5th January, 1973, This actor is the son o >> Read More... , Bipasha Basu Bipasha Basu, born in January 7,1979 in Delhi, is >> Read More... , Jimmy Shergill Jimmy Shergill is a renowned Indian actor and prod >> Read More... , and Tulip Joshi In Bollywood, we have seen so many models and actr >> Read More... .
...
5. Ankhon Dekhi Click to look into! >> Read More...
...
Directed by Rajat Kapoor, Ankhon Dekhi was the story of a man named Rajesh Bauji who decides to believe only what he can see. The film shows Rajesh living in Old Delhi with his large family of extended relatives who participate in different ways in his crazy theory which starts making sense after some time. The film stars Sanjay Misra, Seema Pahwa Seema Pahwa is a Bollywood actress, and a theatre, >> Read More... , Rajat Kapoor, Namit Das Namit Das is an Indian Actor who was born in the y >> Read More... , Brijendra Kala Born in Mathura, Uttar Pradesh, Brijendra Kala is >> Read More... , Saurabh Shukla Saurabh Shukla was born at Gorakhpur in Uttar Prad >> Read More... , Ranvir Shorey Intro: Ranvir Shorey is a popular Indian movies ac >> Read More... , etc. Director Rajat Kapoor has described the film as an amalgamation of the joint family concept with a unique idea that makes up the story.
6. Luv Shuv Tey Chicken Khurana
...
This is a 2012 comedy film starring Kunal Kapoor Born on 18th of Oct in the year of 1977 to a Punja >> Read More... , Huma Qureshi Huma Qureshi is a model-turned-actress in Bollywoo >> Read More... , Rajesh Sharma Rajesh Sharma is an Indian actor. His work is pred >> Read More... , Dolly Ahluwalia Dolly Ahluwalia is an actress, who became popular >> Read More... , Nimrat Kaur Bollywood actress Nimrat Kaur was born on 13th Mar >> Read More... , etc. In the film, Omi Khurana returns to his native place from London after a decade and comes to terms with his big, dysfunctional family. The film depicts the search for the secret recipe of a dish named Chicken Khurana which was the signature dish of an eatery run by Omi's grandfather. In a quest to recreate the legendary dish, the family goes through a lot of adventures and ultimately come together to celebrate their love and togetherness. The film got positive reviews from critics and viewers.
7. Jab We Met Click to look into! >> Read More...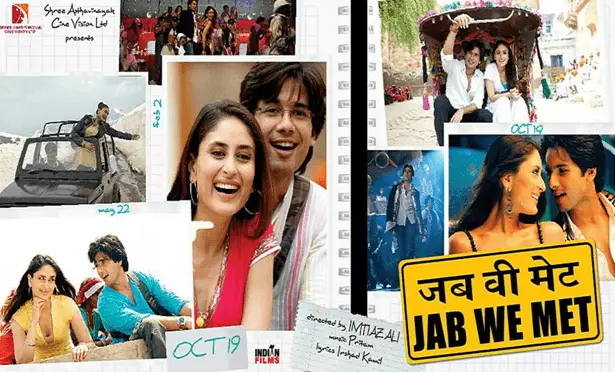 Imtiaz Ali's Jab We Met is a romantic comedy based on a crazy journey during which two very different individuals, Aditya and Geet, meet and get to know each other. Their journey changes both their personalities and makes a huge difference in their lives. The film also shows Geet's typically Punjabi family and their quirkiness. Jab We Met correctly depicts the kind-heartedness and hospitality present in large Indian families. Jab We Met was a critical and commercial success, and it made the characters of Geet and Aditya quite famous among the audience.
8. Mujhse Dosti Karoge
Mujhse Dosti Karoge is a romantic drama film starring Hrithik Roshan Hrithik Roshan with his unimaginable dance moves i >> Read More... , Kareena Kapoor Khan Kareena Kapoor is a super hit actress working in I >> Read More... , and Rani Mukerji Rani Mukerji is one of the most celebrated Indian >> Read More... . The film shows a typical love triangle among three childhood friends and the effect it has on them and their relationships. Though the film did not technically have a family, the friends and their families lived together for a major part of the film. Mujhse Dosti Karoge teaches us that we do not necessarily have to be related by blood to form a family. It is the connection between hearts that matters.
9. Ready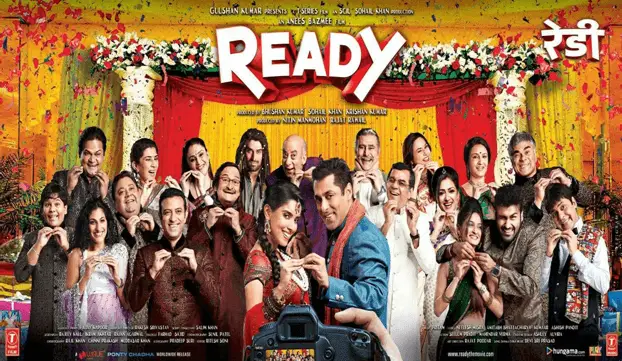 Ready starred Salman Khan, Mahesh Manjrekar Mahesh Manjrekar is a renowned actor, director and >> Read More... , Asin Thottumkal Asin Thottumkal more famously known as Asin, is a >> Read More... , Anuradha Patel Those of us familiar with the film and TV scene in >> Read More... , Manoj Joshi Manoj Joshi is an Indian television, theatre and f >> Read More... , Nikitin Dheer Nikitin Dheer is the sharp and sleek city boy who >> Read More... , Eva Grover Eva Grover is a well-known Indian film and televis >> Read More... , etc, apart from several special appearances from actors like , Ajay Devgan Ajay Devgn is an Indian film actor. He is perhaps >> Read More... , Zarine Khan Born on 14 May 1987, Zarine Khan is one of the adm >> Read More... , , Sanjay Dutt July 29, 1959, was the day when the two legends of >> Read More... , etc. The film is about mistaken identities and the confusion it creates, leading to hilarious situations. Sanjana (Asin) pretends to be Pooja, Prem's bride-to-be, to seek refuge in Prem's house and escape from her relatives who were chasing her. The film shows two different families, Prem's and Sanjana's. Prem's family, especially, is a big happy family which lives together very happily.
10. Baghban
Baghban is the ultimate film that we need to watch to realize the importance of families and parents in our life. Starring Amitabh Bachchan, Hema Malini Hema Malini is perhaps the only dream girl of the >> Read More... , Salman Khan, Mahima Chaudhry Mahima Chaudhry Ritu Chaudhary was born in Canada >> Read More... , Aman Verma Aman Verma was born on 11th October 1971. He was b >> Read More... , Divya Dutta Divya Dutta was born in Mumbai, Maharashtra, India >> Read More... , etc, the film focuses on how parents are ill-treated in their old age by their children. Despite having four sons of their own, the parents find themselves homeless and helpless, with nobody to understand their emotions apart from their two grandchildren. It is then that they are found by their adoptive son and given the respect that they deserve. Baghban teaches us an important lesson about never forgetting our roots.